Tanjung Ratna to develop RM500 mln luxury condominium in Kota Laksamana

Last Update: 02/02/2019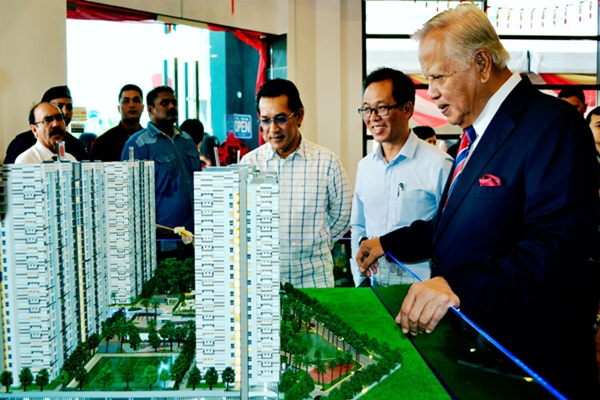 MELAKA, Feb 2 (Bernama) -- Tanjung Ratna Sdn Bhd targets to fully complete its luxury condominium project, Admiral Residences worth some RM500 million in Kota Laksamana here, within three years after the start of construction at the end of this month.
??????Chief executive officer Datuk Julian Lau said the project, to be developed over two phases, comprised four blocks offering 1,440 units priced as low as RM296,000 a unit for the Bumiputera quota and RM328,000 for non-Bumiputera buyers.
He said the first phase consisted of two blocks, A and B with 720 units, and to date, Block A had been sold out while Block B had achieved 50 per cent sales.
"Phase 2, consisting of Block C and D with 720 units, is expected to be developed in the second quarter of this year. Out of the total units, 40 per cent are under the Bumiputera quota and eligible for a 10 per cent discount from the Melaka state government," he said to reporters after the groundbreaking ceremony of Admiral Residences project here, today.
The event was officiated by Melaka Governor Tun Dr Mohd Khalil Yaakob. Present were Kota Laksamana assemblyman Low Chee Leong and Tanjung Ratna chief operating officer Allan Chee.
Elaborating further, Lau said based on sales for the first phase, almost 95 per cent of the buyers are local citizens, who purchased the properties for their own use and not for investment.
Meanwhile, he said the company invested about RM5 million to adopt solar technology at the residential premises, which would save residents up to RM400,000 in electricity cost annually.
This initiative was in line with the state government's call to cultivate green practices, besides nurturing a green culture among the residents.
Admiral Residences, developed on 4.86 hectares of land, offers two layout plans – units with built-ups of 1,069 sq ft comprising three rooms and two bathrooms, and units with built-ups of 1,159 sq ft consisting of four rooms and two bathrooms.
The project also provides various facilities including infinity pool and swimming pool, three badminton courts, two tennis courts, football field, multipurpose hall and gymnasium, as well as 24-hour security.
-- BERNAMA