People of Pahang impatient for their Sultan to ascend the throne

Last Update: 25/01/2019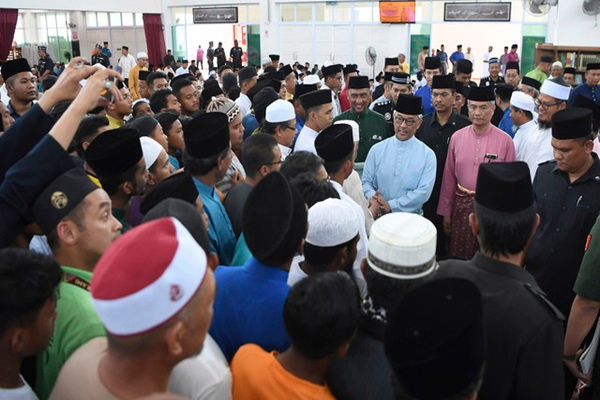 KUANTAN, Jan 25 (Bernama) --- People of Pahang could not wait for Jan 31 to see their beloved Al-Sultan Abdullah Ri'ayatuddin Al-Mustafa Billah Shah to ascend the throne as the 16th Yang di-Pertuan Agong (YDPA).
Jafariazlin-Kamal Jamil, 51, said the ceremony to be held next Thursday would repeat the occasion when he witnessed the proclamation ceremony of His Highness Paduka Ayahanda Sultan Ahmad Shah as the seventh YDPA 40 years ago.
"As a person from Pahang, I am indeed happy and although I have never met him personally, I still felt that he is close to my heart as I always witnessed Sultan Abdullah meet-and-greet and help the people.
"My friends also frequently talk about him and seeing his personality, I am confident the people of this country will feel safe and and live in tranquillity under the reign of Sultan Abdullah," he said when met by Bernama here today.
As for Raihan Ramly, 33, his duty as a manager at a medical centre here allows him to closely interact with Sultan Abdullah and the royal family members who seek treatment there since 2003.
"I felt that his whole family members are very humble and portrayed themselves as ordinary people without the need for much formality and protocol.
"Sultan Abdullah and Tengku Ampuan Pahang Tunku Azizah Aminah Maimunah Iskandariah are friendly with the people, hence the people respect, like and love them," he added.
The matter has caused Raihan who hails from Kelantan but resided in the state for the past 13 years to feel proud to call himself as part of the people of Pahang.
Meanwhile, Norlida Ali, 55, also felt proud of Sultan Abdullah's appointment as the YDPA although she hails from Johor.
"Tunku Azizah is a Johorean, so although the Sultan of Johor Sultan Ibrahim Sultan Iskandar was not appointed to ascend as the YDPA, we as the Johor people are still happy.
"Whichever state the ruler hails from, we as the people will accept with open arms, also the pair have an extraordinary personality, are known for their humility and always place the interest of the people first," she said.
-- BERNAMA