Toyota Vios driver tested positive for ganja

Last Update: 21/01/2019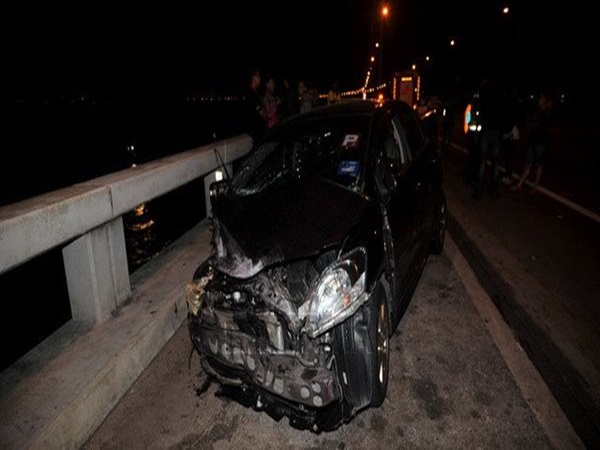 GEORGE TOWN, Jan 21 (Bernama) -- The driver of the Toyota Vios involved in an accident which saw an SUV plunged off the Penang Bridge yesterday was tested positive for ganja.
Seberang Perai Tengah District Police chief ACP Nik Ros Azhan Nik Abdul Hamid said the initial test on the 21-year-old man, who is a hair stylist, had come out positive.
"Police have also sent the man's blood sample to the Chemistry Department for a complete test to ascertain the content of alcohol or drugs in his blood and the results will be known soon," he told reporters here today.
Nik Ros Azhan said the man was currently receiving treatment for his injuries at a private hospital in Bayan Baru, here.
He said the man was rushed to the Seberang Jaya Hospital right after the accident and was discharged yesterday evening, but he passed out at home, prompting his family to send him to the private hospital for further examination.
Nik Ros Azhan also said the Toyota Vios driver and the driver of the SUV had known each other since their primary school days.
"Both of them, along with five other (male) friends, had attended a birthday celebration of one of their friends at an entertainment centre in Lebuh Chulia, here earlier and all of them left the centre at 2.30 am.
"Their five friends live in the island, while the Toyota Vios driver lives in Butterworth," he said.
The police were also investigating an allegation that the two drivers were racing during the mishap.
The SUV, which was heading to Perai, was reported to have been involved in an accident with another car at KM 4 of the Penang Bridge before it plunged into the sea in the mishap which occurred at 2.54 am yesterday.
At present, efforts are being done to find the SUV and the driver, who had been identified as a 20-year-old student, Moey Yun Peng.
-- BERNAMA