Terengganu JPJ issues summonses to 30 operators for overloading lorries

Last Update: 19/01/2019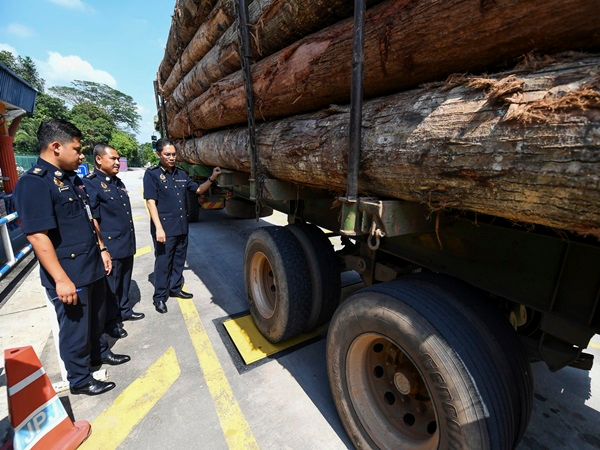 KUALA BERANG, Jan 19 (Bernama) -- The Terengganu Road Transport Department (JPJ) has issued summonses to 30 lorry operators during its 'Ops Tutup' operation on overloaded vehicles over the last three days.
Its director, Zulkarnain Yassin, said that the ongoing operations which commenced on Jan 16, were conducted simultaneously in four hotspots across the state. They were at Jalan Pengkalan Gawi in Kenyir- Aring, Kuari Bukit Diman in Hulu Terengganu, Bukit Yong Quarry in Besut and Kemaman.
He said the operation was carried out after the Terengganu JPJ Intelligence Unit had within a two-week period identified and monitored the movements of the lorries that carried excessive loads.
"Ops Tutup will continue until a date is fixed (to end it) and in the last three days, over 100 lorries had been inspected," he told reporters after inspecting a lorry that was excessively loaded at Section 12 Jalan Kuala Jeneris-Kenyir-Aring 8, here today.
Also present was Hulu Terengganu district engineer Alif Zuwairi Baharuddin.
Zulkarnain said the operation involved a 54-man team which included officers and personnel from the JPJ Terengganu Enforcement Unit, Royal Malaysia Police, Public Works Department and Roadcare concessionaires.
He said action would be taken against lorry operators under Section 82 and 57 of the Public Land Transport Act (APAD) 2010 which provided a maximum fine of up to RM500,000.
Meanwhile, Alif Zuwairi said that due to the failure of the truck operators in complying with rules, especially those that carry excessive iron ore, the government was forced to spend RM4 million annually to maintain and repair damaged roads along the Pengkalan Gawi route, Kenyir-Aring towards Gua Musang.
He said the problem started in 2006 and still continued because of the irresponsible and greedy attitude of a handful of truck operators.
"Vehicles carrying more than 53 tonnes of cargo have caused the roads to be severely damagaed thus increasing their maintenance costs.
"If the roads are not repaired, there would be uneven stretches and potholes, causing accidents and posing other risks to road users," he said.
-- BERNAMA