UTHM aims to produce more aeronautical experts in Johor

Last Update: 10/01/2019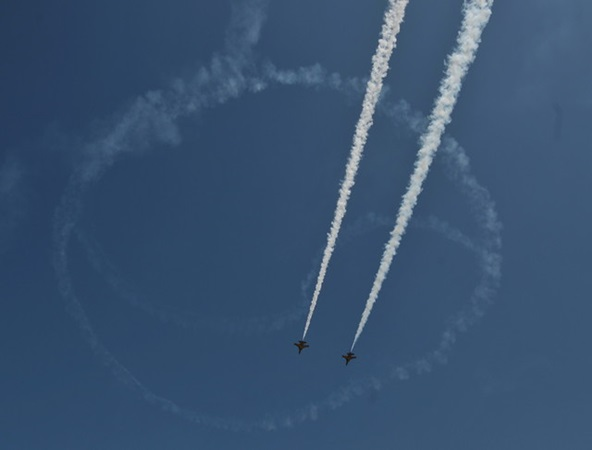 BATU PAHAT, Jan 10 (Bernama) – The announcement on the setting up of a world-standard aerospace centre in Subang during the tabling of Budget 2019 was lauded by industry players and academicians at research universities, including Universiti Tun Hussein Onn Malaysia (UTHM).
The centre, to be set up on a 32.37 hectare site in Subang this year is seen as a positive development in the aeronautical sector, which is now one of the studies being given focus by the university.
Dean of the Mechanical and Manufacturing Engineering, UTHM, Associate Professor Dr Shahruddin Mahzan@Mohd Zin hoped that the university would be directly involved in the government's effort.
He said this being that UTHM was one of the higher learning institutions that offer studies in aviation technology, apart from Universiti Teknologi Malaysia (UTM) and Universiti Sains Malaysia (USM)
"But the advantage for UTHM is that we are the one and only higher learning centre in the country, as well as in Southeast Asia with the 'licence' to hold courses on handling of aircraft that students have the opportunity to learn in theory and practical.
"Infact, UTHM is one of four universities in the world, apart from those in the United States, the United Kingdom and Australia that offers the study programme. Because of that, we hope to be involved in this government project," he told Bernama recently.
He expressed confidence that the proposed development of the aerospace hub would not only be on technology development, but also capable of producing local experts in the field.
Shahruddin said UTHM offers four bachelor's degree courses and one master's degree course in aviation technology.
They are Bachelor of Aeronautical Engineering Technology (Professional Piloting), Bachelor of Aeronautical Engineering Technology (Aircraft Maintenance), Bachelor of Aeronautical Engineering Technology (Air Traffic Control), Bachelor of Aeronautical Engineering Technology (Aircraft Maintenance) and Masters in Aviation Management.
"Hence, it will be apt if UTHM can be involved or at least, collaborate in the project, for the development of aerospace in the country, enabling us to also conduct various studies and research in aviation.
"Apart from the five courses, we also aim to explore into the aviation field 360 degrees, from A to Z, from general worker to exploring new technology.
"And, for public knowledge, we are now intensifying efforts to have our own airport at Tanjung Laboh, Batu Pahat, work on which is scheduled to begin this year," he added.
He said upon completion of the airport, UTHM would be able to provide more courses involved in the industry, including for cabin crew.
Meanwhile, UTHM Aeronautical Engineering Department head Dr Mohammad Fahmi Abdul Ghafir said 130 students had enrolled for study programmes in aviation since they were introduced in 2010, with 20 of them having graduated and now working with various airline companies locally and abroad.
"Among our strategic partners to produce graduates in aviation are Malaysia Airlines, Malaysia Flying Academy, HM Aerospace and for maintenance it is the Malaysian Aviation Training Academy (MATA).
"In fact, our involvement in producing human capital for the aviation sector is also recognised and supported by the Sultan of Johor, Sultan Ibrahim Almarhum Sultan Iskandar, who has given the university a Lake Renegade LA-270 aircraft for research, teaching and learning purposes," he added.
Besides producing human capital for the aviation industry, Mohammad Fahmi said the university was also doing research to produce a giant drone.
This giant drone will not just carry video recording equipment or camera, but human as passengers, he said.
-- BERNAMA