8th Sarawak Hornbill Tourism Awards hope to receive huge nominees

Last Update: 03/01/2019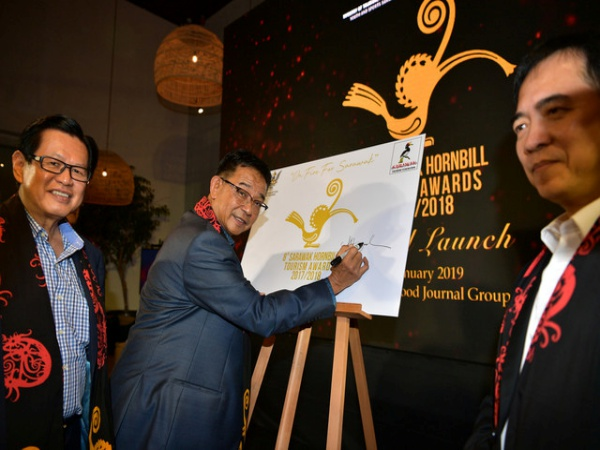 KUCHING, Jan 3 (Bernama) -- The Ministry of Tourism, Arts, Culture, Youth and Sports Sarawak, hopes to receive considerable nominees for the 8th Sarawak Hornbill Tourism Awards 2017/2018.
Its minister, Datuk Abdul Karim Rahman Hamzah said, he hoped to see more entries for this year's competition in all category.
"I'm not sure how many entries were there for last year but some of the categories are quite competitive between them. But some of them (are) not really.
"If the number of participants are not many in a particular category, we may drop that category concerned. But then, hopefully this year we will receive enough number of participants," he told the media in a press conference after launching the tourism awards here, tonight.
The award night cum gala dinner is expected to be held at the Borneo Convention Centre Kuching (BCCK) and the date is to be announced soon.
— MORE
HORNBILL-AWARDS 2 (LAST) KUCHING
The Asajaya assemblyman said there would be nine main categories, including two new divisions, namely, Outstanding Shopping Malls and Outstanding Sports Tourism Events and within these main categories, there are 31 other sub-categories.
"Winners of the awards will receive the Sarawak Hornbill Tourism Award Trophy and Certificate, Cash Incentives of RM5,000, and Marketing Incentives worth RM3,000.
"For the winners of the Hornbill Special Awards, they will be presented with the Sarawak Hornbill Tourism Award Trophy and Certificate, and Cash Incentives of RM10,000," he said.
Abdul Karim hoped that the awards would inspire the winners to go further in their endeavours and at the same time motivate others to follow suit.
"The job of promoting Sarawak as a popular tourist destination does not rest with the State Government or the ministry alone, each and every Sarawakian must also play their part in doing so," he added.
The nomination is open from now until March 31, 2019, and the forms can be downloaded from www.mtacys.sarawak.gov.my.
— BERNAMA

ASNA AO