Six-year-old boy 'attends' school with siblings

Last Update: 02/01/2019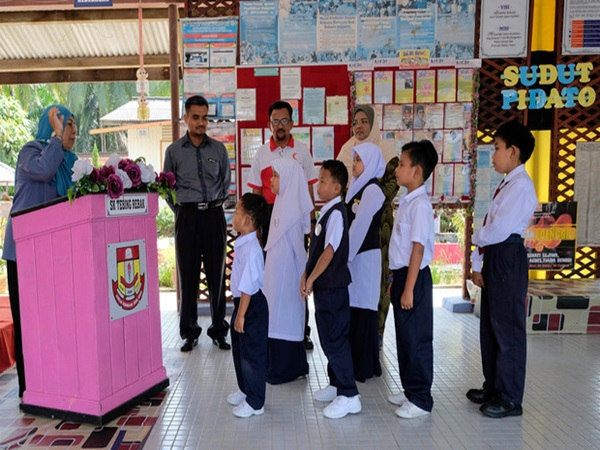 BAGAN DATUK, Jan 2 (Bernama) -- Mohamad Hairi Mohamad Hilmi is only six but he went to school today on the first day of the new school year.
He joined the other pupils of Sekolah Kebangsaan Tebing Rebak which has a total enrolment of five, two of whom are his elder brother Mohamad Harith, nine, and elder sister Saidatul Husna, eight.
Mohamad Hairi, clad in the school uniform, had insisted on attending school with his elder siblings although he is only eligible to do so next year.
Mohamad Harith is in Year Three and Saidatul Husna in Year Two. Two other pupils, Dhiya Suffiyah Mohamad Redzwan and Muhammad Adam Danish Hafiz Nizam, are also in Year Three and one, Muhamad Farez Daneal Murad, in Year Four.
"It's exciting to be in school. The teacher is great," Mohamad Hairi said with a thumbs-up sign and stayed on for the full school session today.
Headmistress Siti Norhasidah Mohd Yusuf said Mohamad Hairi was enthusiastic about accompanying his family member who was sending his siblings to school. The siblings had just got transferred from a Sarawak school.
"As Mohamad Hairi was eager to attend school, we placed him with the other pupils," she told Bernama.
Unlike most other schools, SK Tebing Rebak, about 20 km from here, was rather quiet on the first day of the new school year. It has had no enrolment for Year One for two years running.
However, the school enjoys most of the facilities found in other schools, such as Internet connectivity, the food programme and aid from the Education Ministry.
Due to the population in the vicinity having gradually migrated and the opening of other schools nearby, the almost 200 pupil enrolment at this school has continued to drop to register 45 in 1995 and 10 thereafter and not more than 10 eventually.
-- BERNAMA