Providing a service beyond normalcy sets Tan and his firemen apart

Last Update: 02/01/2019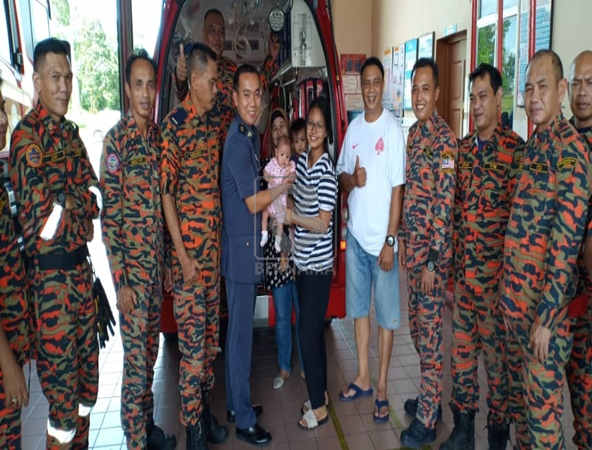 KUCHING, Jan 2 (Bernama) -- Never in his ten-year service with the Fire and Rescue Department (JBPM) did senior assistant fire superintendent Tan Min Chai envisage he would have to oversee an emergency that saw a baby being delivered inside the Emergency Medical Rescue Service (EMRS) Unit van.
On New Year's eve, Tan said the grateful parents of Thania Maisarra Mohd Rayyan, then one-month and 21- day old, brought the baby girl to the Petra Jaya Fire and Rescue Station here to pay a visit to him and his team in appreciation for providing a service beyond normalcy.
The baby's parents, Mohd Rayyan Abdullah and Nurul Jasmine Abdul Malik, both 23, even named her after Tan, who had only assumed the post as the head of the Petra Jaya station last Oct 1, for assisting in the delivery with his personnel last Nov 8.
Tan said at the small but meaningful reunion of sorts with Thania Maisarra and her family members, his team was presented with fruits as a gesture of appreciation and gratitude while there are plans to adopt her as the Petra Jaya station's "foster child" under the department's programme.
"This is my first experience in helping to deliver a baby…the whole team was excited and happy that the community has confidence in our services and not only in rescue work and dousing fires," he told Bernama here today.
According to Tan, the Petra Jaya personnel were invited to attend Thania Maisarra's thanksgiving ceremony before Christmas but none were able to attend due to their numerous work commitments.
Prior to the "'unexpected" incident on Nov 4 - the first such birth in the department's EMRS Unit van in Sarawak and possibility in the country - he said Nurul Jasmine had sought emergency help from the Petra Jaya Bomba personnel at about 6.50 am as the nearest government clinic had yet to open.
Earlier Nurul Jasmine's husband had rushed her to the Sarawak General Hospital (SGH) here from their home at the Sarawak Cultural Village in Santubong due to birth contraction pain but diverted to the Petra Jaya station to seek emergency help and bring her to SGH.
However she delivered a healthy baby, weighing 2.9 kg inside the EMRS Unit van in the compound of the Petra Jaya station with the help of its personnel.
Meanwhile Sarawak JBPM director Khirudin Drahman said the action and deeds of the firemen involved showed that the community had endorsed its EMRS Unit team, which was tested and proven multiskilling in giving services beyond normalcy.
It has also caught the attention of JBPM director-general Datuk Mohammad Hamdan Wahid. Tan was presented with a certificate of appreciation for the dedication and commitment shown as well as utilising the skills and knowledge acquired in benefiting and meeting the expectations of the community during a ceremony here last month.
-- BERNAMA