TNB has spent RM1.6 mln to restore houses of the poor in Perlis

Last Update: 28/12/2018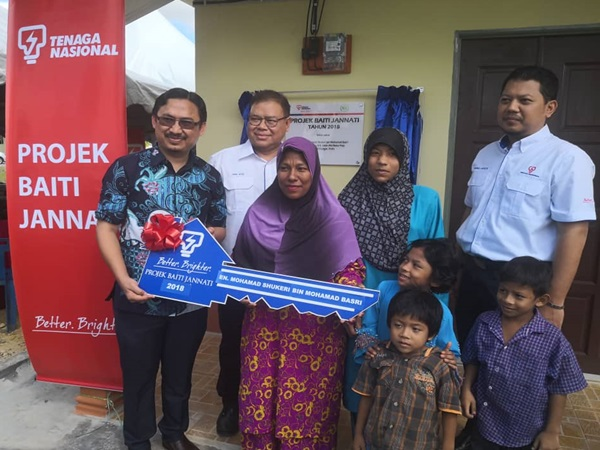 KANGAR, Dec 28 (Bernama) -- Tenaga Nasional Berhad (TNB) has spent RM1.6 million to repair 32 houses under the Baiti Jannati (My Home, My Heaven) project in Perlis since 2010.
Perlis TNB head of Customer Services, Abd Aziz Yaacob said out of this number, 26 houses had been handed over while the rest were expected to be restored soon.
"The Baiti Jannati project is TNB's corporate social responsibility programme to assist the poor to repair their houses," he said when met at the thanksgiving function of the state-level Baiti Jannati project in Abi Padang Macang, here, today.
Kangar Member of Parliament, Noor Amin Ahmad handed over the mock key to house owner Zarina Othman, whose husband Mohammad Shukeri Mohamad Basri could not attend as he is hospitalised for asthma since two days ago.
The couple's house was rebuilt at a cost of ???????RM50,000 and complete with furniture and household appliances.
Zarina, 37, said she was grateful for TNB and the Perlis Islamic Religious and Malay Custom Council (MAIPs), which also contributed to the rebuilding of her dilapidated house.
She and her husband, a tractor driver, and their six children aged between five and eight years had been staying in the old house left by her mother-in-law.
-- BERNAMA