Joyous joint wedding celebration for three couples

Last Update: 22/12/2018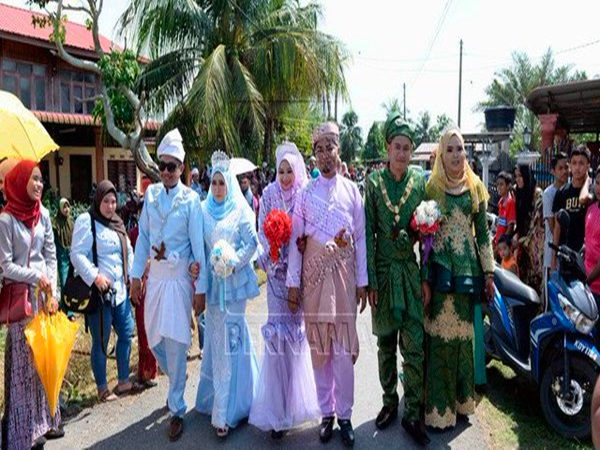 ALOR SETAR, Dec 22 (Bernama) -- It was a day to remember for three bridal couples from Kampung Seberang Alor, Kampung Hutan, here, when they were feted in a lively joint marriage solemnisation ceremony here today.
Though the event was organised on a moderate scale by Kampung Seberang Alor Welfare and Recreation Club, about 500 guests were present to celebrate the newly-weds Nur Atirah Saiful Anuar and her partner Zulkifli Mustafa, both 21; Muhd Amirul Faiz Mohd Zamri, 24 and Amiza Jamil, 22; and Amirul Othman, 31, and Fatin Sofie Aina Narzeman, 20.
Club chairman Mohmad Nasir Ismail, said the inaugural programme organised in collaboration with Surau An-Nahdlatul Al-Islamiyyah, here, was aimed at helping young people wishing to hold a wedding reception in moderation.
"Usually between RM15,000 and RM20,000 is needed to organise a wedding ceremony. So we discussed with the surau committee on ways to ease the couples' financial burden," he told reporters at the event.
According to Mohmad Nasir, each couple was only required to pay RM500 while the rest of the wedding expenses were borne by several parties through contributions.
"The total cost of organising the event was RM16,000, which was raised within two months through contributions from various parties including MPs and government agencies," he said.
Earlier, the event held in the compounds of Surau An-Nahdlatul Al-Islamiyyah was officiated by Deputy Human Resource Minister Datuk Mahfuz Omar.
Mahfuz, who is also Pokok Sena MP lauded the efforts made by the club and the surau in realising the wishes of the couples to hold a lively ceremony without spending much money.
Meanwhile, Amirul and Fatin Sofie Aina in expressing their gratitude thanked everyone who had contributed to make the ceremony a success.
"I hope this simple but lively ceremony will inspire other couples to hold joint wedding as the money saved could be used for more important things," Amirul said.
-- BERNAMA