NAFAS - Fertiliser industry mover-shaker

Last Update: 13/12/2018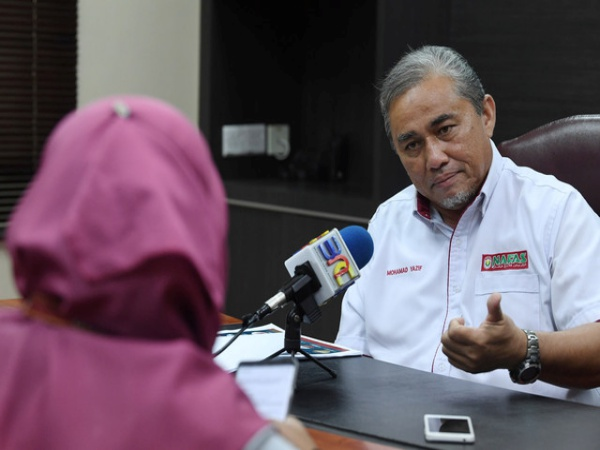 By Nurrul Huda Ahmad Lutfi
GURUN, Dec 13 (Bernama) -- Since opening the Malaysian NPK Fertilizer Sdn Bhd (MNFSB) plant in 2004, the 46-year-old National Farmer's Organisation (NAFAS) has become one of the business entities in the country serving as a catalyst for the growth of the fertiliser industry.
NAFAS deputy general manager (subsidiary monitoring), Mohamad Yazif Fadil, said the idea for the factory which produces various kinds of fertiliser was sown by Tun Dr Mahathir Mohamad in 1994 when he was Prime Minister for the first time, and encouraged NAFAS to dabble in large-scale manufacturing.
"The construction was inspired by Dr Mahathir during the inauguration of Farmer's Day in Langkawi. Or in other words, he put forth a challenge to NAFAS to get involved in a bigger industry.
"Alhamdulillah, even though it took a long time, in 1998 we announced at a NAFAS annual general meeting that we would be involved with or build a fertiliser factory which today is MNFSB," he told Bernama recently.
Mohamad Yazif said the long period it took to get the plant off the ground was because NAFAS was facing financial constraints and capability issues until Petronas Chemical Fertiliser (Kedah) Sdn Bhd (PCFK) showed an interest in working together to build the facility, sharing their expertise and investing up to 20 per cent in the venture.
"The memorandum of understanding (MoU) between NAFAS and PCFK was signed in 1999. At the same time, NAFAS launched a Special Farmer's Investment Scheme to enable state and regional farmer's oganisations, as well as its members, to join in erecting the factory," he said.
In addition to this, Dr Mahathir's government in 2002 contributed funds totalling RM20 million before construction began in February 2003. The factory was ready in November 2004.
"NAFAS's fertiliser products started being supplied to farmers nationwide from 2005," he said, adding that Malaysia's agriculture sector requires about 4.9 million metric tonnes of fertiliser per year with eight per cent – or 420,000 metric tonnes – needed for padi planting.
Mohamad Yazif said NAFAS's ability to meet the eight percent is serious business owing to its production of 320,000 - 340,000 metric tonnes of high-quality fertiliser a year.
He said based on an evaluation by the Fertilizer Industry Association of Malaysia in October 2015 which provides data on fertiliser suppliers in the country, NAFAS is listed as a first tier industry player.
"We should be proud because we are the only farmer's organisation to achieve this," he said.
NAFAS now has four value-added businesses helping to propel the industry forward, as well as increase the nation's padi production: MNFSB, NAFAS Bajakimia Sdn Bhd, NAFAS Agri Services Sdn Bhd and NAFAS Plastic Industries Sdn Bhd.
Mohamad Yazif said NAFAS Bajakimia Sdn Bhd offers a variety of straight and compound fertilisers as well as provides warehousing and packaging services; NAFAS Agri Services provides agricultural inputs like fertiliser, pesticide and farming equipment; while NAFAS Plastic Industries Sdn Bhd is involved in the manufacture of plastic-based products like jumbo bags.
Since 1979, NAFAS has also been involved in the supply of subsidised fertiliser via the Federal Government Padi Fertiliser Assistance Scheme (SBPKP), Padi Incentive Scheme (SIPP) and Hill Padi Weedicide Scheme (SBRPB), all aimed at supporting farmers and increasing the country's food supply.
-- BERNAMA