'Ikan Salarong' synonymous with Pagalungan district in Sabah

Last Update: 08/12/2018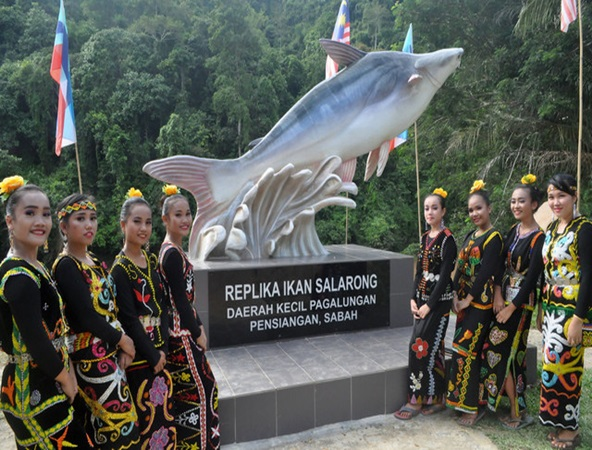 PAGALUNGAN (Sabah), Dec 7 (Bernama) – 'Ikan salarong' or 'patin muncung' (Pangasius hypophthalmus) is synonymous with residents in the small Pagalungan district located near the border with East Kalimantan, Indonesia.
Pagalungan assistant District Officer, Aloysius Anthony said the fish was renowned for its tasty flesh and could only be found in Sungai Lohongon which was formed after rivulets such as Pagalungan and Tahol Pensiangan combined and flowed towards East Kalimantan.
''Sungai Lohongan is the special world of the species...you will not find it anywhere else in Sabah.
'' 'Ikan salarong' is an important asset for the residents who have been staying here for centuries.They catch the 'ikan salarong' as their source of food and for sale,'' Aloysius told Bernama.
The dominance of the fish in Sungai Lohongan had prompted the government to construct a giant replica of an 'ikan salarong' at a cost of RM40,000 as a landmark for the Pagalungan district office.
Aloysius said the Sabah Fisheries Department had also introduced the Tagal System in Kampung Pagalungan, Tinanduk, Kuala Pensiangan, Kuala Salong and Salinatan in the effort to ensure the sustainability of the species in the interior district.
The Tagal system is a unique way to enable sustainable harvesting of fish resources by not fishing at certain times or in certain restricted zones.
Recently, Sabah Rural Development (KPLB) Minister Datuk Ewon Benedict, when conducting a two-day working visit to Pagalungan, urged the residents in the border area to unite and ensure the rivers were always preserved.
-- BERNAMA