CityOne: Blast victim's father touched by show of concern

Last Update: 07/12/2018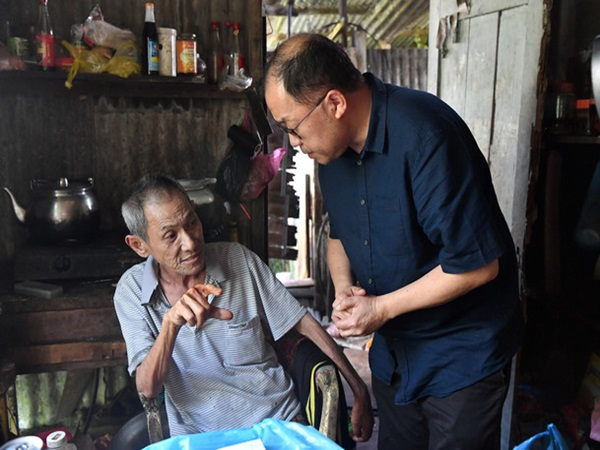 KUCHING, Dec 7 (Bernama -- Tchee Foh Hin, whose son Kiam Jong was killed in the explosion at CityOne Megamal last Tuesday, was deeply moved by the concern shown by the multi-racial and multi-religious people of Sarawak who came to visit his family.
"Since the incident on Tuesday, I received so many visitors who came to offer sympathies over the loss of my son.
"They were of all races...Chinese, Malays, Bidayuhs, Ibans and other ethnic groups and religions. Even the Muslims came to express their condolences bearing contribution in cash and kind," he said.
Among those who visited Foh Hin to hand over their contributions today were owner of CityOne Megamall Stephen Long and Sekolah Menengah St. Teresa alumni members Rita Lopez and Maureen Ben.
Foh Hin when met at his home in Kampung Stutong Baharu here today expressed gratitude to all who had visited and offered help to his family.
The 66-year-old widow lives in the house with his second son aged 26.
Meanwhile, following the blast that rocked CityOne Megamall last Tuesday, owner and operator of the mall, Stephen Long along with his staff, met up with the respective tenants and landlords today.
As of some of the tenants and landlords were anxious of their future at the mall, the meeting was held to keep them informed on the progress of re-opening the mall.
According to Long, the Fire and Rescue Department and a forensic team from Putrajaya have completed their investigations but a Structural Engineering Consultant team was still combing through the premises to make sure that the building is safe.
Long said that as at 11 am today, it was confirmed that the main switch, air-conditioning system and electrical components were in good working order.
He said tenants were allowed to enter the premises to inspect their shops at 2 pm.
"We have been putting in all our resources around the clock, and working closely with authorities to get the mall back into action," he said.
Long said he was confident that operations would be back to normal within the next few days adding that the Kuching South City Council (MBKS) had given clearance for the mall to re-open.
-- BERNAMA