Be proficient in issues - Abang Johari

Last Update: 30/11/2018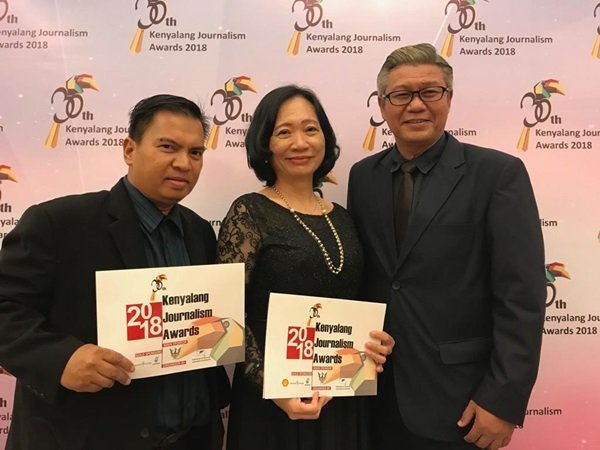 SIBU, Nov 30 (Bernama) -- Journalists in Sarawak must adhere to ethical guidelines and be well-versed in issues, particularly those connected to government policies and programmes.
Chief Minister, Datuk Patinggi Abang Johari Tun Openg, said the aim of journalism, particularly in the digital age, is to provide information that will help people make the best possible decisions for themselves.
However, he said, few people bother to check or verify the authenticity or truthfulness of information, giving rise to the prevalence of "fake news", which is sometimes intentional.
"Such an irresponsible act will distort the understanding of complex issues and cause misinformation.
"More often than not, we only get one side of the story in certain issues. That is why professionalism is much needed," he said at the 30th Kenyalang Journalism Awards (KJA) 2018 tonight.
Abang Johari's speech was read out by his deputy, Datuk Amar Douglas Uggah Embas.
He praised the Federation of Sarawak Journalists Association (FSJA) Sibu for organising the event and including the "Digital Economy Category" once more.
"I can say that although sometimes we might not like the news we read, especially the ones that reflect the government's shortcomings, we will always support our journalists," said Abang Johari.
During the event, Sarawak National News Agency (Bernama) journalist, Noor Bakhtiar Ahmad, won the second place prize in the News Reporting Award (Bahasa Malaysia category) for his entry entitled "Wabak Rabies @ Anjing Gila" (Rabies Epidemic @ Mad Dogs), a series of news reports. He received a cash reward of RM2,000, plaque and certificate.
Noor Bakhtiar also won the second place prize in the Sustainability Journalism Award (Bahasa Malaysia category) for his entry, "Pasukan SWAT Kendalikan Buaya Ganas Di Sarawak" (SWAT team sent in to handle aggressive crocodiles in Sarawak).
Here, too, he received a cash reward of RM2,000, plaque and certificate.
Bernama photographer, Muhamad Razali Nordin, won the third place prize in the Photo Journalism Award for his entry, "Glory and Trust", receiving a cash reward of RM800, plaque and certificate.
The Chief Minister Award was won by Priscilla Tawie Sulok from New Sarawak Tribune (English category), Haini Darani from Utusan Sarawak (Bahasa Malaysia category), Ching Heng Mee from Sin Chew Daily (Chinese category) and Monica Gerry fromRadio Television Malaysia (broadcasting category).
Each winner received RM5,000 cash, a plaque and certificate.
Guests at the awards included Bernama Domestic News Service deputy editor-in-chief, Datuk Mokhtar Hussain and FSJApresident, Jane Moh.
-- BERNAMA