Gas tanker lorry driver dies in three-vehicle crash

Last Update: 21/11/2018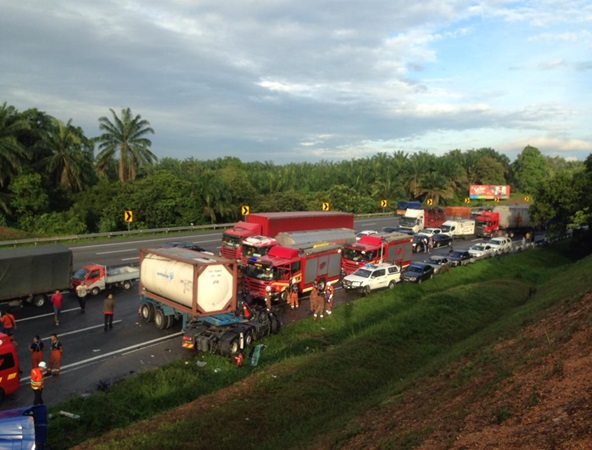 SEREMBAN, Nov 21 (Bernama) -- A gas tanker lorry driver died in an accident involving another gas tanker lorry and a trailer lorry near the Senawang toll plaza (south-bound) here today, according to the police.
Mohd Umar Redaman, 48, who hailed from Kajang, Selangor, died on the spot in the accident that occurred at 5.46 am at Km254.3 of the North-South Expressway.
The accident resulted in the closure of that stretch of the highway (south-bound) for a period and the police advised south-bound motorists using the highway to use alternative roads through Rembau.
Negeri Sembilan Traffic Investigation and Enforcement Department chief Supt Ibrahim Mohd Abdul Kadir said it is believed that a gas-laden tanker lorry rammed the rear of an empty gas tanker lorry as it was turning into the Senawang rest area.
The empty gas tanker lorry then moved to the emergency lane on the highway while the other lorry remained on the left-most lane, he said.
"Then, a trailer lorry carrying planks crashed into the two tanker lorries and spilled its load onto the three lanes of the highway," he said.
Mohd Umar was killed in the impact of the crash, he said, adding that the trailer lorry attendant, identified as Asuan Taib, 30, was injured.
-- BERNAMA