Flood victims complain of recurring floods

Last Update: 20/11/2018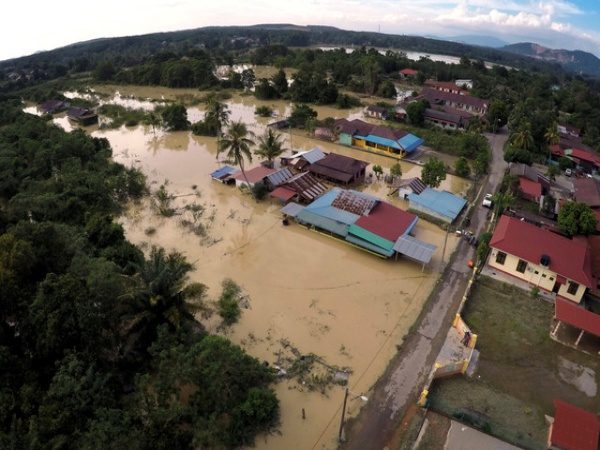 ALOR GAJAH, Nov 20 (Bernama) -- "I'm tired of cleaning the house. This is the third time my house has been flooded. Now we have to go through this painful experience again," bemoaned a flash flood victim in Kampung Gadek, here today.
Mariam Abu Mansor, 52, a businesswoman was one those affected by the flash flood which occurred at 1.30 am yesterday. Continuous heavy rain for four hours caused water to rise up to one-metre affecting 15 villages including Kampung Gadek, Tanjung Rimau Luar, Kampung Padang Sebang and Kampung Bukit Mechat here,
Mariam said she hardly had time to recover from washing the house, cleaning and tidying up all the furniture as well as electric appliances, which were probably damaged after being submerged in the water for a long time including the sofa, washing machine and refrigerator, yesterday when the flood was back again.
"Besides, my business is badly affected, imagine the food cooked for sale is just wasted and the dry goods are all spoilt. Don't even know what has become of the farm animals including the cattle, poultry and ducks.
"We only managed to safe ourselves, everything happened quickly. In fact, this time I did not have time to even save the car. Moreover, all my children live outside Melaka," the mother of four told Bernama when met at the evacuation centre, opened at the Kampung Gadek Community Hall here today.
Up to 12.30 pm today, 987 victims from 274 families were housed at eight temporary evacuation centres in Melaka with Alor Gajah district recording the highest number of 857 flood victims, while Melaka Tengah district recorded 130 victims.
Another victim, Azira Rasali, 29, a clerk working in Seri Kembangan, Selangor, said she had to take emergency leave following the disaster that struck the area around her mother's residence which was near Sungai Gadek.
"I had planned to return to Selangor after morning prayers yesterday, but at about 4 am our family was shocked by the announcement made by the Malaysia Civil Defence Force (APM) in Melaka that the water level in the river was high," she said.
The mother of one who had returned home for a holiday, said she hoped the flood would soon recede so that the family could live their lives as usual as her parents health was becoming increasingly frail.
Administrative assistant, Mazni Zainal, 51, from Taman Sri Dalong said he hoped that the state government could conduct regular inspections and monitor the river's rising water level.
According to APM, thunderstorms have been predicted in several remote areas throughout the state this evening and rain in one or two remote areas at night.
-- BERNAMA