Flood in Melaka: More people evacuated

Last Update: 19/11/2018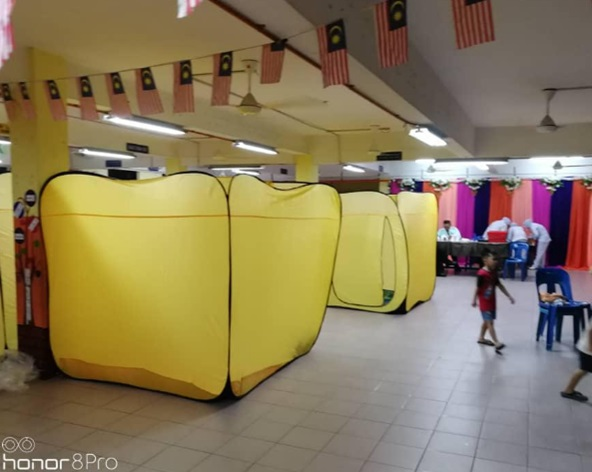 MELAKA, Nov 19 (Bernama) -- Three more flood relief centres were opened today, bringing to seven the total number of evacuation centres in Melaka with more people being evacuation.
As at 8.30 pm, the number of evacuees had increased to 868 people, from 73 people at noon.
Melaka Malaysia Civil Defence Force director Lt Col (PA) Effendy Ali said the new flood evacuation centres opened at Balai Raya Kampung Beringin and Sekolah Kebangsaan (SK) Belimbing Dalam in the Alor Gajah district and Balai Raya Kampung Tanah Merah, Krubong , in Melaka Tengah district.
He said Alor Gajah district recorded the higher number of flood victims, totalling 778 people, with 228 of them at the relief centre at Sekolah Rendah Agama Jabatan Agama Islam Melaka (JAIM) Jelatang, Balai Raya Kampung Gadek (40 people) and SK Lesung Batu (177 people).
"The evacuees in Alor Gajah also comprise 102 people, including 94 students, at Sekolah Tahfiz Panchor, Balai Raya Kampung Beringin (71 people) and SK Belimbing Dalam (160 people).
"A total of 90 people are being accommodated at Balai Raya Kampung Tanah Merah, Krubong in the district of Melaka Tengah," said Effendy, who is also Melaka Disaster Management Committee chief secretariat, ina statement here.
He said the flood occurred following continuous rain between 1.30 am and 5.30 am today.
Meanwhile Melaka Chief Minister Adly Zahari said the state government had instructed several barrage gates which controlled the flow of water from rivers in Alor Gajah and Melaka Tengah to the dam to be opened as an early alternative to overcome flash floods.
"This is to enable the flow of the river water to the dam, hence avoiding water from the rivers to spill their banks and cause flooding.
"The flood mitigation project that is focused in Jasin and Alor Gajah will be given priority to avoid the recurrence of flash floods," he told reporters after visiting the flood victims at Balai Raya Gadek,in Alor Gajah near here tonight.
Adly also announced that the state government would provide aid of between RM200 and RM500 to flood victims.
-- BERNAMA
?