Four juveniles among eight men charged in connection with man's death in school compound

Last Update: 19/11/2018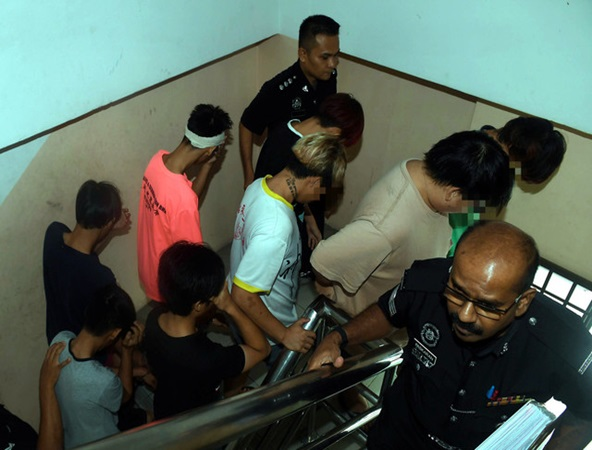 JOHOR BAHRU, Nov 19 (Bernama) -- Eight men, with four of them juveniles, were charged in the Magistrate's Court here today with the murder of a man in the compound of a school here last week.
Lim Chin Hoang,18; Wong Jiunn Woei, 18; Ko Boon Hao, 20, Lom Zhi Hao, 23, and the four juveniles, aged between 15 and 17, nodded their head after the charge was read out to them before Magistrate Azureen Sahira Saufee Afandi.
However, no plea was recorded from all of them.
They were charged with participating at an unlawful gathering for the prosecution of a common objective which was to murder Chia Min Yong, 21, at Sekolah Jenis Kebangsaan Cina (SJKC) Kuo Kuang 1, Taman Ungku Tun Aminah here at 12.30 pm last Nov 11.
The five men were charged with committing an offence under Section 149 of the Penal Code and upon conviction, could be punished under Section 302 of the Penal Code for murder, which carries the mandatory death sentence upon conviction.
One of the, Lim, was also charged under Section 324 of the Penal Code with voluntarily causing hurt with a knife on Heng Wei Lun, 15, at the same place, time and date.
The court set Dec 19 for mention.
The prosecution was conducted by deputy public prosecutor Abdul Jalil Salam Muhamad, whikle all the accused were unrepresented.
Meanwhile, in another Magistrate's Court, six men, including four juveniles aged 14 and 15, pleaded not guilty to possession of weapons while rioting at a national-type Chinese school at Taman Ungku Tun Aminah here at 12.30 om last Nov 11.
Tay Boon Lay and Ooi Boon Jet, both 18, as well as the juveniles, were charged under Section 148 of the Penal Code, which provides an imprisonment for up to five years or fine, or both, if found guilty.
Magistrate Noor Aisyah Ahmad set Dec 19 for mention.
Deputy public prosecutor Muhammad Syafiq Mohd Ghazali prosecuted, while the six accused were unrepresented.
-- BERNAMA