RZSWDC gives students chance to help conserve river

Last Update: 19/11/2018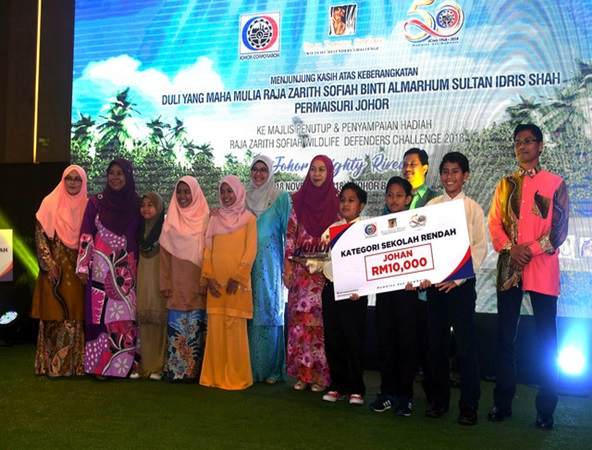 JOHOR BAHRU, Nov 19 (Bernama) -- The Raja Zarith Sofiah Wildlife Defenders Challenge (RZSWDC) has given students of Sekolah Menengah Tunku Abdul Rahman Putra, Kulai a chance to do their bit in conserving rivers by using mud balls.
The RZSWDC programme, the brainchild of Permaisuri Johor Raja Zarith Sofiah Sultan Idris Shah, and was organised by Johor Corporation.
Sekolah Menengah Tunku Abdul Rahman Putra emerged overall winner for the programme as well as in the poster drawing contest.
Counselling teacher R.Kalyani said the school sent six students to participate in the programme since February and they chose the theme 'Johor Mighty Rivers', using mud balls and cooperating with the Johor Biotechnology and Biodiversity Corporation (J-Biotech), a dedicated programme that contributes to Johor's economic and social development in biotechnology and biodiversity.
She said the school also chose Sungai Skudai for its project and saw it transform for the better after several mud balls were thrown into it.
"When we found out that mud balls could improve the quality of river water, we decided to use them to treat the water and we also sold them.
"The students did not want to stop there, and registered as friends of JBiotech," she told reporters at the closing ceremony of the RZSWDC programme here last night.
According to Kalyani, the mud balls are a mix of mud and organic matter which could stabilise the pH of water.
Also present at the event today were chairman of the RZSWDC programme organising committee Datin Noor Laila Yahaya and official representative of Permaisuri Johor, Datin Dr Noor Azizah Abdul Latif.
According to Noor Laila, 132 students, 44 teachers and 22 primary and secondary schools in the state took part in the programme which aimed in increase awareness of the importance of rivers.
--BERNAMA