Sarawak Chief Minister suggests 100 percent Sarawak-based party in Sarawak

Last Update: 14/11/2018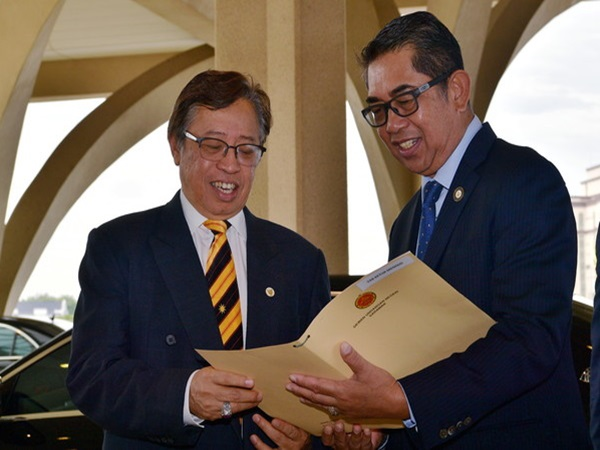 KUCHING, Nov 14 (Bernama) — Sarawak Chief Minister Datuk Patinggi Abang Johari Tun Openg today suggested that only 100 percent Sarawak-based parties should operate in the state.
In this regard, he said it might be urgent and important to encourage the formation of new opposition parties that were truly Sarawak-based and which were not affiliated in any way to non-Sarawakian or foreign political parties to participate in Sarawak politics.
"For us GPS (Gabungan Parti Sarawak), we are truly a Sarawak-based party and helmed by only Sarawakians," said Abang Johari who is the president of Parti Pesaka Bumiputera Bersatu (PBB).
"Today we have no 100 percent Sarawak-based opposition parties and Pakatan Harapan Sarawak is only the Sarawak chapter of the national Pakatan Harapan which is based in Peninsular Malaysia and with leaders from Persekutuan Tanah Melayu," he said, adding that PH Sarawak had very little say over national policy on behalf of Sarawak.
"We have learnt from our history the danger of Sarawak parties being too closely aligned with Peninsular party such as to be subservient to the national politics," he said at the Sarawak State Assembly sitting.
He said neither did they want non-Sarawakians to influence Sarawak behind the scenes and in the context of PBB, adding "we have all along objected to UMNO spreading its wing to Sarawak and this will remain our policy."
The chief minister said therefore he was not wrong when he barred those non-Sarawakians from entering the state, alleging that they could be here to stir up sentiments and emotions that would destroy harmony and split the unity of the Sarawak people.
"The risk of disruptive elements to our peace and harmony is one good reason why I will not relinquish the right of Sarawak to control our immigration policy," he emphasised.
-- BERNAMA