MA63: Motion to form consultative committee to advise Sarawak reps passed

Last Update: 06/11/2018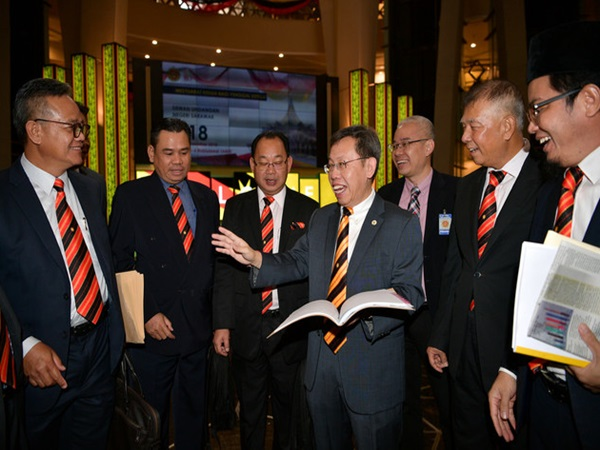 KUCHING, Nov 6 (Bernama) -- The Sarawak State Legislative Assembly today unanimously passed the ministerial motion to form a consultative committee, to advise Sarawak representatives of the Malaysia Agreement (MA63) Steering Committee.
The motion was moved by Sarawak Tourism, Arts, Culture, Youth and Sports Minister Datuk Abdul Karim Rahman Hamzah, who is also Asajaya assemblyman, and seconded by Assistant Minister of Corporate Affairs, Abdullah Saidol (Semop assemblyman).
It was passed after being debated by 31 assemblymen including Abdullah and three from the opposition.
The three opposition members were Baru Bian (PKR-Ba'kelalan), Chong Chieng Jen (DAP-Kota Sentosa) and David Wong Kee Woan (DAP-Pelawan).
The 27, all from Gabungan Parti Sarawak (GPS), included Datuk Henry Harry Jinep (Tasik Biru), Dennis Ngau (Telang Usan), Datuk Dr Juanda Jaya (Jemoreng), Lo Khere Chiang (Batu Kitang), Majang Renggi (Samalaju), Datuk Snowdan Lawan (Balai Ringin), Datuk Sebastian Ting Chiew Yew (Piasau), Dr Annuar Rapaee (Nangka), Jefferson Jamit Unyat (Bukit Goram), Datuk Idris Buang (Muara Tuang), Datuk Amar Jamilah Anu (Tanjong Datu) and Datuk Dr Penguang Manggil (Marudi).
The others were Fazzrudin Abdul Rahman (Tupong), Datuk Dr Abdul Rahman Junaidi (Pantai Damai), Yussibnosh Balo (Tellian), Datuk Liwan Lagang (Belaga), Datuk Lee Kim Shin (Senadin), Datuk John Sikie Tayai (Kakus), Datuk Ding Kuong Hiing (Meradong), Wilson Nyabong Ijang (Pelagus), Aidel Lariwoo (Sadong Jaya), Datuk Mohd Naroden Majais (Gedong), Ripin Lamat (Lambir), Sharifah Hasidah Sayeed Aman Ghazali (Samariang), Datuk Seri Huang Tiong Sii (Repok), Safiee Ahmad (Daro) and Gerald Rentap Jabu (Layar).
Speaker Datuk Amar Mohamad Asfia Awang Nassar put the motion to the vote and it was unanimously supported by all members of the State Assembly.
Abdul Karim, in moving the motion, said the consultative committee comprising 14 members from all political parties in the august House was to establish, determine and agree upon the representation for submission to the Sarawak representatives of the MA63 Steering Committee.
He said the consultative committee also was formed to advance and safeguard the special interests, rights and position of Sarawak as enshrined in MA63 and the Federal Constitution, and to meet the expectations of Sarawakians for greater autonomy and devolution of powers to the state.
"The mechanism to determine and agree on the representation to the MA63 Committee for these safeguards is through the establishment of the consultative committee made under Standing Order 89 and Article 24 of the State Constitution," he said.
For the record, on Oct 10, Minister in the Prime Minister's Department Datuk Liew Vui Keong announced the names of 16 members of the Steering Committee headed by Prime Minister Tun Dr Mahathir Mohamad to review and streamline the MA63.
Besides him, the other committee members include Sabah Chief Minister Datuk Seri Mohd Shafie Apdal, Sarawak Chief Minister Datuk Patinggi Abang Johari Tun Openg, Finance Minister Lim Guan Eng, Economic Affairs Minister Datuk Seri Mohamed Azmin Ali and Communications and Multimedia Minister Gobind Singh Deo.
The others are Foreign Minister Datuk Saifuddin Abdullah, Works Minister Baru Bian, International Trade and Industry Minister Darell Leiking, Transport Minister Anthony Loke Siew Fook, Chief Secretary to the Government Datuk Seri Dr Ismail Bakar, Chief Judge of Sabah and Sarawak Datuk David Wong Dak Wah, Attorney-General Tommy Thomas, Universiti Malaya law Professor Emeritus Datuk Dr Shad Saleem Faruqi, Sabah Attorney-General Datuk Zaleha Rose Pandin and Sarawak Attorney-General Datuk Talat Mahmood Abdul Rashid.
-- BERNAMA