No denial syndrome in PKR - Dr Wan Azizah

Last Update: 06/11/2018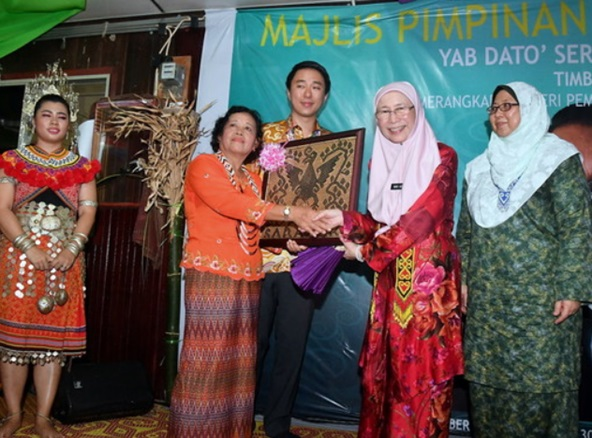 JULAU, Nov 6 (Bernama) -- PKR president Datuk Seri Dr Wan Azizah Wan Ismail said there was no denial syndrome pertaining elements of sabotage in the party elections as alleged by its Wanita chief Zuraida Kamaruddin.
She said there was no denial syndrome in PKR and she wanted all quarters to stop imagining that there were problems in the party.
"There is no denying (of anything). If there is something then the party will take note," she said to reporters when visiting the Rumah Rengayan Anak Ngumbang at Nanga Ruyak here today.
She was commenting on Zuraida statement who said that the party leadership should wake up from 'denial syndrome' and to view seriously on the possibility of sabotage in the PKR Election 2018.
Zuraida, one of the candidates for vice-president post, said that the issue required immediate attention as it could spoil the elections.
Dr Wan Azizah said she hoped for clean and fair elections, by not using any government machinery or position in government that could cause intimidation on party members in making democratic choices.
"We want this selection to be carried out smoothly in which all members can make their choices independently.
"Let the elections held in healthy way without using government machinery because some of the candidates contesting are in the government, and this will ensure all candidates to stand on equal footing," she said adding that the elections would culminate on Nov 10 at 29 divisions in Sarawak.
She also admitted that there were problems related to the Internet access for online voting as several divisions such as Julau, had only 10 per cent of (Internet) access.
It would be up to the election committee to decide if the should be any postponement in the event of a technical problem, she said.
Earlier, Dr Wan Azizah, who is also deputy prime minister, has approved an allocation of RM100,000 for the construction of the road to facilitate the daily of lives of 200 residents of the Rumah Rengayan.
-- BERNAMA