UMNO launches poll machinery in anticipation of Rantau By-election

Last Update: 06/11/2018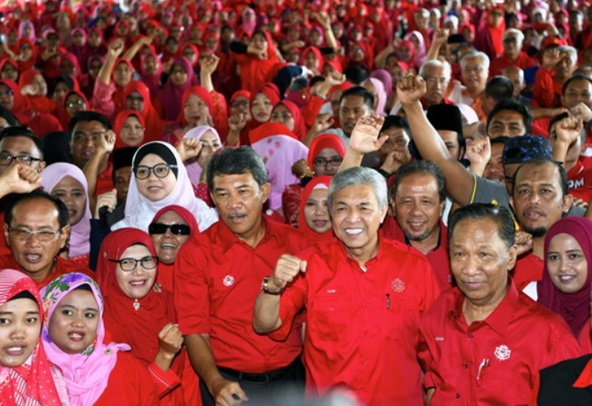 SEREMBAN, Nov 6 (Bernama) — UMNO, in anticipation of a by-election for the Rantau state seat, today launched its election machinery for the constituency.
Its president, Datuk Seri Dr Ahmad Zahid Hamidi said although no ruling had been made by the court on the election petition for the Rantau seat, the election machinery was launched to keep its members prepared.
He said it was also to ensure smooth going of party activities at the grassroots level.
"Moreover, generally all those present here are grassroots members from Rembau, so the launching of the election machinery today is timely," he told reporters after an event with the Umno president for local party members, today.
Also present were UMNO deputy president, Datuk Seri Mohamad Hasan, vice-presidents Datuk Seri Ismail Sabri Yaakob and Datuk Seri Mahdzir Khalid, and the Member of Parliament for Rembau, Khairy Jamaluddin.
Following the 14th general election, PKR candidate for the Rantau seat, Dr S. Streram filed a petition on May 23, naming Mohamad as the first respondent, Election Commission (EC) returning officer Amino Agus as the second respondent, and the EC as the third respondent.
Mohamad won the seat unopposed after Amino allegedly refused to allow Dr Streram into the nomination centre on April 28 because he did not have a valid pass issued by the EC. However, Dr Streram claimed that the EC failed to inform him about the pass when obtaining the nomination papers and paying the deposit as a candidate.
In the election petition, the anaesthesiologist sought for a by-election be held for the Rantau seat as its incumbent had not won the seat legitimately, hence the result was void.
Earlier, Ahmad Zahid in his speech, said he would be spending time in Rantau to assist Mohamad in the event of a by-election in the constituency.
On another development, he said Khairy who chairs Barisan National Shadow Cabinet's Finance Portfolio Committee, would be presenting the Opposition's Alternative Budget 2019 in the Dewan Rakyat next Monday.
Meanwhile, Mohamad said the court might decide on the election petition for the Rantau seat next week.
"If there is no by-election, 'Alhamdulillah', but our machinery will still be activated for UMNO to rise again and I believe UMNO will rise again, starting in Negeri Sembilan," he added.
-- BERNAMA