Landslide: four bodies found after over 24 hours

Last Update: 20/10/2018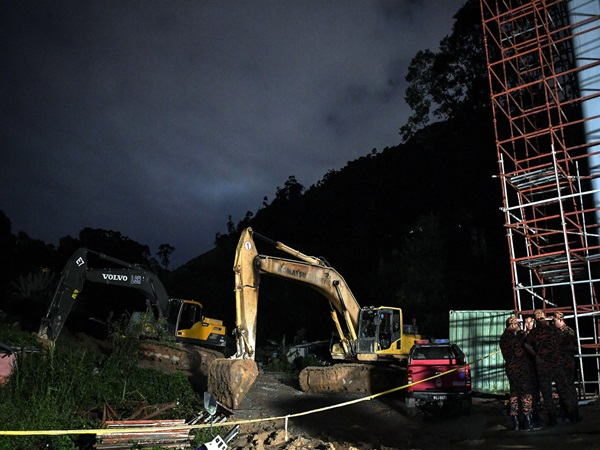 GEORGE TOWN, Oct 20 (Bernama) -- After two days in the search and rescue (SAR) for victims of the landslide tragedy at Jalan Bukit Kukus, Paya Terubong here, four bodies were found, three were found safe while five others are feared to be still buried in the debris.
The operation involving over 200 rescue personnel from various agencies including the the Special Tactical Operation and Rescue Unit (STORM) together with the Fire Department tracker dog (K9) unit was put on hold twice on the second day of the tragedy following heavy rains at the site.
The first time the SAR operation was stopped was at 4.45am. Operation resumed at 8 am but was halted again at 1.30pm before resuming at 4.35pm.
Penang Fire and Rescue Department director Saadon Moktar said the search and rescue operation had to stop following fears of land movements due to heavy rains in the area.
"The operation was temporarily suspended at 7 pm today due to land movements and poor lighting but we hope to get back to work at 8am tomorrow.
"The Department of Minerals and Geoscience will inspect the land tomorrow morning before the teams are allowed to continue with the SAR operation," he told reporters at the scene here tonight.
So far the four bodies found were that of two Indonesian men, Samsul Asman, 19, and Bahtiar, 36; a Bangladeshi citizen, Attarul, 35; and a Myanmar woman Khin Aye Khaing, 33.
After Attarul's body was found at 3.30pm yesterday, Samsul's body was retrieved at 5.08pm. Khin's body was found much later at 1.30am and Bahtiar's body was found at 11.55am this morning.
Three other victims found safe with minor injuries were a Bangladeshi man known as Shamim, 24; and two Indonesian women, Norazizah, 24; and Wa Iri, 31, who is four months pregnant and wife to Bahtiar.
According to the Fire and Rescue Department five people, an Indonesian named Subairi, and four Bangladeshis Mithu Hossain, 30; Mohamad Abd Jalil, 34; Ujal, 33; and Rahat, 25 are feared to be still buried in debris.
Meanwhile police have listed the names of victims as Suhairi, Indonesian (missing); Mithu Hossain, 30, Bangladeshi (missing) and Md Jalil, 31 (missing) while two others, Mohamad Ujal, 33, Bangladeshi and Mohamad Rajan, 25, Bangladeshi were not given the 'missing' status in the list.
Northeast district police chief ACP Che Zaimani Che Awang in a statement tonight said the fourth and fifth names were not listed as victims by the police, as they do not have documents (workers without a permit).
"Their family members have failed to provide any personal documents and we believe the last two on the list were not at the scene during the incident or could have escaped after the landslide," he said.
The landslide was reported at 1.56pm yesterday after heavy rains in the state since Thursday evening.
The incident caused the hilly area to collapse and slide down bringing the containers and workers' quarters to be buried together at the construction site of the paired road at Jalan Bukit Kukus in Paya Terubong.
-- BERNAMA