No construction work done during landslide - Chow

Last Update: 19/10/2018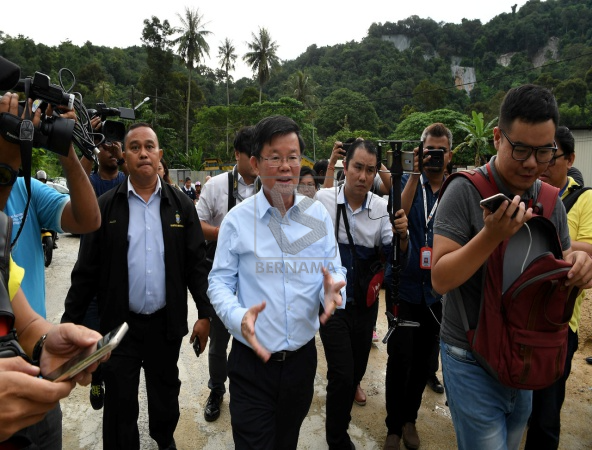 GEORGE TOWN, Oct 19 (Bernama) -- No construction work was being carried out at the construction site of the paired road at Jalan Bukit Kukus in Paya Terubong near here today, said Chief Minister Chow Kon Yeow.
He said the Department of Occupational Safety and Health (DOSH) had issued a directive to stop work on the highway project following several concrete beams that fell on the slopes of the Jalan Tun Sardon last Thursday, one kilometre from the location of the landslide.
"As the 'stop work order' is still in effect, all working activities had stopped. I am told the the contractor had given a report to DOSH this morning at a meeting with DOSH to provide information on the mitigation work that must be carried out.
"They should submit the report this afternoon but before the report was sent, the landslide had occurred and the contractor and workers could not carry out work because the 'stop work order' had been issued," he told reporters at the site of the incident.
Earlier, Chow together with several State Exco members, Phee Boon Poh, Zairil Khir Johari and Yeoh Soon Hin were at the scene to make an observation.
The Bukit Kukus Paired Road project costing RM545 million is expected to be delayed following the incident at the construction site involving 14 concrete beams measuring 25m each which had fallen down the slope last Thursday.
The project which had started in 2016 was implemented by three parties to save cost namely the Penang Island City Council (MBPP), PLB Land Sdn Bhd and Geo Valley Sdn Bhd while the incident occurred in the section under MBPP.
Chow said the project was expected to be ready in 2020.
He said the weather condition and the presence of flowing water on the hill slope were believed to have been the cause of the landslide.
Meanwhile, Chow said the state government expressed its sadness and regret on the incident that had affected the victims.
Two people died while one was injured and at least 10 other victims who were foreign workers working at the construction site for the paired road were still buried under the landslide.
-- BERNAMA