Paya Terubong: Second incident in nine days, this time it claims lives

Last Update: 19/10/2018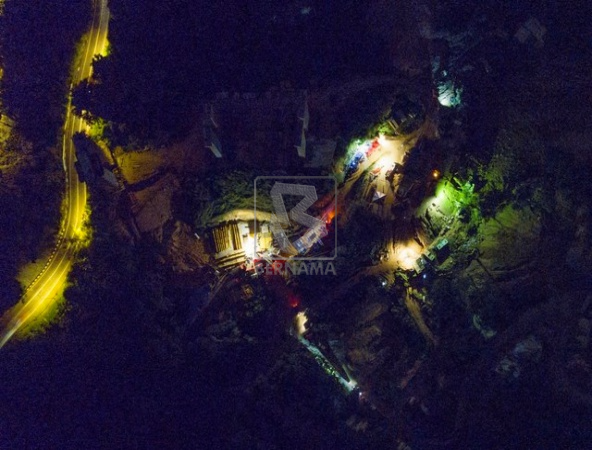 GEORGE TOWN, Oct 19 (Bernama) -- Paya Terubong, situated about eight kilometres from George Town, once again grabbed the headlines when a major landslide occurred in Jalan Bukit Kukus at 1.56pm today.
The landslide affected four containers at the construction site and it was feared that more than 10 victims were trapped underneath.
As of 6.30pm, three victims have been found, two were dead and one was injured.
Only nine days ago (Oct 11) 14 concrete beams, measuring 25m each, for the construction of the road from Paya Terubong to Relau fell on the slope. However, no injuries were reported.
According to Wikipedia, in the early days the Paya Terubong area was an agricultural area before it began to be explored in the early 1980s and converted into a residential area with high-rise buildings.
The development project in the Paya Terubong has destroyed the hills as developers were forced to explore the area for the purpose of building low-cost and low medium-cost housing units.
Paya Terubong is also one of the areas in Penang that has high density with the developers were planning to build various mixed development projects in the area.
During peak hours, Jalan Paya Terubong which connects housing areas in Bandar Baru Air Itam and Farlim with the industrial area in Bayan Lepas will often experience traffic congestion.
Landslide incidents were also often reported in the area.
To address the traffic congestion, the local authorities in collaboration with developers planned to build road that would pass through Paya Terubong, including Pan-Island Link 1 (PIL1) and Bukit Kukus Road Project.
The project, initiated in 2016, was implemented by three parties as cost-saving measures including the Penang City Council (MBPP), PLB Land Sdn Bhd and Geo Valley Sdn Bhd while the incident occurred in the division under MBPP.
The RM545 million project is an alternative road connecting Thean Teik Highway in Bandar Baru Air Itam to Lebuh Bukit Jambul.
-- BERNAMA