Families, friends of Paya Terubong landsilde victims gather at site

Last Update: 19/10/2018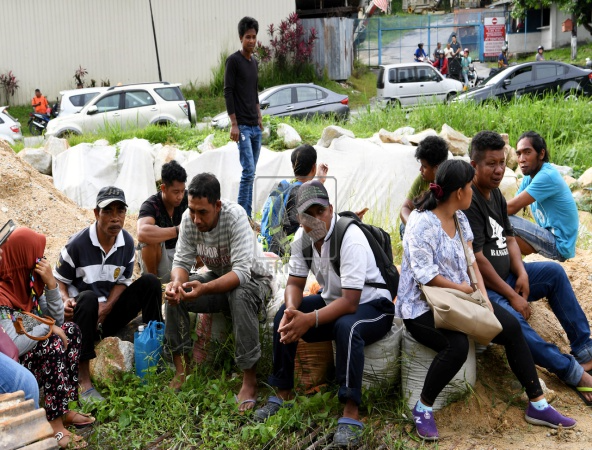 GEORGE TOWN, Oct 19 ( Bernama) --- A group of foreigners believed to be family members and friends of victims in a landslide at Jalan Bukit Kukus, Paya Terubong here gathered at the project site gate to obtain the latest development on the incident.
They started arriving at 3.30pm, for news on the victims but as at 5.30pm, there was no development.
An Indonesian labourer, Kasran Rajuni hoped his home village friends who were feared buried in a landslide in Paya Terubong here were found safe.
Kasran, 28, of Kota Bau-Bau, North Sulawesi said he last met his friends about two months ago.
"I was shocked when told of the incident and I immediately rushed here from Batu Maung," he told Bernama here today.
Another Indonesian, Nita also came over to check his relative who was involved in the incident.
"Two weeks ago, he contacted and wanted to meet this Sunday but I was busy," said Nita.
MEANWHILE, the Indonesian Consulate will be gathering complete information on the actual number of Indonesian victims in the landslide.
"Consulate representatives are already at the location to see the situation and acquire information," he said when contacted .
He said according to the next-of-kin, the victims' bodies would be brought back to their country after post-mortem.
The landslide in Jalan Bukit Kukus at 1.56pm today, affected four containers at the construction site.
It is feared more than 10 victims were trapped in the site and as at 6.30pm, four victims have been found, three were dead and one was injured.
Two dead victims were identified as Samsul, 19 and Attrul, 35, of Bangladesh.
-- BERNAMA