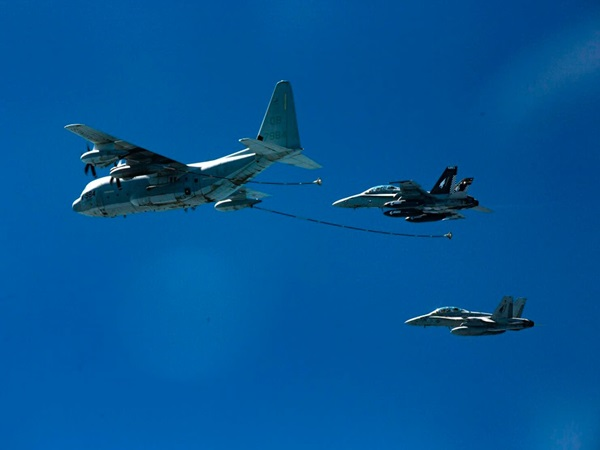 source: https://www.washingtonpost.com/world/asia_pacific/2-us-warplanes-crash-off-japan-coast-rescue-underway/2018/12/05/cef5baa4-f8ee-11e8-8642-c9718a256cbd_story.html?noredirect=on&utm_term=.bd3f1497e1dc
TOKYO, Dec 6 (Bernama) -- An F/A-18 fighter jet and a KC-130 tanker plane belonging to the US Marines collided and crashed off Cape Muroto of Japan's western coast early on Thursday, with six of the seven crew members still missing, the US Marines and Japanese Defence Ministry said.
According to officials, there were two crew members aboard the fighter jet and five crew members aboard the tanker plane when the collision occurred at around 1.40 am local time, Xinhua news agency reported.
According to Japan's Defence Ministry, one person has been rescued by the Japanese Self-Defence Forces (JSDF).
The rescued crew member was taken to the Marine Corps Air Station Iwakuni in western Japan, the Marines said, while a Japanese official stated that the person who was rescued by the JSDF, is in a stable condition.
The ministry said the planes, based at the Marine Corps Air Station Iwakuni in western Japan, were conducting a routine training operation when the collision occurred around 100 km south of Cape Muroto in Kochi Prefecture.
A JSDF search and rescue aircraft was quickly deployed to help with rescue efforts, while other SDF aircraft and vessels are also searching the area for survivors, the Marines said.
The Japanese Defence Ministry is currently trying to ascertain more details from the US forces in Japan about the accident, which is currently under investigation.
Last month, another F/A-18 fighter aircraft, belonging to the USS Ronald Reagan nuclear carrier, crashed into the Pacific Ocean in waters southwest of Kita Daitojima Island around 290 km from Okinawa, due to mechanical issues.
On Oct 19, a US Navy MH-60 Seahawk helicopter crashed on the deck of the USS Ronald Reagan during routine operations
The crashes occurring within a month of each other and related to the same aircraft carrier, sparked a great deal of concern from the Japanese government, who said it would strongly request information about the accident amid safety concerns and local citizens' fears.
Chief Cabinet Secretary Yoshihide Suga said at the time that accidents "involving US military cause immense worry to people in the area and should not occur."
Japan's top government spokesperson at the time vowed to "strongly request that the US provide us with information and ensure absolute safety management."
-- BERNAMA