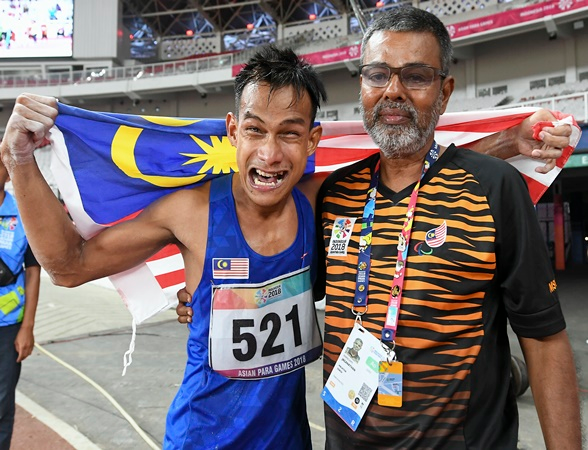 By Mohd Shukri Ishak
JAKARTA, Oct 12 (Bernama) -- It was with sheer grit and determination that Dik Wan smashed the Asian record in the long jump event at 2018 Asian Para Games and won his third gold medal while nursing a hamstring and groin injury.
National para athletics coach Jaganathan Ramasamy said," For twelve years I trained him, like my own son and when the final crunch came, I could only pray."
Athlete extraordinaire Mohamad Ridzuan Puzi who calls himself Dik Wan, won three golds in 100m T36, 400m T36 and long jump T36 events at the Asian Para Games.
" Dik Wan picked up a 'hamstring and groin' injury after his world record sprint of 11.87 seconds in the men's 100m T36 (cerebral palsy) event which erased the previous record of 11.90 seconds set by Russian para athlete, Evgenii Shvetcov in the IPC World Paralympic Championship in Lyon, France in 2013, " said Jaganathan.
But, he added, Dik Wan put the pain aside, keep on running for the nation and won another gold medal in the men's 400m T36 event in 59.36 seconds.
"His injuries worsened and there was a nerve damage, but yesterday morning, at 11.30am, he knocked on my door and said he wanted to participate in the T36 long jump event.
"The doctor examined him and advised him to not join the event for the fear that he could further strain his wound but he insisted on competing," he said.....