EXCLUSIVE PRESS News List
Pin It With Style At 7-Eleven Malaysia!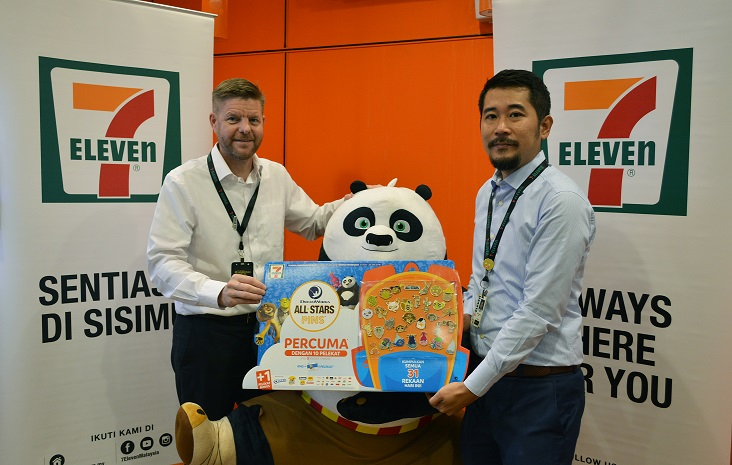 KUALA LUMPUR, Nov 30 (Bernama) -- The latest loyalty redemption campaign from 7-Eleven Malaysia features wildly popular characters from 4 iconic titles of the DreamWorks world! Have a trip with Alex and friends from Madagascar, get into action with Po and his team from KungFu Panda, enjoy bizarre adventures with Shrek and colour your life with the cast of Trolls!
The DreamWorks All Stars PinsTM come in 31 eye-catching designs, each featuring a piece of the DreamWorks world. From now until 21st January 2019, for every selected purchase of RM5 and above in a single receipt at any 7-Eleven outlet, a program sticker will be rewarded. As a bonus, an additional sticker will be rewarded if the purchase includes a promotional partner product. Customers get to score a free pin by simply collecting 10 stickers or may opt to speed up their collection by topping up an additional RM 6.90 once 5 campaign stickers are collected.
Malindo air's travel advisory for holiday season
PETALING JAYA, Nov 30 (Bernama) -- Malindo Air would like to encourage all passengers travelling during this holiday period to arrive at the airport at least 3-hour prior to scheduled time of departure for Malindo Air's flights to clear all travel formalities and to avoid the expected passengers traffic congestion. The check-in counter will be closed 60 minutes before flight departure time at KLIA and 30 minutes before at Subang Skypark.

As congestion is expected at the security scanning, baggage clearance and immigration checkpoints during this holiday season, it is advisable to complete baggage drop and proceed to the boarding gate as early as possible.
Danajamin Guarantees Malaysia Steel Works (Kl) Berhad RM130 Million Sukuk Ijarah Programme
KUALA LUMPUR, Nov 30 (Bernama) -- Danajamin Nasional Berhad ("Danajamin"), the country's first Financial Guarantee Insurer, today announced that it is guaranteeing a five-year RM130 million Sukuk Ijarah Programme ("Sukuk") issued by Malaysia Steel Works (KL) Berhad ("Masteel").

The said Sukuk, is rated
AAAis(fg)
by Malaysian Rating Corporation Berhad ("MARC") following the backing of an irrevocable and unconditional Kafalah Guarantee provided by Danajamin.
PIC Creates History with Highest Safe Man-hours Recorded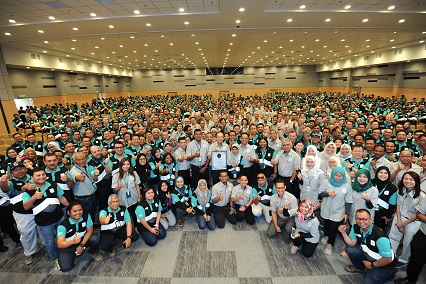 PENGERANG, Johor, Nov 30 (Bernama) -- The Pengerang Integrated Complex (PIC), Petroliam Nasional Berhad's (PETRONAS) largest downstream investment, created history by achieving the highest safe man-hours of 120 million, entering the Malaysia Book of Records under the "Human Achievements" category. The incident-free man-hours was clocked from 18 March 2018 to 5 November 2018.
The momentous occasion was celebrated in the presence of President & Group Chief Executive Officer of PETRONAS, Tan Sri Wan Zulkiflee Wan Ariffin; Executive Vice President & Chief Executive Officer Downstream, Datuk Md Arif Mahmood; Senior Vice President and Chief Executive Officer of PRPC, Dr. Colin Wong Hee Huing and representatives from PETRONAS and EPCC.
Two Malaysian eFounders Graduate from UNCTAD and Alibaba Business School´s eFounders Fellowship
38 Asian entrepreneurs join champions for the development of
an inclusive and sustainable digital economy

KUALA LUMPUR, Nov 30 (Bernama) -- 38 Asian entrepreneurs, with two participants from Malaysia have successfully completed the fourth edition of the eFounders Fellowship, a joint initiative by the United Nations Conference on Trade and Development (UNCTAD) and Alibaba Business School. The Fellowship aims to bridge the digital divide and enable young entrepreneurs with the right skills for their businesses, and encourages them to share their newly acquired knowledge with the communities they operate in.
The graduation shows Alibaba is on target to fulfil the pledge made by Jack Ma, founder and Executive Chairman of Alibaba Group, in his capacity as the UNCTAD Special Adviser for Young Entrepreneurs and Small Business. The commitment seeks to empower 1,000 entrepreneurs in developing countries by creating champions for inclusive and sustainable economic development through the digital economy over the next five years.
Teledyne Image Sensors Power Cameras Onboard NASA's InSight Mission To Mars
WATERLOO, Ontario, Nov 30 (Bernama) -- Teledyne DALSA, a Teledyne Technologies [NYSE: TDY] company and global leader in digital imaging, is pleased to participate in NASA's InSight Mission to Mars by providing color CCD image sensors for both the Instrument Deployment Camera (IDC) and the Instrument Context Camera.
Teledyne is pleased to have partnered with Jet Propulsion Labs (JPL) to deliver the color image sensors to power the InSight mission. The camera on the Lander's arm will provide 3D color views of the landing site, instrument placement, and activities to inform engineers and scientists of the best spots for the seismometer and heat flow probe to gather measurements from the interior of Mars.