EXCLUSIVE PRESS News List
41 Cities Reunite In Shenyang Discussing Green Development At The 18th World Winter Cities Association For Mayors Conference
SHENYANG, China, Sept 14 (Bernama) -- The 18th World Winter Cities Association for Mayors Conference (WWCAM Conference) was held in Shenyang on Sept. 12, 2018. The conference invited 41 city groups and 52 chamber of commerce groups from 30 countries, according to Shenyang Municipal Government. With the theme "winter city, better life", WWCAM probed into the planning and construction management of winter urban, and the construction and green development of smart city. WWCAM will also innovate, as well as promote the exchanges and cooperation among winter cities so as to solve development problems around the world.
Since the first WWCAM Conference was held in Sapporo, Japan in 1982, it has been held every two years for 36 years. Building on its past success, this conference breaks through the limitations of member cities and warmly invites winter city representatives from countries facing common challenges across five continents, injecting new vitality into the exchanges among cities in the world.
Tesco Malaysia Joins World Clean Up Day!
Malaysia's leading hypermarket committed to engaging local communities for World Cleanup Day 2018

KEPONG, Sept 14 (Bernama) -- In conjunction with World Clean Up Day, which is the biggest global civic action in human history celebrated on 15 September, Tesco Malaysia is working together with RCOMM Lestari to host community engagements at four locations concurrently as a commitment towards a cleaner environment.
RCOMM Lestari is an NGO officially appointed by Let's Do It World Foundation, the creator for World Cleanup Day to lead and implement this environmental movement in Malaysia. With an extensive network of NGOs, civic groups and educational institutions, RCOMM is organising mass clean-up activities at 150 locations throughout Malaysia with the endorsement from Ministry of Housing and Local Government and with global support from United Nations Environment Programme (UNEP).
Asia Lifestyle Expo 2019 Launches In Bangkok
BANGKOK, Sept 14 (Bernama) -- Taking its lead from the One Belt One Road initiative, Asia Lifestyle Expo 2019 will arrive in Bangkok next year. This new platform will promote a free flow of trade, encourage market integration and forge new ties within the ASEAN region.
Organized by COMASIA Limited and co-organized by N.C.C. Exhibition Organizer Co., Ltd., the trade expo, held from 21st - 23rdAugust 2019 at BITEC Bangkok, will provide retailers, trading companies, e-commerce, and online sellers an opportunity to import lifestyle products to ASEAN and to export ASEAN-made products regionally and globally. Five-hundred booths will showcase products ranging from gifts, consumer electronics, toys, accessories, kitchenware, arts, crafts and homeware.
Nodle.io Raises $1.5M Seed Funding To Bring IoT Cryptocurrency To App Developers
SAN FRANCISCO, Sept 14 (Bernama) -- Nodle.io, an Internet of Things (IoT) and connectivity network provider, today announced a $1.5 million seed round and the launch of a new cryptocurrency for monetizing IoT connections, applications and data. Nodle.io provides internet connectivity to IoT devices by crowdsourcing a network of smartphones. Currently over 1 million devices are connecting to the Nodle Citizen Network every day. This is the largest dedicated IoT network ever deployed to date, by number of base stations.
Blockchange Ventures led the investment round with participation from Blockhead Capital, Bootstraplabs, Olymp Capital, Mark Pincus with Work Play Ventures and Yeoman's Capital.
A.M. Best Affirms Credit Ratings Of Co-operative Life Limited
SINGAPORE, Sept 14 (Bernama) -- A.M. Best has affirmed the Financial Strength Rating of B++ (Good) and the Long-Term Issuer Credit Rating of "bbb+" of Co-operative Life Limited (Co-op Life) (New Zealand). The outlook of these Credit Ratings (ratings) is stable.
The ratings reflect Co-op Life's balance sheet strength, which A.M. Best categorizes as adequate, as well as its strong operating performance, limited business profile and appropriate enterprise risk management.
SK Broadband Partners With ContentWise To Boost Its Multimedia Entertainment Services, Increasing B tv's Movie Viewing Sessions By 24%
-The ContentWise solution powers deep UX personalization and automation for SK Broadband's B tv IPTV service.

-Selection of ContentWise is key to implement SK Broadband "Customer Value Innovation" strategic initiative.

-SK Broadband customers will be able to select their favorite viewing style and get individually personalized content and menu selections based on their preferences and activity.

LOS ANGELES, Sept 14 (Bernama) -- SK Broadband, the leading broadband and multimedia entertainment provider in Korea selected ContentWise, the TV UX automation, personalization, analytics and metadata experts, to provide the personalization and UX automation software for its newly re-architected multimedia entertainment services.
SK Broadband recently-announced revamping of its multimedia service starts with the customer at the center and stretches traditional approaches to packaging and delivering of content to meet the individual preferences of each customer.
PETRONAS Opens New Research And Technology Centre For Latin America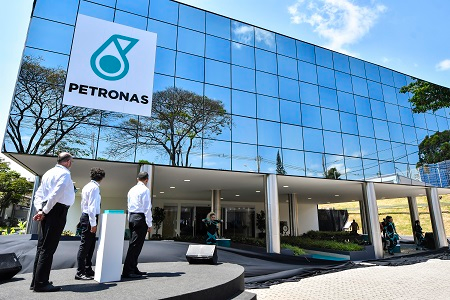 CONTAGEM, Minas Gerais, Brazil, Sept 14 (Bernama) -- PETRONAS, through its subsidiary PETRONAS Lubricants International (PLI), opened its Research and Technology Centre in Latin America, the largest facility dedicated to the development of fluid technology to meet the region's automotive and industrial sector's growing needs.
The Research & Technology (R&T) facility located at the PETRONAS Lubricants Brazil's blending plant here, focuses on development of the latest industrial fluids, lubricants and greases, while serving as a centre for technical expertise, customer assistance, product management and quality control activities.