EXCLUSIVE PRESS News List
LEGOLAND® Malaysia Resort Celebrates World Friendship Day With LEGO Friends
Resort introduces its live dance show with one of LEGO® most popular line-up

ISKANDAR PUTERI, July 15 (Bernama) -- LEGOLAND Malaysia Resort is inviting Malaysians to meet Olivia, Emma, Stephanie, Mia and Andrea, the LEGO Friends, a core reality-based LEGO play theme from the LEGO Friends TV series. The girls have travelled all the way from Heartlake City to make new friends and treat their guests to a high-energy live performance at the theme park.
During the 20-minute show, fans can catch Andrea, the main character as she gets ready for the annual Heartlake City concert. The whole family is encouraged to cheer and join in the action in the LEGO Friends build up and preparation for the big show! The all-singing, all-dancing production features LEGO Friend's hit songs such as "BFF" and "Friends are Forever" with interactive sing-along moments where the audience is encouraged to join in with some of dance moves. Audiences will be immersed into the singing, dancing and musical performance of Heartlake City with the latest visual mapping technology.
SAP remains steadfastly focused on Malaysia´s Digital Economy growth
KUALA LUMPUR, July 15 (Bernama) -- Global enterprise software leader SAP today said that it remains steadfastly focused on the continued growth of Malaysia's Digital Economy.
Its President and Managing Director (Southeast Asia) Claus Andresen said that SAP's focus encompassed areas such as nurturing talent, growing the local ecosystem and in having established a service delivery centre in Kuala Lumpur for the SEA region.
Jasmine Food Wins Malaysia's Reader's Digest Most Trusted Brand Award For 15 Consecutive Years
KUALA LUMPUR, Malaysia, July 15 (Bernama) -- Jasmine Food Corporation (Jasmine) Sdn Bhd has proven itself as a consumer trustworthy brand after receiving its twelve consecutive "Platinum Trusted Brand" in the Rice Category from Malaysia's Reader's Digest. The award was received by Jasmine Food Corporation's CEO, Lim Swee Keat, during the 2019 "Reader's Digest Trusted Brands Award" ceremony on June 11, 2019.
This prestigious Reader's Digest Trusted Brands award is presented to industry leaders across six Asian countries, that excel in their Trustworthiness and Credibility, Quality, Value, Understanding of Customer Needs, Innovation, and Social Responsibility. Voted by thousands of consumers, the final score is calculated by multiplying the final number of votes along with the average score for six categories.
AM Best Revises Outlooks To Negative For Thaire Life Assurance Public Company Limited
SINGAPORE, July 15 (Bernama) -- AM Best has revised the outlooks to negative from stable and affirmed the Financial Strength Rating of A- (Excellent) and the Long-Term Issuer Credit Rating (Long-Term ICR) of "a-" of Thaire Life Assurance Public Company Limited (Thaire Life) (Thailand).
These Credit Ratings (ratings) reflect Thaire Life's balance sheet strength, which AM Best categorizes as strong, as well as its strong operating performance, neutral business profile and appropriate enterprise risk management.
AmInvestment Bank Wins Four Awards at The Asset Triple A Infrastructure Awards 2019
KUALA LUMPUR, July 15 (Bernama) -- AmInvestment Bank Berhad ("AmInvestment Bank") received four awards at The Asset Triple A's Asia Infrastructure Awards 2019, including the Project Finance House of the year award for the fifth time. The awards were presented at the Four Seasons Hotel in Singapore on Monday, 24 June 2019. The awards ceremony was organised by The Asset, an integrated multi-media company serving the elite community of leading corporate and financial decision makers in Asia.
The full list of awards won by AmInvestment Bank is as follows:
PETRONAS Sprinta Makes MotoGP Debut At The Dutch Grand Prix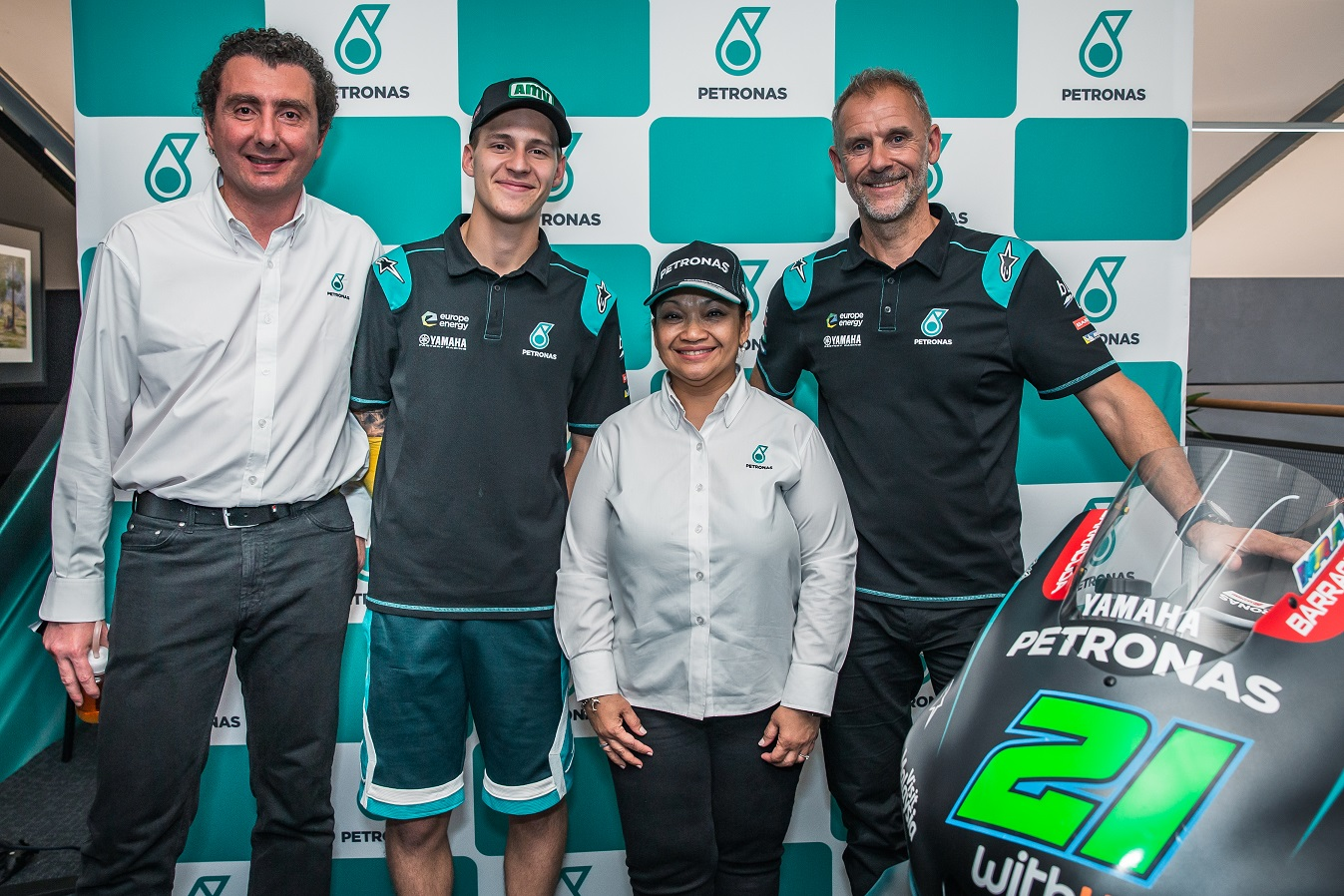 KUALA LUMPUR, July 13 (Bernama) -- PETRONAS Yamaha Sepang Racing Team's title sponsor, PETRONAS announced at the recent Dutch Grand Prix in Assen, that it has successfully integrated its new engine oil, PETRONAS Sprinta with the Yamaha YZR- M1 of Franco Morbidelli and Fabio Quartararo.
Uniquely formulated to suit the characteristics of the Yamaha bikes, Sprinta is expected to boost the engine's performance and reliability while providing superior engine cleanliness. It was an opportune time for PETRONAS to introduce the new engine oil as rookie Fabio took pole postion and finished third at the Dutch Grand Prix.