EXCLUSIVE PRESS News List
Teledyne DALSA Expands Its Area Camera Series With The Industry's First 5 Gigabit, GigE Vision Models
WATERLOO, Ontario, Sept 19 (Bernama) -- Teledyne DALSA, a Teledyne Technologies company and global leader in machine vision technology, is pleased to introduce its newest Genie Nano cameras with eight new monochrome and color models built around the industry's best performing SONY®
image sensors. These industry-first 5-Gigabit GigE Vision cameras feature resolutions from 3.2Mpixels to 12Mpixels with more models to follow before the end of the year – including a 5Mpixel Polarized model.
Engineered for imaging applications that require high-speed data transfer, these new Nano models are an easy replacement for cameras built into current vision systems that rely on the existing GigE vision interface standard. These new Genie Nano models feature the brand new 5GBASE-T link speed.
Fusionex Supports Medical Outreach Program Targeting 500,000 Malaysians
KUALA LUMPUR, Malaysia, Sept 18 (Bernama) -- Fusionex is lending its support to the Mobile Medical Wellness Awareness Outreach Program. Fusionex is a main partner and sponsor for the program, which aims to create awareness of high blood pressure, high cholesterol, and high sugar – the three highs. To educate patients and the public, a Mobile Medical Outreach van will be visiting schools, colleges, malls, and community centers from November.
The van and program were launched by Rotary Club of Kuala Lumpur DiRaja president Datuk Seri Nelson Kwok who took his oath at the Club's 91st installation recently. He explained that the National Health and Morbidity Survey showed 17.5% of those aged 18 and above have diabetes and almost half of the population, or about 9.6 million people, have high blood or high cholesterol levels.
RM116 Million GCH Retail Distribution Centre Brings Consumers Nationwide Fresher Products, More Value
KAJANG, Sept 18 (Bernama) -- Malaysia's Largest Supermarket and Hypermarket Operator, GCH Retail (M) Sdn Bhd, is raising the standard of Freshness
in consumer food expectations with the official opening of its RM116 million fresh distribution centre here today. GCH Retail operates GIANT, COLD STORAGE, JASON'S FOOD HALL and MERCATO'S stores, the only one with presence in every state in the country today.
"For over 70 years we have been committed to bringing innovative, value driven, fresh retail experiences to Malaysian consumers across the country. Today, we take that to a new level. This state of the art facility represents a part of our continuing financial commitment, and support at an organisational level to the idea of Freshness
in everything we do." said GCH Retail (Malaysia) Sdn Bhd Managing Director, Pierre-Olivier Deplanck. "From getting the very best local products from farm to table; ensuring the highest standards of cleanliness at every point; and bringing consumers value in every purchase - the new distribution centre is the Gateway for Freshness
for Malaysians."
2018 China Wulong International Mountain Outdoor Sports Open Begins
CHONGQING, China, Sept 18 (Bernama) -- On September 17, 2018 China Wulong International Mountain Outdoor Sports Open kicked off in Wulong District, Chongqing City.
According to the Publicity Department of Wulong District Committee of Chongqing Municipality, as an important attempt of Wulong District at the integrated development of "tourism+sports+culture", this year's tournament with a theme of "Healthy China, Chongqing of Mountains and Rivers, Beautiful Wulong".
Berkshire Hathaway Specialty Insurance Company Adds Key Product Line & Service Leaders In Dubai
BOSTON, Sept 18 (Bernama) -- Berkshire Hathaway Specialty Insurance Company (BHSI) today announced that it has further expanded its leadership team in Dubai with the appointment of executives to fill key product line and service posts.
"Building a strong foundation of servicing capabilities and local knowledge and expertise is critical to BHSI's long term plans in the Middle East," said Marc Breuil, President, BHSI, Asia Middle East. "Since DIFC BHSI commenced operations in February, we have established a strong and dynamic team to bring DIFC BHSI's unmatched financial strength and capital to the Middle East."
RM500,000 At Stake In CIMB's 3D Conquest To Unearth ASEAN's Top 'digital' Talents
KUALA LUMPUR, Sept 18 (Bernama) -- CIMB Group Holdings Berhad ("the Group" or "CIMB") has launched the CIMB 3D Conquest, a competition that aims to identify and attract ASEAN's top creative, young digital talent with an agile and entrepreneurial mindset. Open to all tertiary students, the hackathon-style event runs on three tracks – Data Science, FinTech and Coding – the mastery of which is crucial to help the Group embrace the opportunities of the gig economy.
The Data Science track challenges students to build predictive models and segmentation frameworks that target revenue and profitability. The Fintech track requires students to reimagine banking solutions, while the Coding track focuses on improving the mobile payments space. Hence, the name '3D Conquest', where '3D' stands for Data, Digital and Disruption.

AmInvest's Third Consecutive Win As Malaysia's Best Exchange Traded Fund (ETF) Provider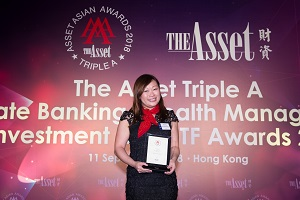 KUALA LUMPUR, Sept 18 (Bernama) -- AmInvest has continued its winning streak by taking home the country's Best ETF Provider award (the "Award") for the third consecutive year, at The Asset Triple A Private Banking, Wealth Management, Investment and ETF Awards 2018. AmInvest dominates the Malaysian market as the largest ETF provider in the country with around RM1.5 billion worth of assets under management and commands a market share of 71%.

The Asset commended AmInvest for providing "the most appropriate ETF products for its clients." AmInvest manages Malaysia's first and only bond ETF, ABF Bond Index Fund ("ABF Malaysia") and the first equity ETF, FTSE Bursa Malaysia KLCI etf ("FBM KLCI etf") which were launched in 2005 and 2007 respectively.