EXCLUSIVE PRESS News List
Kuala Lumpur Becomes The Capital Of The Asian Football Industry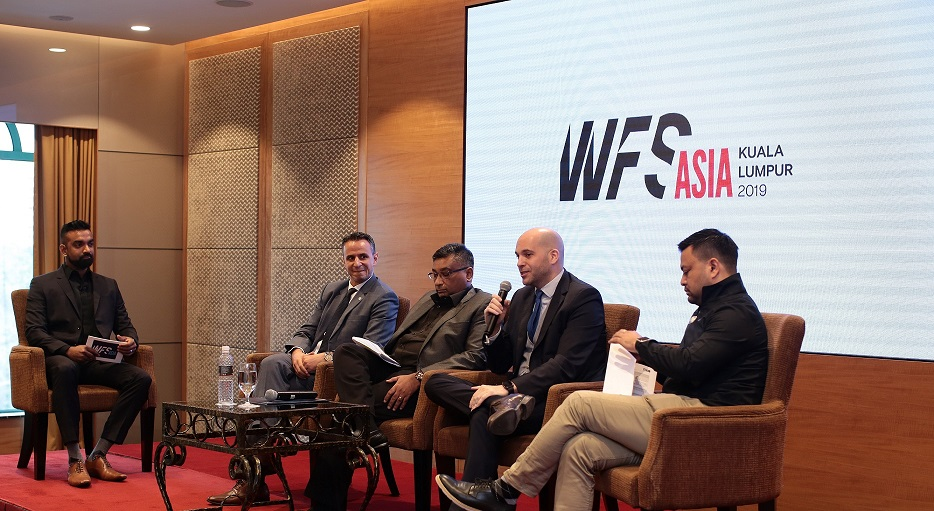 KUALA LUMPUR, April 11 (Bernama) -- On 29th and 30th April, the first edition of World Football Summit Asia (WFS Asia) will connect close to 2,000 professionals from the sports and football industry to discuss the most relevant industry topics and generate business opportunities in Kuala Lumpur, Malaysia.
The two-day summit will witness Sunway Pyramid Convention Centre gathering international attendees from more than 50 different countries. It is expected to host more than 22 exhibitors where 70% of them will be executives and accompanied by more than 70 football clubs, turning the summit into a congregation of who-is-who of the Asian and international football industry.
Malaysia is Back - Tourism Malaysia Director General Leads New Zealand Travel Trade Mission
AUCKLAND, New Zealand, April 11 (Bernama) -- Malaysia is back in New Zealand as it prepares for Visit Malaysia 2020 (VM 2020), a landmark campaign that's targeted to bring in 30 million international tourists and approximately NZD$35.5 billion (RM100 billion) in tourist receipts. The Director General of Tourism Malaysia, Datuk Musa Yusof, is leading a travel trade mission to Auckland on 11 April to reinforce the message that Malaysia is an important holiday destination for New Zealand travellers. The delegation consists of 10 organisations including one state tourism board, one tourism agency, one travel agent, one airline, 4 hotels and resorts, and 2 product owners. Major players and sponsors are Terengganu Tourism, Desaru Coast, Legoland, Malindo Air and Malaysia Airlines.
Datuk Musa says, "Malaysia has long-standing ties with New Zealand that extends to the Peace Corps, education and cultural exchanges as well as presenting an attractive holiday proposition to New Zealanders."
RM 25 Million in Ticket Sales Smashes International Animated Film
KUALA LUMPUR, April 11 (Bernama) -- 'Upin & Ipin : The Lone Gibbon Kris', Les' Copaque Production's second full-length animated film has accumulated a total of RM 25 million in just 3 weeks with a total number of audience reaching 2 million. It is the highest record of all time for the category of animated films screened in Malaysian cinemas, even beating international film 'Incredibles 2' which held the record previously. What is even more amazing is that the sheer number of audience has never before been reached, and is now setting a new benchmark for local films. It is also expected to increase over the coming weeks.
The success of this film is the result of incredible writing by linking the titular Upin and Ipin with characters from classic Malay folklores including Mat Jenin, Raja Bersiong, and Nakhoda Ragam among many others. Additionally, the film includes a theme song that garners the attention of netizens who place it on par with other international animated films. 'Upin & Ipin : The Lone Gibbon Kris' is the perfect viewing experience for the whole family from children to senior citizens.
Winter Begonia of Huanyu Entertainment under hot shooting, displaying ingenuity: catching the eyeball for promoting traditional quintessence of Chinese culture
HENGDIAN, China, April 11 (Bernama) -- The crew of Winter Begonia
accepted a media visit for the first time. Winter Begonia
, produced by iQIYI, co-produced and executed by Huanyu Entertainment, with Yu Zheng as the general producer and artistic director, directed by Hui Kaidong, and with starring roles of Huang Xiaoming, Yin Zheng, Charmaine Sheh, is a drama about the republic of China. For the first media visit, Huang Xiaoming, Yin Zheng, Charmaine Sheh, Merxat, Liu Min and Zhang Yixi made a stage pose, interacted with media and talked about interesting episodes behind the scenes.

Winter Begonia
depicts the love in chaos epoch between Shang Xirui (acted by Yin Zheng), the genius diva of Peking Opera, and Cheng Fengtai (acted by Huang Xiaoming), the patriotic businessman. According to the visit, the profound civilization of Winter Begonia
, superior production and the theme of promoting the culture of the Peking Opera have got the public attention.
KPMG's Consumer Loss Barometer Highlights Disconnect In The Event Of A Data Breach
PETALING JAYA, April 11 (Bernama) -- The continuous evolution of digital transformation is outstripping the pace of cybersecurity in organizations. As a result, we're witnessing a fundamental disconnect between consumer expectations and concerns, and the ability of organizations to meet those expectations, according to KPMG's Consumer Loss Barometer report.
The global survey of more than 2,000 consumers and 1,800 Chief Information Security Officers (CISOs) was conducted to assess whether there has been a shift in consumer expectations regarding digital trust, and whether organizations are placing the consumer's security front and centre of their digital product offerings.
TOMI Environmental Solutions, Inc. Implements SteraMist Into Pfizer, Chesterfield, Mo.
BEVERLY HILLS, Calif., April 11 (Bernama) -- TOMI Environmental Solutions, Inc.® ("TOMI") (OTCQX:TOMZ), a global company specializing in disinfection and decontamination essentials, announced today that SteraMist® implemented an iHP® Custom Build-In System to a newly constructed Pfizer facility in Chesterfield, MO. TOMI utilizes its premier Binary Ionization Technology® (BIT™) platform through the manufacturing, licensing, servicing, and selling of its SteraMist® brand of products - a hydrogen peroxide-based mist and fog.
SteraMist is currently being used in multiple Pfizer facilities across the country, demonstrating a strong partnership, and committed to limiting the spread of dangerous pathogens. The Chesterfield facility, at approximately 295,000 square feet, houses their BioTherapeutics Pharmaceutical Sciences group, a building dedicated to R&D for potential new medicines.
Eucafluff Expands Businesses in Europe, Asia, and in the United States
SÃO PAULO, April 11 (Bernama) -- Suzano (NYSE:SUZ), a merger between Suzano Papel e Celulose and Fibria, has increased Eucafluff sales in the European, Asian, and US markets. The product is the only eucalyptus-based fluff pulp sold in the world and is used in personal hygiene items such as diapers and sanitary napkins. Eucafluff is considered a reference of innovation and sustainability and, therefore, has been approved by major global manufacturers. In the last 6 months, companies such as Ontex and Vinda International, amongst other local players in Europe, the United States, Japan, and China have been buying from Suzano.
Currently, 86% of Eucafluff's sales are made overseas, in which 32% are sold in Asia. "The acceptance of our fluff pulp in mature markets and multinational companies has confirmed the good performance that eucalyptus fiber can also bring to the hygiene market. We are committed to improving the quality and performance of our clients' end products and this has reflected in the global partnerships we have achieved these past months," says Alexandre Corrêa, Executive Manager of the Business Unit at Suzano.