EXCLUSIVE PRESS News List
Berkshire Hathaway Specialty Insurance Company Adds Key Product Line & Service Leaders In Dubai
BOSTON, Sept 18 (Bernama) -- Berkshire Hathaway Specialty Insurance Company (BHSI) today announced that it has further expanded its leadership team in Dubai with the appointment of executives to fill key product line and service posts.
"Building a strong foundation of servicing capabilities and local knowledge and expertise is critical to BHSI's long term plans in the Middle East," said Marc Breuil, President, BHSI, Asia Middle East. "Since DIFC BHSI commenced operations in February, we have established a strong and dynamic team to bring DIFC BHSI's unmatched financial strength and capital to the Middle East."
RM500,000 At Stake In CIMB's 3D Conquest To Unearth ASEAN's Top 'digital' Talents
KUALA LUMPUR, Sept 18 (Bernama) -- CIMB Group Holdings Berhad ("the Group" or "CIMB") has launched the CIMB 3D Conquest, a competition that aims to identify and attract ASEAN's top creative, young digital talent with an agile and entrepreneurial mindset. Open to all tertiary students, the hackathon-style event runs on three tracks – Data Science, FinTech and Coding – the mastery of which is crucial to help the Group embrace the opportunities of the gig economy.
The Data Science track challenges students to build predictive models and segmentation frameworks that target revenue and profitability. The Fintech track requires students to reimagine banking solutions, while the Coding track focuses on improving the mobile payments space. Hence, the name '3D Conquest', where '3D' stands for Data, Digital and Disruption.

AmInvest's Third Consecutive Win As Malaysia's Best Exchange Traded Fund (ETF) Provider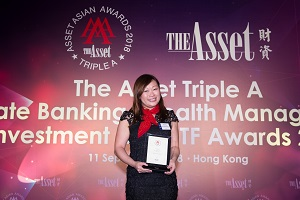 KUALA LUMPUR, Sept 18 (Bernama) -- AmInvest has continued its winning streak by taking home the country's Best ETF Provider award (the "Award") for the third consecutive year, at The Asset Triple A Private Banking, Wealth Management, Investment and ETF Awards 2018. AmInvest dominates the Malaysian market as the largest ETF provider in the country with around RM1.5 billion worth of assets under management and commands a market share of 71%.

The Asset commended AmInvest for providing "the most appropriate ETF products for its clients." AmInvest manages Malaysia's first and only bond ETF, ABF Bond Index Fund ("ABF Malaysia") and the first equity ETF, FTSE Bursa Malaysia KLCI etf ("FBM KLCI etf") which were launched in 2005 and 2007 respectively.
AMPLEXOR Life Sciences Attending Annual Pharmacon Asia 2018
BROOMFIELD, Colo., Sept 18 (Bernama) –

AMPLEXOR:
MEDIA ADVISORY:
Now in its fifth year, Pharmacon Asia 2018 is one of the industry's most highly regarded drug development and commercialization value chain events that focuses on clinical trials to market access, and addresses challenges relating to maintaining regulatory compliance.
Pharmacon Asia is known for its speaker line-up and quality of networking, attracting more than 150 companies globally. Firms attend to share their own best practices and experiences, offering practical tips and strategies that help their peers to maintain regulatory compliance and improve market access.
EXIM Bank Financed The Construction Of British University Vietnam Campus In Hanoi
VIETNAM, Sept 18 (Bernama) -- Export-Import Bank of Malaysia (EXIM Bank) witnessed the official opening ceremony of British University Vietnam (BUV) Ecopark Campus which it financed under its Overseas Project Financing Facility on 15 September 2018.
The ceremony was officiated by Mr. Phung Xuan Nha, Minister of Education and Training and attended by officials from the Vietnam government, BUV board members and EXIM Bank representatives. Among them are Mr. Nguyen Van Phuc, Deputy Minister of Education and Training, Sir Graeme Davies, Chairman of BUV and Dato' Loy Teik Ngan, BUV board member. EXIM Bank invitation is headed by its P/CEO, Puan Norzilah Mohammed.
Innosight and Inventium Announce Strategic Partnership
SYDNEY, Sept 18 (Bernama) -- Innosight, a growth strategy consultancy, and Inventium, an innovation consultancy, today announced a strategic partnership that will leverage their complementary capabilities to expand their reach and impact.
Innosight is the growth strategy practice of professional services firm Huron and the leading authority on disruptive innovation and strategic transformation. It collaborates with forward-thinking senior leaders at corporations across a range of industries to identify new growth opportunities, build new ventures and capabilities, and accelerate organizational change. Innosight serves a global clientele from its offices in Boston, Lausanne, and Singapore and is expanding its presence in Australia, where it advises a growing portfolio of companies.
HyperChain Capital Launches HyperBlocks Pro Staking Service
SINGAPORE, Sept 18 (Bernama) -- HyperChain Capital, one of the oldest and most prestigious digital assets management companies in the world, has launched HyperBlocks Pro, a professional proof of stake service - the first in the world backed by a major blockchain firm. HyperBlocks Pro's automated staking facility service is initially launching for holders of tezzies (XTZ) tokens used on the Tezos networks. By delegating this responsibility to HyperBlocks Pro, token-holders can free themselves of the time, security and technical costs associated with performing the task manually. Additionally, users do not need to actually transfer their tokens to HyperBlocks Pro, tokens remain in their personal wallets while securing the network.
As an increasing number of existing cryptocurrencies transition to Proof of Stake, and new ones are launched with staking mechanisms built in, there is predicted to be a rise in demand for professional third party services that allow consumers to easily use these often complicated services.