EXCLUSIVE PRESS News List
PureCircle Plans Sale of New Stevia Products: Protein, Fiber and Antioxidant Ingredients
CHICAGO, Dec 4 (Bernama) -- PureCircle (LSE: PURE), the world's leading producer and innovator of great-tasting stevia sweeteners, announces that, after extensive R&D, it has identified high content of proteins, soluble fibers and antioxidants in the stevia plant and plans to begin the commercial production and sale of these new stevia ingredients in the second half of 2019. PureCircle has nearly 400 patents and patents pending covering its proprietary stevia technology.
As the world's largest supplier of high-grade stevia sweeteners and flavors to the global beverage and food industries, PureCircle uses significant amounts of stevia in producing those ingredients. This new development -- the production and sale of protein, fiber and antioxidants from stevia -- will enable PureCircle to utilize much more of each stevia leaf. As such, the company will be able to make each leaf "work harder."
Press Release - Unconditionality (Hovid Berhad)
KUALA LUMPUR, Dec 4 (Bernama) -- (Unless otherwise stated, the words and abbreviations used herein shall have the same meaning as defined in the offer document relating to the Offer dated 5 October 2018
("Offer Document')
and the
notice of extension of closing date dated 28 November 2018
("Notice of Extension'))

We refer to the Offer Document which sets out the details and the terms and conditions of the Offer and the Notice of Extension.
Sabio strengthens its Digital offering with acquisition of flexAnswer Solutions
 Addition of Virtual Assistant technology complements existing partner offerings and strengthens Sabio's ability to build automation into digital and voice customer journeys  

 Next stage in the Sabio Group's ongoing growth plan to broaden solutions portfolio and geographic coverage  
 LONDON & SINGAPORE, Dec 3 (Bernama) -- The Sabio Group has announced the acquisition of flexAnswer Solutions, a leading Singapore-based provider of innovative Virtual Assistant solutions based on its own advanced NLP and machine learning technologies.



By adding flexAnswer's capabilities to those offered by its existing partners, Sabio has a stronger portfolio to help organisations optimise digital engagement and seamlessly integrate this with other digital and human assisted services traditionally provided through contact centres.
AmBank Group Sponsors 13th AmBank SportExcel International Junior Golf Championship 2018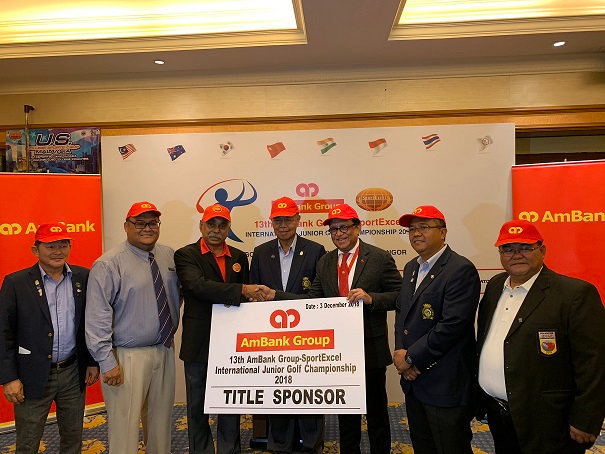 KUALA LUMPUR, Dec 3 (Bernama) -- For the 13th edition in a row, AmBank Group came on board as the main sponsor for the AmBank Group - SportExcel International Junior Golf Championship 2018. The tournament will be held at the Glenmarie Golf and Country Club in Shah Alam, Selangor from 4-6 December 2018.
The tournament will feature 62 junior golfers from Malaysia and 86 international players from Thailand, India, China, Chinese Taipei, South Korea, Australia and Indonesia.
Tricor Bolsters Labuan Offering with Acquisition of CP TRUST Co. Ltd.
HONG KONG, Dec 3 (Bernama) -- Tricor Group (Tricor), Asia's leading provider of integrated business, corporate, investor, human resources and payroll, corporate trust and debt services, has acquired CP TRUST Co. Ltd., a leading provider of trust company services in the Labuan International Business and Financial Centre (Labuan IBFC).

This acquisition bolsters Tricor's trust offering in Labuan, Malaysia, through CP TRUST's rich pool of talent and sophisticated solutions. Founded in 2014, CP TRUST ranked as the Top Trust Company in Labuan for past 3 years and will integrate its vast range of services into Tricor's existing suite of services and solutions.
LeddarTech Announces Exhibitor Status at CES 2019 at its Award-Winning Pavilion in Las Vegas
QUEBEC CITY, Dec 3 (Bernama) -- LeddarTech, an industry leader providing the most versatile and scalable automotive LiDAR development platform, announces its participation in the world-renowned CES 2019. From January 8 to 11, in Las Vegas, Nevada, LeddarTech will feature next-gen LiDAR solutions based on its LeddarEngine with ranges exceeding 200m at 10% target reflectivity, demonstrating market-leading performances for a solid-state LiDAR using near-infrared (NIR) light. CES 2019 also marks the official unveiling of the LeddarCore LCA2 System-on-chip production samples, the first LiDAR SoC available for use in the design and manufacturing of LiDAR solutions for ADAS and AD applications will be presented at the LeddarTech Pavilion, alongside multiple Leddar Ecosystem partners showcasing components and software supporting LiDAR development based on the LeddarEngine.
"The LiDAR development platform we will present at CES is truly a disruptive technology as it allows our customers to design and mass produce customized LiDAR solutions that meet the specific application requirements of OEMs, optimizing performance and costs for all levels of autonomy," stated Charles Boulanger, CEO of LeddarTech. "This is a win-win model for all stakeholders, from the component supplier to the automaker, which explains its significant traction with multiple Tier-1 manufacturers already developing with the LCA2 LeddarEngine, as well as with our growing ecosystem," concluded Mr. Boulanger
ShopBack Partners Petron to Launch Petrol Redemption
KUALA LUMPUR, Dec 3 (Bernama) -- Malaysians can now utilise cashback from ShopBack every time they refuel at petrol stations. The No.1 Cashback portal in the country recently inked a partnership with Petron Malaysia, becoming the first in the country to allow users to convert cashback to Petron Miles (PMiles) Points and vice versa.
"Previously, after our users get cashback from their online purchases, they can choose to transfer the cash to their bank accounts or use it to offset Maxis phone bills. The collaboration with Petron is a first for both parties – the first long-term online to offline redemption for ShopBack, and the first offline to online redemption (PMiles Points to cashback) for Petron as well," says Alvin Gill, Country General Manager of ShopBack Malaysia.