EXCLUSIVE PRESS News List
First Data Partners With Huifu Payment Ltd To Expand Its Acquiring Footprint Into China
Partnership opens up the China market to international merchants


HONG KONG, Sept 20 (Bernama) -- First Data (NYSE: FDC), a global leader in commerce-enabling technology, signed an agreement with Huifu Payment Ltd (Huifu, 01806.HK), a leading third-party payment provider in China, to offer a market-leading global eCommerce solution into China.

The collaboration with Huifu, a PBOC licensed third-party payment provider with a strong presence in both the China POS and online acquiring markets, will produce the integration of Huifu's technology platform with First Data's payment gateway. The combined technology delivers an integrated processing solution with the ability for international merchants to seamlessly enable multicurrency transactions from a single platform on a real-time basis across markets.
AXA Protects E-hailing Drivers & Passengers In Malaysia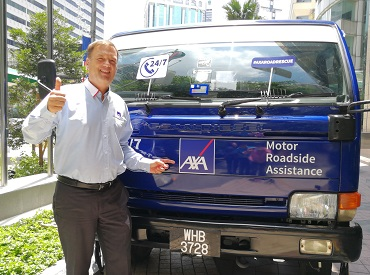 AXA Affin General Insurance Berhad (AAGI) plays an active role to ensure that e-hailing drivers and passengers remain safe and protected.

KUALA LUMPUR, Sept 20 (Bernama) -- Statistics shows that there are 1.7 million ride-sharing users in 2018 and this number is expected to reach 2.1 million in 2020 (Source: The Statistics Portal).
To keep up with the fast-growing industry, the government has introduced a new regulation to level the playing field between the e-hailing and taxi industry.

The enforcement of this new regulation has drawn a lot of attention to the public as many are unaware that private motor insurance only covers private usage, not commercial usage. Now, it is mandatory for e-hailing drivers to obtain insurance to cover their vehicles, passengers and third party liabilities. Without such insurance cover, in the event of an accident, e-hailing drivers are exposed to risks and potential claims by their passengers.
Sharjah Announces Its First Fully Integrated Investors Services Centre
The new centre will be a key access point for global investors and key to boost investor services in the emirate


SHARJAH, United Arab Emirates, Sept 20 (Bernama) -- In a bid to support prospective foreign investors expand their international growth ambition in the UAE, its third largest emirate, Sharjah, has announced the launch of a digitally robust business facilitation initiative, the Investors Services Centre.

The emirate's investment and development authority, Shurooq, has partnered with Injazat Services, to develop this high-end facility to offer an exhaustive list of fully integrated business consultancy services, which will specially benefit new players on the UAE turf.
Football Dominates As The Top Performing Sport Globally
VILNIUS, Lithuania, Sept 20 (Bernama) -- Global market research company Euromonitor International launched today new data and analysis tracking global sport leagues.
As part of the launch, Euromonitor International introduced the Global League Attractiveness Index, an indicator designed by Euromonitor International research experts measuring the popularity of domestic sports leagues. The index analyses a range of key metrics directly and indirectly influencing league performance and index positions, from physical and digital fanbase behavior to broader economic context.
Hi-Tech Market Set To Reach USD 16 Trillion By 2030
VILNIUS, Lithuania, Sept 20 (Bernama) -- Global market research company Euromonitor International presented new research today at IP EXPO Nordic 2018, identifying and discussing the arising global opportunities in the Internet of Things (IoT) business.
According to Euromonitor International's new research, hi-tech goods production value is expected to triple to reach USD 16 trillion in 2030, driven by emerging IoT solutions creating more effective production networks by combining physical devices and systems to interconnected networks.
Education Malaysia Partners Conference 2018
KUALA LUMPUR, Sept 20 (Bernama) --
Education Malaysia Global Services (EMGS) is hosting Education Malaysia Partner Conference (EMPC) at Palace of the Golden Horses Hotel, Kuala Lumpur from 18 September – 21 September 2018.

EMPC is a pre-schedule of one-to-one business matching meetings between Malaysian education providers and student recruitment agencies. In this event, institutions will be able to meet several agents in a Rotating Meetings System, which is generally between 15-20 minutes long for each meeting based on pre-scheduled meeting timetable. This event is specially tailored to the need of industrial players and it is not open to public nor students.