EXCLUSIVE PRESS News List
PETRONAS Releases Annual Activity Outlook
KUALA LUMPUR, Dec 11 (Bernama) -- PETRONAS today issued its annual Activity Outlook (PAO) report, for the period 2019-2021, to share the Company's perspective on industry trends, demand outlook and activities in the Upstream and Downstream sectors, and to assist the industry to strategise and better manage its resources and investment decisions.
The year 2018 has seen greater volatility in oil prices, which is expected to persist in 2019. PETRONAS in this edition of PAO maintains its prudent view on the industry outlook and will respond with cautious optimism particularly on new capital projects.
Logicalis Malaysia Announces Bernard Chiang as New Managing Director
KUALA LUMPUR, Dec 11 (Bernama) -- Logicalis, the international IT solutions and managed services provider, today announced the appointment of Bernard Chiang as the new Managing Director for its Malaysia operations.

Bernard will be responsible for driving innovation, revenue and profitability growth for Logicalis Malaysia. He will lead the Malaysia operations and collaborate with partners to develop new solutions, in line with Logicalis' vision of being the premier digital enabler for customers.
The Graduate Management Admission Council Selects Three New Business Schools For Membership
RESTON, Va., Dec 11 (Bernama) -- The Graduate Management Admission Council (GMAC), a global association of leading graduate business schools, welcomes three new members. The addition of ESCP Europe, WHU – Otto Beisheim School of Management, and Xavier University Bhubaneswar brings GMAC's total membership to 225.
Select business schools are invited to apply for GMAC membership by its Board of Directors. Each school goes through a comprehensive application process that addresses the sustained commitments to supporting GMAC's mission: providing the tools and information necessary for schools and talent to discover and evaluate each other.
DSM Sinochem Pharmaceuticals Announces Its New Name - Centrient Pharmaceuticals
ROTTERDAM, Netherlands, Dec 11 (Bernama) -- Effective December 10, 2018 Centrient Pharmaceuticals is the new name for DSM Sinochem Pharmaceuticals, the leading manufacturer of beta-lactam antibiotics and a provider of next-generation statins and anti-fungals. The new name has been chosen to reflect the company's key contribution to modern healthcare, and marks the next phase in its strategic evolution following a change of ownership to Bain Capital Private Equity.
CEO Karl Rotthier states: "Our bold and creative new name and logo showcase our company as one which prides itself on being at the centre of modern healthcare, through our life-saving active pharmaceutical ingredients and finished dosage forms. We're building on a rich history that began 150 years ago as the 'Nederlandsche Gist- en Spiritusfabriek', then Gist Brocades and more recently DSM Sinochem Pharmaceuticals. Now as Centrient Pharmaceuticals, we have an amazing opportunity to build a strong and differentiated brand in the generic pharmaceutical industry."
CERESPIR INCORPORATED and the NATIONAL NEUROSCIENCE INSTITUTE SINGAPORE Announce Positive Data Showing Beneficial Effects of CERESPIR´s Clinical Stage Compound Itanapraced in a LRRK2 Model of Parkinson´s Disease
 Itanapraced blocks LRRK2 expression and LRRK2-mediated neurotoxicity



 Itanapraced ready to advance to Phase 2 in Parkinson's disease patients with and without genetic mutation


 NEW YORK and SINGAPORE, Dec 11 (Bernama) --CERESPIR INCORPORATED a pharmaceutical company engaged in the discovery and development of disease-modifying therapeutics for the treatment of neurodegenerative diseases, and THE NATIONAL NEUROSCIENCE INSTITUTE SINGAPORE, a national and international center of excellence in neuroscience with its mission to improve lives through integrated clinical service, research and education, announced today that they have obtained animal proof of concept for CERESPIR's clinical stage compound itanapraced in Parkinson's disease models. Specifically, itanapraced, which was previously tested with positive results in patients with mild cognitive impairment (MCI), was shown to block the expression of LRRK2 and, additionally, prevent neurotoxicity resulting in the preservation of healthy dopaminergic neurons.  These data support the initiation of Phase 2 trials in Parkinson's disease and may have broad applicability for neurodegenerative diseases.  The study was conducted in collaboration with Professor Tan Eng King, Deputy Medical Director, Senior Consultant Neurology and Research Director at the National Neuroscience Institute, Singapore, Co-Director of the US National Parkinson Foundation International Center of Excellence, and Dr. Li Zeng, a senior research scientist at the National Neuroscience Institute, Singapore.  Itanapraced works via a novel target that is central to the neurodegenerative process causing dysregulation of the cellular response to oxidative stress.  Specifically, itanapraced is the first of a new class of molecules known as AICD inhibitors that bind to AICD (amyloid precursor protein intracellular domain) and inhibits its transcriptional activity.  Under conditions of acute or chronic oxidative stress, AICD interacts with FoxO3a (a critical component of the stress response system), to promote the expression of pro-apoptotic factor BIM, causing neuronal death.  Parkinson's disease is a common, progressive neurodegenerative disorder associated with loss of midbrain dopaminergic neurons which produce the essential neurotransmitter, dopamine.  LRRK2 gain of function mutants are responsible for the majority of cases of familial Parkinson's disease.  Additionally, LRRK2 kinase activity is aberrantly increased in vulnerable dopamine neurons by oxidative mechanisms involving α-synuclein and mitochondrial impairment, suggesting LRRK2 inhibition will be useful for the majority of Parkinson's disease patients.  Previously the research team led by Professor Tan and Dr Zeng showed that AICD becomes transcriptionally active when it is phosphorylated by LRRK2, leading to loss of dopaminergic neurons in vivo (Chen et al., Sci. Signal. 10, eaam6790 (2017).  The investigators now aim to publish, in a peer-reviewed scientific journal, the new data showing the ability of itanapraced to block expression and neurotoxicity of LRRK2.
CIMB Partners PDRM To Alert Public On Scams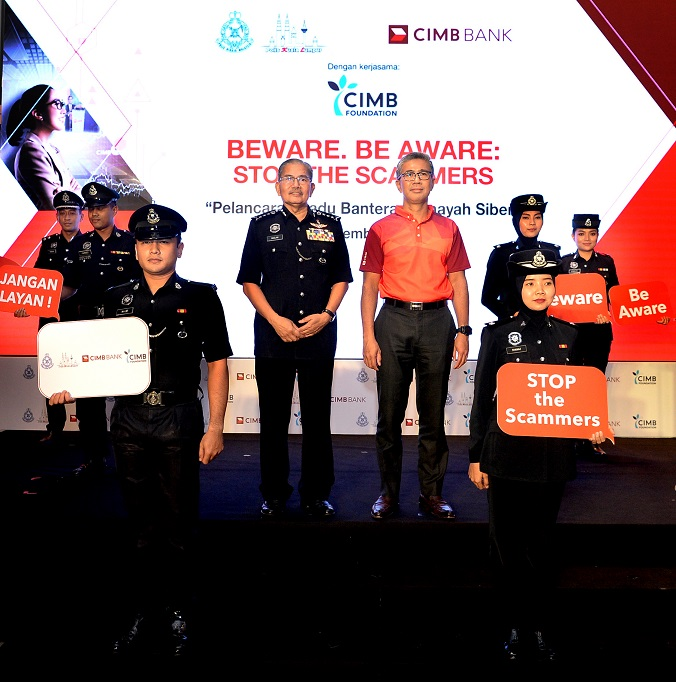 KUALA LUMPUR, Dec 11 (Bernama) -- CIMB Bank Berhad ("CIMB" or "the Bank") has partnered with the Royal Malaysian Police Kuala Lumpur ("PDRM KL") on an Anti-Scam Campaign to raise awareness on various common scams, which this year occurred through 1,000 cases with losses amounting to RM72 million within the Klang Valley alone. The campaign with the theme "Beware, Be Aware, Stop the Scammers" is supported by CIMB Foundation, the CSR arm of CIMB Group.
The PDRM-CIMB Anti-Scam Campaign was officiated by CP Datuk Seri Mazlan bin Lazim, Chief Police Officer, Kuala Lumpur Police Contingent and Tengku Dato' Sri Zafrul Aziz, Group CEO of CIMB Group, witnessed by Dato' Hamidah Naziadin, CEO of CIMB Foundation, Kwan Keen Yew, Chief Compliance Officer, CIMB Group, DCP Dato' Zainuddin bin Yaacob, Deputy Chief Police Officer, Kuala Lumpur Police Contingent, SAC Dato' Azman Ayob, Head of Crime Prevention and Community Safety Division PDRM, and ACP Mohd Luthfi Ismail bin Abdullah, Head of Commercial Crime Investigation Department, Kuala Lumpur Police Contingent.
Taiwan Sells Food Products at Online Grocery Site to Malaysia
TAIPEI, Taiwan, Dec 10 (Bernama) -- Taiwan's Council of Agriculture has collaborated with Taiwan-based agricultural E-commerce website, "The Wonderful Food," to sell Taiwan-grown premium products to Malaysia as part of the government efforts to promote Taiwan's agricultural products in Southeast Asian countries under the New Southbound Policy.
The New Southbound Policy launched by the administration of President Tsai Ing-wen after her inauguration two years ago is bearing fruit with closer ties in terms of trade, economic and cultural exchanges between Taiwan and countries targeted by the policy.