EXCLUSIVE PRESS News List
Biodiesel Will Not Pose Risk To Vehicle Engines-Wilmar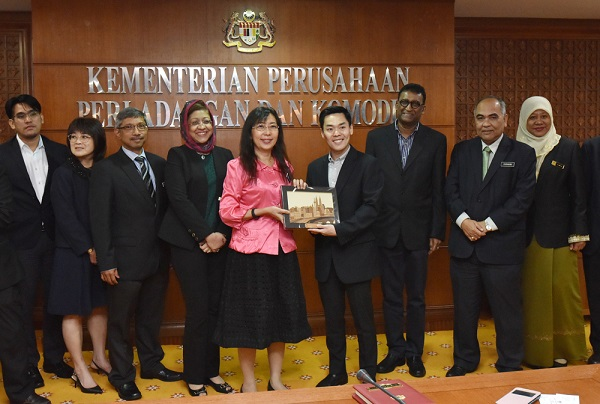 PUTRAJAYA, Sept 15 (Bernama) -- There should be no concern that the use of biodiesel will affect vehicle engines as proven by the implementation of biodiesel programme in Indonesia, said Wilmar International Country Head in Indonesia, Darwin Indigo.
In allaying concerns by Malaysian hauliers and automotive manufacturers on the implementation of biodiesel programme in Malaysia, Indigo said Indonesia has been carrying out its biodiesel programme four years without any adverse effects to vehicle engines.
Top Glove Transforms Its Human Capital Management Platform in Malaysia with SAP SuccessFactors and Deloitte
SHAH ALAM, Sept 14 (Bernama) -- The world's largest manufacturer of gloves, Top Glove Corporation Bhd, has engaged Deloitte to implement SAP SuccessFactors to transform its Human Capital Management (HCM) platform, thereby strengthening its people processes to attract and on-board the right talent, bringing it closer to its vision of capturing 30% of the world market by 2020.
"Quality people are the foundation of our company. We aim to attract, develop and retain the very best. For this to happen, we must be able to tap into our talents' full potential and meaningfully connect them to Top Glove's purpose and mission, which this engagement with SAP SuccessFactors and Deloitte allows us to do," said Tan Sri Dr Lim Wee Chai, Executive Chairman of Top Glove Corporation Bhd.
Creating Core Power In China's Dairy Industry By Innovation And Re-upgrading Global Wisdom Chain Of Yili
WAGENINGEN, Sept 14 (Bernama) -- The collision of intellectual sparks between China and the Netherlands was witnessed by Wageningen in the Netherlands, which is called "City of Life Sciences". On September 12, upgrading activity of Yili European Innovation Center with the theme of "Enabling Connecting Globally by Innovation" and opening ceremony of Yili Wageningen University Cooperative Laboratory were grandly held here.
Fresco, CEO of Wageningen University, Zhang Jianqiu, CEO of Yili Group, and relevant representatives of the Embassy of the People's Republic of China in the Kingdom of the Netherlands, China Industrial and Commercial Council in the Kingdom of the Netherlands and China Chamber of International Commerce, several experts of China and the Netherlands in the economic and scientific and technological sectors, and international partners of Yili Group and other more than 200 guests attended this event.
41 Cities Reunite In Shenyang Discussing Green Development At The 18th World Winter Cities Association For Mayors Conference
SHENYANG, China, Sept 14 (Bernama) -- The 18th World Winter Cities Association for Mayors Conference (WWCAM Conference) was held in Shenyang on Sept. 12, 2018. The conference invited 41 city groups and 52 chamber of commerce groups from 30 countries, according to Shenyang Municipal Government. With the theme "winter city, better life", WWCAM probed into the planning and construction management of winter urban, and the construction and green development of smart city. WWCAM will also innovate, as well as promote the exchanges and cooperation among winter cities so as to solve development problems around the world.
Since the first WWCAM Conference was held in Sapporo, Japan in 1982, it has been held every two years for 36 years. Building on its past success, this conference breaks through the limitations of member cities and warmly invites winter city representatives from countries facing common challenges across five continents, injecting new vitality into the exchanges among cities in the world.
Tesco Malaysia Joins World Clean Up Day!
Malaysia's leading hypermarket committed to engaging local communities for World Cleanup Day 2018
KEPONG, Sept 14 (Bernama) -- In conjunction with World Clean Up Day, which is the biggest global civic action in human history celebrated on 15 September, Tesco Malaysia is working together with RCOMM Lestari to host community engagements at four locations concurrently as a commitment towards a cleaner environment.
RCOMM Lestari is an NGO officially appointed by Let's Do It World Foundation, the creator for World Cleanup Day to lead and implement this environmental movement in Malaysia. With an extensive network of NGOs, civic groups and educational institutions, RCOMM is organising mass clean-up activities at 150 locations throughout Malaysia with the endorsement from Ministry of Housing and Local Government and with global support from United Nations Environment Programme (UNEP).
Asia Lifestyle Expo 2019 Launches In Bangkok
BANGKOK, Sept 14 (Bernama) -- Taking its lead from the One Belt One Road initiative, Asia Lifestyle Expo 2019 will arrive in Bangkok next year. This new platform will promote a free flow of trade, encourage market integration and forge new ties within the ASEAN region.
Organized by COMASIA Limited and co-organized by N.C.C. Exhibition Organizer Co., Ltd., the trade expo, held from 21st - 23rdAugust 2019 at BITEC Bangkok, will provide retailers, trading companies, e-commerce, and online sellers an opportunity to import lifestyle products to ASEAN and to export ASEAN-made products regionally and globally. Five-hundred booths will showcase products ranging from gifts, consumer electronics, toys, accessories, kitchenware, arts, crafts and homeware.
Nodle.io Raises $1.5M Seed Funding To Bring IoT Cryptocurrency To App Developers
SAN FRANCISCO, Sept 14 (Bernama) -- Nodle.io, an Internet of Things (IoT) and connectivity network provider, today announced a $1.5 million seed round and the launch of a new cryptocurrency for monetizing IoT connections, applications and data. Nodle.io provides internet connectivity to IoT devices by crowdsourcing a network of smartphones. Currently over 1 million devices are connecting to the Nodle Citizen Network every day. This is the largest dedicated IoT network ever deployed to date, by number of base stations.
Blockchange Ventures led the investment round with participation from Blockhead Capital, Bootstraplabs, Olymp Capital, Mark Pincus with Work Play Ventures and Yeoman's Capital.