EXCLUSIVE PRESS News List
PDB Appoints Aadrin Azly As New Chief Operating Officer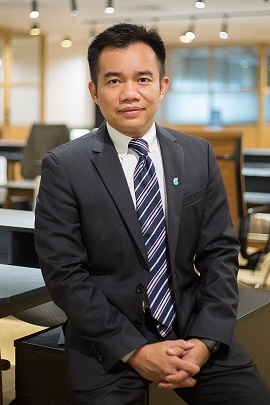 KUALA LUMPUR, Dec 14 (Bernama) -- PETRONAS Dagangan Berhad (PDB) on 13 December 2018 has announced the appointment of Aadrin Azly as its new Chief Operating Officer to oversee the Company's diverse business operations and lead the execution of the business' strategic plans, effective 1 January 2019. Aadrin is currently Head of Retail Business.

A PETRONAS scholar, Aadrin joined PETRONAS in 1999 where he spent the first six formative years of his career in PDB's Retail and Commercial businesses, as part of its Marketing Seeding Programme. He then went on to lead various units at the PETRONAS Group level; including as Head (Analyst) in Vice President, Oil Business; Senior Manager (Gas) at Corporate Strategy; and Executive Assistant to the President and Group CEO. Before assuming his current role, Aadrin was the Senior General Manager of Strategy & Portfolio (Upstream).
The First Hainan International Film Festival Kicked Off To Create A "Never-ending Film Festival"
SANYA, China, Dec 14 (Bernama) -- The opening ceremony of the first Hainan International Film Festival (HIFF) was held in Sanya on December 11, presenting a splendid film festival for Chinese and foreign movie fans. With the goal of realizing "year-round film panorama, island-wide film projection, popular movie going, and complete industrial chain coverage", it is poised to create a "Never-ending International Film Festival".
Jackie Chan, an internationally renowned actor, is named as the promotional ambassador for the festival. The 1st HIFF has attracted nearly 100 outstanding filmmakers from countries and regions like the United States, France, India and Turkey. Nicholas Cage, Maggie Q, Zhang Zhen and many other famous movie and television stars attended the opening ceremony.
Slice Insurance Cloud Services Now Available In The UK & EU
NEW YORK, Dec 14 (Bernama) -- Slice Labs Inc., an award-winning on-demand insurance cloud platform provider, announced today the availability of Insurance Cloud Services (ICS) in the UK and EU. The first customer to use ICS in the UK is Legal & General with the launch of on-demand, pay-per-use homeshare cover. Insurance products available through the Slice ICS platform offer customers a rich, engaging, fully digital experience that is quick, and flexible.
True to the company's stated intention of extending global availability of ICS following a $20M USD Extended Series A, UK and EU insurers are now able to subscribe to ICS and launch on-demand insurance products customised to locale, language, and demographics.
DoubleVerify Launches Brand Safety and Suitability Verification Across YouTube, Extending Quality Coverage for Global Brands
NEW YORK, Dec 14 (Bernama) -- DoubleVerify ("DV"), the leading independent provider of marketing measurement software and analytics, today announced an expanded partnership with YouTube to deliver brand safety and suitability measurement for campaigns run on the platform. The partnership drives greater campaign transparency and unlocks potential performance for advertisers wishing to avoid unsuitable content or categories of lesser relevance to the brand.
"We are excited to enter a new phase of partnership with YouTube," said Wayne Gattinella, CEO of DoubleVerify. "Today, brand suitability is a core advertiser expectation – across all media types and buying platforms. With our expanded partnership, DoubleVerify is ensuring brand suitability on the world's leading online video platform."
Hangzhou Xiaoshan: Constructing the Ecological Circle for Exhibition Economy and Developing the Internationalization of Urban Areas and Rural Revitalization
HANGZHOU, China, Dec 13 (Bernama) -- The G20 Summit opened in Buenos Aires, the Capital of Argentina, on Nov. 30, drawing the attention of the whole world. Just two years ago, the G20 Hangzhou Summit was held successfully by an eastern Chinese city, Hangzhou, which also attracted worldwide attention. Xiaoshan District of Hangzhou City, where the main venue of the G20 Hangzhou Summit was located, has been developing high-end convention and exhibition industry in recent years, speeding up the construction of the ecological circle for exhibition economy, and boosting the integration and development for the internationalization of urban areas and rural revitalization.
Xiaoshan is located in the south wing of the Yangtze River Delta, which enjoys the most active county economy in China. With its developed economy, it ranks the tenth place out of China's top 100 districts in 2018. As the influence of Hangzhou Xiaoshan International Airport grows in the area and Hangzhou integrated railway hub was constructed, Xiaoshan's status as a regional hub has been established.
31 Famous Artists From Malaysia And China Join Forces For Ipoh's First 90 Feet Longest Scroll Painting
KUALA LUMPUR, Dec 13 (Bernama) -- For the first time in Ipoh, 31 renowned artists from Malaysia and China will join forces to showcase and demonstrate their unique painting skills and styles through a 90 feet Long Scroll group painting session at Grayhaus Living Arts Gallery, 119 Jalan Sultan Idris Shah, 30000 Ipoh on December 17, 2018 at 10.30 AM. This painting show will last for 2 hours, followed by official launch of Perak in Watercolour 2.0 Malaysia-China Artists Exchange and Exhibition and the official opening of Grayhaus Living Arts Gallery at 12.30 PM. Public will get to view 33 watercolour paintings from 11 famous China artists and 55 watercolour paintings from 30 Malaysia best watercolourists in the presence of most participating artists.
At the long scroll painting event, public will be invited to interact with the celebrity artists from China, in particular Professor Tu WeiNeng and Mr Hu XiaoXing whose artworks are prized internationally. They are joined by 9 well-known China artists namely Gang Peng, Liu Yu, Shaohua Wang, Wu Yulong, Chen Hong, Daibo Yan, Xie Yuan, Xiaozhuang Wei and JianYun Zhang, each representing the 9 China regional art associations. Malaysian public can now get to interact with them at one place: Ipoh.
KUALA LUMPUR, Dec 13 (Bernama) -- Each year, local animation giant Les' Copaque Production Sdn. Bhd. will host Malaysia's most-awaited and largest children's carnival, "Karnival Upin & Ipin". Les' Copaque Production has become the driving force in the local animation industry for the past 12 years, and this carnival is organised as a tribute and appreciation to the devoted fans who have supported and stood by the company's products and animation. Due to an extraordinarily overwhelming response, this carnival is extended to a 4-day duration from 20th – 23rd December 2018 at MAEPS, Serdang from 10:00 am to 10:00 pm each day. Major sponsors involved in this carnival are Bank Rakyat, UniFi, and Tourism Malaysia. It is made more monumental when Astro becomes a media partner for this carnival. The animated series produced by Les' Copaque Production can be viewed on Astro starting November 2018.
Themed "Upin & Ipin dan Kawan-kawan" ("Upin & Ipin and Friends"), this carnival will be the launching stage of the company's new animated film "Upin & Ipin: Keris Siamang Tunggal" ("Upin & Ipin: The Lone Gibbon Kris") which will be aired in cinemas on 21st March 2019. With Golden Screen Cinemas (GSC)'s collaboration as the distributor and Astro as the media partner, this film will find Upin, Ipin, and their friends meeting well-known characters from Asia's beloved tales and folklores. Les' Copaque Games Development Inc. (LCGDI) will also showcase "Upin & Ipin: Keris Siamang Tunggal" in the form of an app game.