EXCLUSIVE PRESS News List
Uphold Makes Cred's LBA Tokens Available For Purchase In 170+ Countries
SAN FRANCISCO, Sept 21 (Bernama) -- Uphold, the global digital money platform that has powered more than $3.5 billion in transactions across 184 countries, and Cred, the leader in crypto-backed credit, today announced the next step in their commercial relationship which will allow Uphold users access to LBA tokens on the Uphold platform.
"Cred has secured more lending capital than any other lending company in the space by orders of magnitude," said JP Thieriot, CEO of Uphold. "Our ability to offer Cred's LBA token is another important milestone for our members since Cred is one of the fastest growing lending ecosystems in the crypto community. Uphold members will have access to fiat loans at a lower cost via the LBA token. Cred's lending services can also provide a financial lifeline to the many ICO companies that have raised a significant amount of ETH and BTC and would like to receive a USD loan to diversify their balance sheets and avoid having to sell at diminished prices."
PGIM Real Estate Hires Vincent Chew As Portfolio Manager
SINGAPORE, Sept 21 (Bernama) -- Vincent Chew has joined PGIM Real Estate as an executive director and portfolio manager for PGIM Real Estate's core investment strategy in Asia. PGIM Real Estate is the real estate investment business of PGIM, the $1 trillion global investment management businesses of U.S.-headquartered Prudential Financial, Inc. (NYSE:PRU).

Chew is based in Singapore and reports to Benett Theseira, head of Asia Pacific.
Vista Global Acquires XOJET, the Leading On Demand Business Aviation Company in North America With 43 Aircraft, Strengthening Its Global Presence With 115 Owned Business Jets
NEW YORK, Sept 21 (Bernama) -- In a further move towards strengthening its lead in the fragmented and expanding business aviation market, Vista Global, the aviation group founded by Thomas Flohr, announces the acquisition of XOJET's business aviation fleet and commercial operations. XOJET's regulated air carrier will continue to be independently operated in a joint venture under U.S. control and leadership, in accordance with U.S. Department of Transportation criteria.
XOJET is the leading on demand private aviation platform in North America and its innovative model is unrivaled in the industry. XOJET's four distinct membership programs serve the whole spectrum of business aviation needs on its owned fleet, whilst also providing its customers with additional flexible off-fleet alternatives. All of XOJET's products are asset lite, a business model which is fully aligned with prevailing global macro trends and preferred by both corporates and UHNWIs.
Cold Storage Kids Run Returns To Promote Healthy Living Among Children
PETALING JAYA, Sept 20 (Bernama) -- The Cold Storage Kids Run is back for its second year running and is better than ever! This year's Kids Run featured a longer route and a challenging obstacle course that promised an exciting day out for children and adults alike. Part of an initiative by Cold Storage Malaysia to promote Malaysians on the importance of living a healthy lifestyle, the 2018 edition of the Kids Run aims to promote healthy routines from a tender age.

Malaysia is one of the top four most overweight countries in Asia Pacific and the rapid rise of overweight children is alarming, as they are at a higher risk of becoming obese as adults and that could lead to many health complications.1 With the advancement of technology, most children and parents take for granted the importance of regular exercises and a balanced meal. Couple that with parents busy schedules, children tend to eat unhealthy food most of the time and do not get enough important nutrients that their body needs in order to grow.
Jaffri Ahmad And Mazlina Kamarudin Of Bismi Cergas Sdn Bhd Named As Agrobank Excellent Agropreneur Of The Year 2018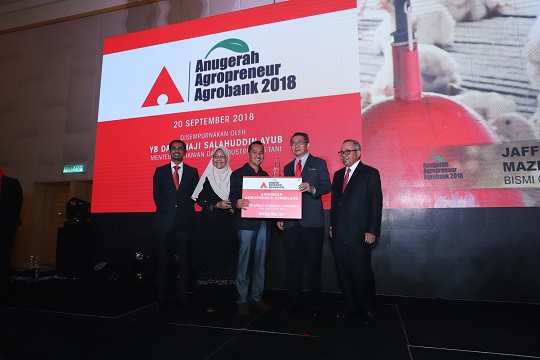 KUALA LUMPUR, Sept 20 (Bernama) -- Jaffri Ahmad and Mazlina Kamarudin, owner of Bismi Cergas Sdn Bhd, today was announced as the main winner for Agrobank Agropreneur of the year 2018 under the Excellent Entrepreneur Category. The awards ceremony was attended by YB Dato' Haji Salahuddin bin Ayub, Minister of Agriculture and Agro-Based Industry who gave away the awards to the winners and witnessed by YBhg Tan Sri Mohamad Zabidi Zainal, Chairman of Agrobank and Tuan Syed Alwi Mohamed Sultan Managing Director / Chief Executive Officer of Agrobank. More than 250 guests attended the event in Kuala Lumpur, which was held in conjunction with Agrobank's 49th year anniversary.
The owner of Bismi Cergas Sdn Bhd who is a husband and wife team started the poultry business in 1994. From a small beginning, the company has grown to become the largest poultry supplier in northern Malaysia. The achievement and success of the company is a result of their dedication and exemplary leadership. Jaffri Ahmad leads the operations matters while Mazlina Kamarudin focuses on management and administration matters. This combination proves to be the key success for the company excellent performance. Among their corporate clienteles are Ayamas Food Corporation Sdn. Bhd.
MEDIA ALERT: Attend FIDO Authentication Seminar in Singapore: Moving Beyond Passwords
MOUNTAIN VIEW, Calif., Sept 20 (Bernama) -- The FIDO Alliance is making significant progress in its mission to reduce the world's reliance on passwords with simpler and stronger authentication. Join the FIDO Alliance on October 8 in Singapore to learn about the latest trends in strong authentication, including key updates on newly released FIDO2 specifications being supported in leading browsers such as Google Chrome, Microsoft Edge and Mozilla Firefox.
Attendees will hear about the uptake of FIDO Authentication in the APAC region with case studies on real world deployments from leading companies such as BC Card, Tradelink Electronic Commerce, Ltd. and LINE. Speakers will also cover the technical details of FIDO standards, FIDO Certification programs, and FIDO's role in the global regulatory landscape for strong authentication.