EXCLUSIVE PRESS News List
Palm Oil and Rubber Economic and Investment Mission to North Africa and Colombia 21-29 September 2018
KUALA LUMPUR, Sept 21 (Bernama) -- YB Shamsul Iskandar Mohd Akin, Deputy Minister of Primary Industries will be leading a Palm Oil and Rubber Economic and Investment Mission to Egypt, Morocco and Colombia from 21 to 29 September 2018. YB Deputy Minister will be leading a delegation comprising representatives from the Ministry of Primary Industries, Malaysian Palm Oil Board (MPOB), Malaysian Rubber Board (MRB), LGM Properties Corporation (LGMPC), Malaysian Palm Oil Council (MPOC), Malaysian Rubber Export Promotion Council (MREPC).
The objective of the mission is to strengthen trade and address issues related to trade as well as explore market and investment opportunities particularly in palm oil and rubber. Egypt is an important gateway for Malaysia's palm oil to countries in North Africa while Morocco is one of the potential and growing markets for Malaysian palm oil imports. In 2017, exports of palm oil products to Egypt amounted to RM919.3 million while Morocco amounted to RM72.3 million or 1.2% and 0.09% of the total palm oil exports and palm oil-based products respectively. In addition, these countries are among the potential new markets for exports of natural rubber and rubber products, especially rubber gloves. Currently, Malaysian exports of rubber and rubber products to Egypt in 2017 was RM127.8 million, Colombia at RM82.4 million and Morocco at RM29.6 million or 0.4%, 0.3% and 0.1% of total Malaysia rubber exports, respectively.
Konica Minolta Brings Cheer To The Elderly This Mid-autumn Festival
SINGAPORE, Sept 21 (Bernama) -- Konica Minolta Business Solutions Asia (BSA) employees, including Managing Director Osafumi Kawamura, brought cheer to the hearts of the underprivileged elderly this mid-autumn festival at the Lions Befrienders Senior Activity Centre (Bendemeer). The staff took half-day off from work today to bake 200 pcs of mini baked lotus mooncake which will be distributed to the underprivileged elderly together with goodie bags on that day.
"We hope to bring warmth to the elderly and bring more inclusivity so that they are able to enjoy the festive occasion," said Osafumi Kawamura, Managing Director of Konica Minolta BSA. "Through our staff effort, we hope to bring care and make some positive impact to the community."
Service Providers Speed Deployment, Reduce Costs with Patton Cloud Edge Orchestration Service
GAITHERSBURG, Md., Sept 21 (Bernama) -- Patton Electronics—US-manufacturer of UC, cloud, and IoT-enabling solutions for carrier, enterprise, and industrial networks—has launched the new Patton Cloud service for carriers and service providers that deliver All-IP and hybrid voice-and-data services to business subscribers.
Patton Cloud delivers a low-cost, easy-to-use, web-based edge-orchestration service that delivers a superior user experience. It offers remote touchless provisioning, monitoring, and troubleshooting—as well as security and alerting tools that reduce service turn-up costs, trouble tickets, and subscriber attrition.
Yamagata Prefecture Produces PR Video "Japan Heritage - Dewa Sanzan - A Journey to Rebirth -"
YAMAGATA, Japan, Sept 21 (Bernama) -- The Yamagata Prefectural Government has produced a promotion video of a story titled "Dewa Sanzan - A Journey to Rebirth -" that depicts a group of three mountains recognized as a Japan Heritage site.
Prefectural Government officials hope that people all over Japan and the world will visit Dewa Sanzan to refresh their body and mind so as to be full of strength for what tomorrow may bring.
PETRONAS Launches Water For Life Project In Juba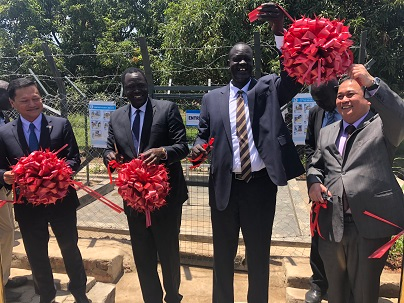 JUBA, South Sudan, Sept 21 (Bernama) -- PETRONAS through its subsidiary, PETRONAS Carigali Nile Limited, recently launched the first phase of its Water for Life project in Block 4 Gudele West, Juba. The project is in collaboration with the Ministry of Petroleum Republic of South Sudan and Nile Hope, a South Sudan national NGO. It is aimed to provide sufficient and accessible amount of quality and safe water to the local community, which will benefit more than 40,000 residents around Juba.

The initiative is part of PETRONAS' corporate social responsibility commitment which emphasises community well-being and development through increasing awareness on health, sanitation and safety, improving the quality of healthcare as well as providing access to clean water.
Update - Taconic Biosciences Becomes The First Animal Model Provider On General Services Administration Contract Schedule
RENSSELAER, N.Y., Sept 21 (Bernama) -- Taconic Biosciences, a global leader in providing genetically engineered rodent model solutions, announces a new relationship with Government Scientific Source (GSS).
GSS is a leading dedicated distributor of laboratory equipment to federal, state, and local governments on contract with the GSA (General Services Administration). By having Taconic's products available via GSS, they can now be accessed by all federal agencies, including but not limited to the National Institutes of Health and the Department of Defense. Taconic is the only animal model provider affiliated with GSS and the only animal model provider available on GSA Contract.
Singapore's HES Energy Systems To Launch Autonomous Zero Carbon Hydrogen Aviation Program In France.
SINGAPORE & PARIS, Sept 21 (Bernama) -- HES Energy Systems, developer of high performance hydrogen fuel cell propulsion systems for aerial platforms, is announcing its expansion to France to begin work on the first decentralized hydrogen infrastructure for autonomous fuel cell powered aerial vehicles.
The move is part of HES' broader goals to introduce long range zero emission aviation powered by renewable hydrogen, the most energy dense element in the universe. Thinking big yet starting small, the same company that started introducing its range-extending propulsion technology to small drones several years ago, is now evolving towards manned aerial platforms, such as flying cars and inter-urban electric aircraft.