EXCLUSIVE PRESS News List
Malaysia Committed To Role As Biofuel Technology Player
KUALA LUMPUR, May 25 (Bernama) -- As one the world's major palm oil producers, Malaysia will continue to play a major role in ensuring that palm oil remains a sustainable and eco-friendly fuel replacement for the world markets, said Minister of International Trade and Industry, Datuk Darell Leiking.

"Palm oil is a viable option to reduce our dependency on fossil fuels, as it has tremendous potential as a renewable source of energy. As the largest exporter and second largest producer of the palm oil in the world, we sit in a position to ensure that this commodity evolves into an industry that brings such benefits to the global markets, in particular the energy and transportation ecosystem", he said.
Malaysia To Strengthen Trade And Investment Ties With Brazil
BRASILIA, Brazil,May 25 (Bernama) -- International Trade and Industry Minister Datuk Darell Leiking continued his quest to reconnect with the government of Federative Republic of Brazil in Brasilia.

Minister Leiking paid a courtesy call on the President of the Federative Republic of Brazil, His Excellency Jair Bolsonaro. Discussion with President Bolsonaro focused on expanding bilateral trade and investment between both countries and the possibility of a Free Trade Agreement between Malaysia and Mercosur.
PETRONAS Unveils Latest Raya Webfilm "Rendang SoRaya "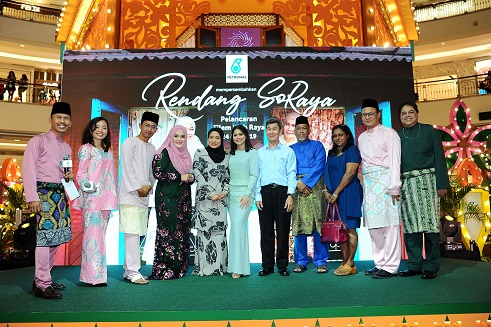 KUALA LUMPUR, May 25 (Bernama) -- PETRONAS continues to embrace the spirit of Malaysia's diversity with its latest Webfilm, "Rendang SoRaya", launched yesterday in conjunction with the upcoming Aidilfitri celebration.
 PETRONAS' festive Webfilms this year, invites everyone to cherish Anugerah Kita, 

a theme chosen to signify the abundance of blessings for Malaysians – multiracial relationships, celebrating vibrant festivities and enjoying food from diverse cultures, together. 
PETRONAS Chemicals Registers Lower 1Q 2019
KUALA LUMPUR, May 24 (Bernama) -- PETRONAS Chemicals Group Berhad (PCG) posted 17% year-on-year lower revenue of RM4.1 billion in its first quarter 2019 in tandem with the overall decline in petrochemical product prices. The petrochemical sector slowed during the quarter on market uncertainties as well as lower crude oil prices and demand.
Operations remain steady as PCG achieved plant utilisation of 95%, albeit lower compared to 100% in 1Q 2018 as the Group commenced the first statutory plant turnaround in 2019 as well as maintenance activities undertaken during the quarter. As a result, the Group saw lower production volume and lower sales volume accordingly.
OmniComm Systems Successfully Launches Innovation Forum in Asia
FORT LAUDERDALE, Fla., May 24 (Bernama) -- New drug innovation, patient-centric eClinical solutions and the latest trends in pharmaceutical research topped the agenda at Innovation Forum Asia, an inaugural customer summit hosted by OmniComm Systems, Inc. (OTCQX: OMCM), a leading global provider of clinical data management technology. Co-hosted by Tri-I Biotech, the Shanghai-based event attracted a larger-than-anticipated crowd of attendees and speakers.

"This was a great event for OmniComm in China. I am so happy to see the rapid growth of OmniComm's business in the region, and I want to thank Tri-I for its great partnership with us during the past four years," said Feng Cheng, GM of OmniComm China. "OmniComm has the best EDC and early-phase systems for clinical research and will continue to expand its services and support capabilities to grow its business in China."
Menicon Announces Launch Of Menicon Bloom Myopia Control Management System
NAGOYA, Japan, May 24 (Bernama) --
- Launch Features Initial Introduction of Menicon Bloom Night, First and Only CE-approved Orthokeratology Contact Lens in Europe for Myopia Control -
Menicon Co., Ltd. announced on May 24 the launch of the Menicon Bloom Myopia Control Management System, a holistic approach for myopia control management. The launch features the initial introduction of Menicon Bloom Night, an orthokeratology contact lens therapy for myopia control management.