EXCLUSIVE PRESS News List
MIA Launches Islamic Finance Textbook To Strengthen Islamic Finance Accounting Practices, Advance Malaysia´s Leadership In Islamic Finance
• Comprehensive and current textbook addresses on Malaysian Financial Reporting Standards (MFRS) application for Islamic finance transactions.

• Enhanced disclosure can lead to better actionable insights and decision-making by the leaders of Islamic finance institutions to optimise their ESG (environmental, social and governance) impacts and support BNM's VBI (value-based intermediation) strategy

• Free distribution via downloads available to the public and market – targeting students, academics and accountants – will build competencies in Islamic finance and enlighten discourse on Islamic finance issues


KUALA LUMPUR, Jan 17 (Bernama) -- The Malaysian Institute of Accountants (MIA) led by the MIA Islamic Finance (IF) Committee and the Malaysian Accountancy Research and Education Foundation (MAREF) have launched a comprehensive and current textbook on accounting for Islamic finance.

Intended to bridge the gap in knowledge on applying MFRS for Islamic finance transactions within the Islamic finance sector, the content will encompass assets, liabilities, equity, income and expenses and disclosures in the financial statements of an Islamic bank, takaful entity and Islamic fund management companies.
Legendary Streetwear Designer Jeff Staple Teams up With the Overwatch League™ to Create First-of-its-kind Esports Kit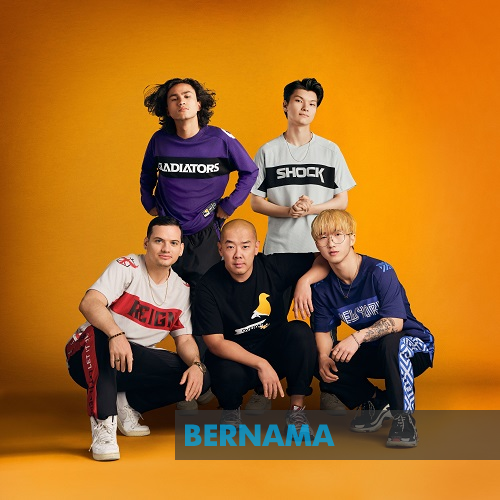 All 20 Overwatch League teams armed with their own unique home and away kits during the 2020 season, launching on Feb. 8


IRVINE, Calif., Jan 17 (Bernama) -- The Overwatch League™ today announced a first-of-its-kind collaboration with designer and streetwear powerhouse, Jeff Staple, to reimagine, design, and create an authentic player kit for esports. The new kits, designed in concert with Overwatch League player feedback for a look and feel that's unique to both traditional sports and esports, feature elevated fabrics, premium graphic applications, new side gussets for adjustable comfort, and a fit that is cut and sewn to increase quality and wearability while gaming. Each of the 20 Overwatch League teams will have their own unique home and away kits during the 2020 season, which launches on Feb. 8.

Staple worked with Overwatch League players throughout the design process to ensure the kits are a comfortable, functional uniform for competition, while also maintaining Staple's signature aesthetic. The new kits utilize elevated pin-dot mesh fabric to create lightweight and breathable jerseys to balance and regulate players' temperature for maximum comfort. The full kit will include a short-sleeve jersey, long-sleeve jersey, jacket, compression sleeve, hat, and beanie for each of the league's 20 teams.
WRP Board Shakes-Up Executive Line-Up
KUALA LUMPUR, Jan 17 (Bernama) -- The current Board of Directors (BoD) of WRP Asia Pacific (WRP), a world leading manufacturer and exporter of premium quality glove products based in Malaysia, represented by Thomas Philip Advocates and Solicitors (Thomas Philip), announced a new line-up of Executive Directors to restart operations at WRP and pave the way for the company's turnaround to profitability.
The appointments include that of Eddie Lim Kok Seong as Executive Director for Finance and Human Capital & Admin; Loong Mei Yin as Executive Director for Marketing; as well as Chew Ehon as Executive Director for Operations, Production, Procurement, Quality Assurance, Warehouse, Shipping, Regulatory Affairs, Research & Development / Specialist Support, and Engineering. Additionally, the BoD also appointed Sng Beng Hock Michael and Abinash Majhi as Executive Directors providing oversight overall aspects of WRP.
Kurita Water Industries Wins Agency of Natural Resources and Energy Director-General's Award in the 2019 Energy Conservation Grand Prize for Improved Heat Transfer Efficiency Through Dropwise Condensation Technology
TOKYO, Jan 17 (Bernama) -- Kurita Water Industries Ltd. (TOKYO: 6370) (Head Office: Nakano-ku, Tokyo; President: Michiya Kadota; hereinafter "Kurita") is pleased to announce that it has been awarded the Agency of Natural Resources and Energy Director-General's Award in the Product and Business Model category of the 2019 Energy Conservation Grand Prize organized by The Energy Conservation Center, Japan (backed by the Ministry of Economy, Trade and Industry). The prize was awarded for the improved heat transfer efficiency through Kurita's Dropwise Condensation Technology. This marks the second time Kurita has been recognized in the Energy Conservation Grand Prize, after winning the Energy Conservation Center Chairman's Award for its DReeM Polymer™ technology in 2017.
The Energy Conservation Grand Prize recognizes exemplary energy conservation initiatives on the part of business operators and sites, as well as products and business models that demonstrate excellent energy conservation. The endeavor is organized to expand awareness of energy conservation in Japan, encourage the widespread adoption of energy-saving products, and help build an energy conservation-oriented society. In the 2019 Energy Conservation Grand Prize a total of 52 themes were identified for recognition, with the Agency of Natural Resources and Energy Director-General's Award in the Product and Business Model category going to five recipients.
Nippon Express Consolidates Three Group Companies in Italy
TOKYO, Jan 17 (Bernama-AsiaNet) -- -Merger Aimed at Strengthening Lifestyle-related Logistics Services-
Three Nippon Express Group companies in Italy--Nippon Express Italia Srl, a Milan-based Italian subsidiary of Nippon Express Co., Ltd., Franco Vago SpA (hereinafter "Franco Vago"), and Traconf Srl (hereinafter "Traconf") --were merged to form Nippon Express Italia SpA (Head Office: Florence; President: Arnaldo Vivoli) on January 1, 2020.
SAS and Willis Lease Execute ConstantAccess Agreement Covering the Airline´s Airbus A340 Fleet
COCONUT CREEK, Fla., Jan 17 (Bernama) -- Willis Lease Finance Corporation (Nasdaq: WLFC) announced today that it has entered into a ConstantAccess™ agreement with Scandinavian Airlines System whereby the Company will guarantee availability of CFM56-5C engines to cover requirements due to both planned and unplanned removals of engines powering the airline's fleet of eight A340 aircraft.

"Over the next 36 months, as we transition into our new fleet of latest technology and most fuel efficient Airbus A350 aircraft, the Willis Lease ConstantAccess™ product will play a critical role providing SAS with a seamless and very efficient engine support transition service," said Niklas Hårdänge, Vice President of Fleet Management for SAS.
Celebrating Dedication And Excellence In The SNOMED CT Community
LONDON, United Kingdom, Jan 17 (Bernama) -- SNOMED International recently presented its Award for Excellence and Lifetime Achievement Award at its Awards Gala held in conjunction with the SNOMED CT Expo 2019 hosted in Kuala Lumpur, Malaysia last October. Award recipients are nominated from among the community to recognize exceptional contributors to the evolution and ongoing guardianship of SNOMED CT.
The Award for Excellence is given for outstanding contribution to the improvement of SNOMED CT and its successful implementation in health and social care. In 2019, this award was presented to Dr. Mark Jurkovich. Mark's commitment to SNOMED CT's Dentistry Clinical Reference Group and its Special Interest Group predecessor, has made it among the most productive and successful of its kind. First established as an element of an American Dental Association cooperation agreement signed in 2012, Mark was appointed Chair and has continued to play a leadership role since that time.