EXCLUSIVE PRESS News List
Polyplastics' New "DURANEX(R) 532AR" PBT Resin Provides Excellent Alkali Stress Crack Resistance For Automotive Market
TOKYO, Jan 17 (Bernama) -- The Polyplastics Group has announced the introduction of a new polybutylene terephthalate (PBT) resin which delivers excellent alkali stress crack resistance for a range of automotive applications. The new grade, DURANEX(R) 532AR, also exhibits outstanding hydrolysis/heat shock resistance and electrical performance for components in the chassis and engine compartment.
As demand for durability, safety and reliability in auto parts continues to increase, DURANEX(R) 532AR has successfully reduced the risk of cracking in molded articles by preventing alkali from penetrating the inside of the resin, thus imparting toughness that helps generate less stress. This alkaline can arise from rust formation in metal parts. DURANEX(R) 532AR, treated with a hydrolysis-resistant formula, has greater durability than standard materials.
Chris Hemsworth set to inspire health and happiness with Swisse Wellness
MELBOURNE, Australia, Jan 17 (Bernama) -- Swisse Wellness, Australia's No.1 Brand in Vitamins and Supplements, announces today a global partnership with international actor Chris Hemsworth as its newest Global Brand Ambassador.
Swisse Logo: https://s3-ap-southeast-2.amazonaws.com/mnr-s3-prod/0029/000269_swisse_800.jpg
"The brand and our regional marketing teams across the world are truly excited about partnering with Chris who is a perfect complement to the Swisse brand," said Severine Brichard-Rooney, H&H Group Global Director of Marketing.
Odakyu Group Starts 2019 Lunar New Year Campaign
TOKYO, Jan 17 (Bernama) --

-Member Companies of Odakyu Group in Shinjuku, Hakone, Enoshima and Kamakura to Join Hands in Welcoming Tourists from Abroad -
The Odakyu Group started a "2019 Lunar New Year Campaign" from Wednesday, January 16, to Friday, February 15, 2019.
As part of the campaign, the Odakyu Group presents qualified travelers with coupons worth 500 yen each -- which can be used in Tokyo's Shinjuku district popular among travelers from abroad as well as in the Hakone, Enoshima and Kamakura districts -- popular tourist spots along the Odakyu railway lines -- and offers special goods aboard Limited Express Romancecar trains exclusively during the Lunar New Year period. Companies belonging to the Odakyu Group are joining hands in welcoming inbound tourists such as by wearing special "hospitality" badges.
TCL X10 wins prestigious 8K TV award at CES 2019
LAS VEGAS, Jan 17 (Bernama) -- TCL, top three global television brand and leading consumer electronics company, has been honored with multiple awards at the International Consumer Electronics Show (CES) 2019 in Las Vegas. Notable accolades won by TCL included "8K TV Gold Award of the Year" for its TCL X10 QLED 8K TV and "2018-2019 Global CE Brands Top 50" by the International Data Group (IDG).
TCL also won "2018-2019 Global Smart Connected Device Top 15", "2018-2019 Global Smart Phone Brands Top 15", and "Global Security Smartphone Innovation Award of the Year" for its BlackBerry KEY2 by IDG, and "Top Increase in Market Share in North America" in the LCD TV category by the NPD Group.
Keio Plaza Hotel Hosts "Hina-matsuri (Girls' Doll Festival)" Event - 6,800 Magnificent Hanging Art Ornaments And Tea Ceremony Culture
TOKYO, Jan 17 (Bernama) -- Keio Plaza Hotel Tokyo (KPH), one of Japan's most prestigious international hotels located in Shinjuku, Tokyo, will host an event entitled "Hina-matsuri through Tea Ceremony Culture and Hanging Art" to help guests celebrate Japan's cultural event known as Girls' Doll Festival or "Hina-matsuri" from February 1 (Friday) to March 28 (Thursday), 2019 with magnificent hanging art ornaments displayed in our lobby and special menu items served in our restaurants. In addition to the display of some 6,800 magnificent and ornate handmade dolls and other traditional decorations in this coming event, our Hotel will also display various traditional and historical art items used in traditional Japanese tea ceremony, which has long been a part of the cultural upbringing of Japanese women from the Meiji Period (1868 to 1912).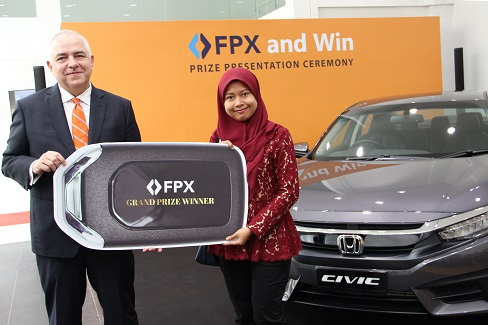 KUALA LUMPUR, Jan 16 (Bernama) -- On 16 January 2019, Payments Network Malaysia Sdn Bhd (PayNet) held a prize giving ceremony for lucky winners of the recently concluded "FPX and Win!" contest which offered a total of RM400,000 in prizes, including two Honda Civics, as well as shopping vouchers worth a total of RM 50,000. "FPX and Win!" ran from 1 August to 31 October 2018, and all bank customers who made payments using FPX during the contest period were eligible for a lucky draw.

The grand prize winners, Mohd Azwan Shah Bin Abdul and Nurul Fatin Binti Mohd Zulkafli obtained their winning entries by making payments using FPX at the Shopee mobile app and the Employee Provident Fund's (EPF) e-Caruman website respectively. Nurul Fatin Binti Mohd Zulkafli said, "I always use FPX to pay for my online purchases, and now I won a Honda. What an amazing surprise!"
Statement By Malindo Air On The Arrest Of A Crew By The Australian Federal Police For Allegedly Smuggling Drugs
PETALING JAYA, Jan 16 (Bernama) -- Malindo Air wishes to affirm that one of our cabin crew was arrested on arrival at Melbourne International Airport by the Australian Federal Police (AFP) on 7th January 2019. To date however, we have not had any official communication either with our staff or from the AFP on the said detention.
We had nevertheless duly raised the matter with the Malaysian Consul General's office in Melbourne upon learning of the said detention. We have now learnt from the various media reports that the said cabin crew was arrested for allegedly being part of an international drug syndicate which used various airlines' cabin crews for smuggling drugs into Australia. Malindo Air through the various media reports is also aware that cabin crew from other international carriers have since been arrested on similar charges over the last couple of months. Malindo Air stands ready to co-operate with all the relevant authorities be it in Australia or in Malaysia in this regard. The said cabin crew has also been suspended with immediate effect pending termination. As a responsible international air carrier, Malindo Air does not condone any act that is criminal in nature or misconduct by our personnel. All our flight and cabin crew are adequately trained & continuously appraised in all aspects of their conduct to comply to our stringent operating standards.