EXCLUSIVE PRESS News List
Yamagata Prefecture Produces PR Video "Japan Heritage - Dewa Sanzan - A Journey to Rebirth -"
YAMAGATA, Japan, Sept 21 (Bernama) -- The Yamagata Prefectural Government has produced a promotion video of a story titled "Dewa Sanzan - A Journey to Rebirth -" that depicts a group of three mountains recognized as a Japan Heritage site.
Prefectural Government officials hope that people all over Japan and the world will visit Dewa Sanzan to refresh their body and mind so as to be full of strength for what tomorrow may bring.
PETRONAS Launches Water For Life Project In Juba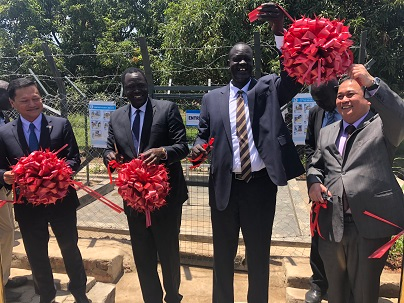 JUBA, South Sudan, Sept 21 (Bernama) -- PETRONAS through its subsidiary, PETRONAS Carigali Nile Limited, recently launched the first phase of its Water for Life project in Block 4 Gudele West, Juba. The project is in collaboration with the Ministry of Petroleum Republic of South Sudan and Nile Hope, a South Sudan national NGO. It is aimed to provide sufficient and accessible amount of quality and safe water to the local community, which will benefit more than 40,000 residents around Juba.

The initiative is part of PETRONAS' corporate social responsibility commitment which emphasises community well-being and development through increasing awareness on health, sanitation and safety, improving the quality of healthcare as well as providing access to clean water.
Update - Taconic Biosciences Becomes The First Animal Model Provider On General Services Administration Contract Schedule
RENSSELAER, N.Y., Sept 21 (Bernama) -- Taconic Biosciences, a global leader in providing genetically engineered rodent model solutions, announces a new relationship with Government Scientific Source (GSS).
GSS is a leading dedicated distributor of laboratory equipment to federal, state, and local governments on contract with the GSA (General Services Administration). By having Taconic's products available via GSS, they can now be accessed by all federal agencies, including but not limited to the National Institutes of Health and the Department of Defense. Taconic is the only animal model provider affiliated with GSS and the only animal model provider available on GSA Contract.
Singapore's HES Energy Systems To Launch Autonomous Zero Carbon Hydrogen Aviation Program In France.
SINGAPORE & PARIS, Sept 21 (Bernama) -- HES Energy Systems, developer of high performance hydrogen fuel cell propulsion systems for aerial platforms, is announcing its expansion to France to begin work on the first decentralized hydrogen infrastructure for autonomous fuel cell powered aerial vehicles.
The move is part of HES' broader goals to introduce long range zero emission aviation powered by renewable hydrogen, the most energy dense element in the universe. Thinking big yet starting small, the same company that started introducing its range-extending propulsion technology to small drones several years ago, is now evolving towards manned aerial platforms, such as flying cars and inter-urban electric aircraft.
Uphold Makes Cred's LBA Tokens Available For Purchase In 170+ Countries
SAN FRANCISCO, Sept 21 (Bernama) -- Uphold, the global digital money platform that has powered more than $3.5 billion in transactions across 184 countries, and Cred, the leader in crypto-backed credit, today announced the next step in their commercial relationship which will allow Uphold users access to LBA tokens on the Uphold platform.
"Cred has secured more lending capital than any other lending company in the space by orders of magnitude," said JP Thieriot, CEO of Uphold. "Our ability to offer Cred's LBA token is another important milestone for our members since Cred is one of the fastest growing lending ecosystems in the crypto community. Uphold members will have access to fiat loans at a lower cost via the LBA token. Cred's lending services can also provide a financial lifeline to the many ICO companies that have raised a significant amount of ETH and BTC and would like to receive a USD loan to diversify their balance sheets and avoid having to sell at diminished prices."
PGIM Real Estate Hires Vincent Chew As Portfolio Manager
SINGAPORE, Sept 21 (Bernama) -- Vincent Chew has joined PGIM Real Estate as an executive director and portfolio manager for PGIM Real Estate's core investment strategy in Asia. PGIM Real Estate is the real estate investment business of PGIM, the $1 trillion global investment management businesses of U.S.-headquartered Prudential Financial, Inc. (NYSE:PRU).

Chew is based in Singapore and reports to Benett Theseira, head of Asia Pacific.
Vista Global Acquires XOJET, the Leading On Demand Business Aviation Company in North America With 43 Aircraft, Strengthening Its Global Presence With 115 Owned Business Jets
NEW YORK, Sept 21 (Bernama) -- In a further move towards strengthening its lead in the fragmented and expanding business aviation market, Vista Global, the aviation group founded by Thomas Flohr, announces the acquisition of XOJET's business aviation fleet and commercial operations. XOJET's regulated air carrier will continue to be independently operated in a joint venture under U.S. control and leadership, in accordance with U.S. Department of Transportation criteria.
XOJET is the leading on demand private aviation platform in North America and its innovative model is unrivaled in the industry. XOJET's four distinct membership programs serve the whole spectrum of business aviation needs on its owned fleet, whilst also providing its customers with additional flexible off-fleet alternatives. All of XOJET's products are asset lite, a business model which is fully aligned with prevailing global macro trends and preferred by both corporates and UHNWIs.