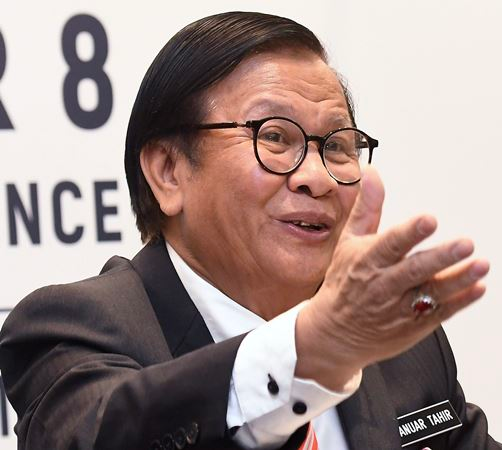 Mohd Anuar Mohd Tahir
KUALA LUMPUR, Dec 1 (Bernama) -- Parti Amanah Negara (Amanah) will focus on efforts to strengthen and improve the party at its third national convention to be held from Dec 14 to 16 at Casuarina Hotel in Meru, Ipoh.
Its secretary-general Mohd Anuar Mohd Tahir said some 1,000 delegates from 156 party divisions were scheduled to attend the convention, which would be the first to be held after the party became a component of Pakatan Harapan (PH) that formed the government.
Mohd Anuar who is Works Deputy Minister, said the convention would serve as a platform for the party to improve its performance and delegates could use the opportunity to criticise the party leadership .
"This convention will be a post-mortem on the performance of Amanah leaders in the cabinet," he said when contacted by Bernama.
Amanah has nine members who have been appointed ministers or deputy ministers in the PH government led by Prime Minister Tun Dr Mahathir Mohamad.
"Almost all the leaders will be there and will answer questions openly. Since they are in the government the top leaders must also accept suggestions and criticisms for the sake and continuity of the party,'' he added.
Mohd Anuar, who is also Temerloh MP, said the issues to be discussed at the convention would include on economy, social, politic, international and education.
He said the convention would begin with registration of delegates on Dec 14 and would be opened by party president Mohamad Sabu the following day.
"The president will deliver a speech which will then be debated by delegates before the annual report is tabled by the secretary-general and presentation of the financial statement by the party treasurer," he added.
He said the winding-up session by the party leaders would be on Dec 16.
Mohd Anuar said the the convention would also be attended by representatives from PH component parties as well as about 3,000 local and foreign observers.
-- BERNAMA