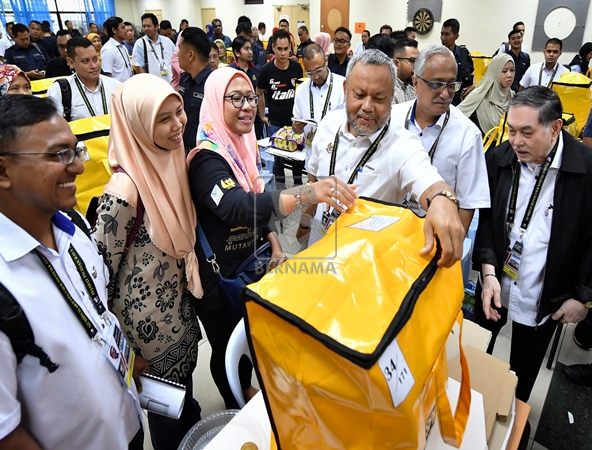 PORT DICKSON, Oct 12 (Bernama) -- The Election Commission (EC) has reminded the seven candidates for the Port Dickson parliamentary by-election that all their campaign activities must stop by midnight tonight.
In fact, EC deputy chairman Tan Sri Othman Mahmood said that all forms of campaign or vote fishing activities were not allowed during the polling day tomorrow.
"No one is allowed to fish for votes tomorrow, either outside the polling centres or through social media platforms such as Facebook, Twitter, Instagram and the likes of it. We hope everyone will adhere to the election regulations and code of ethics during the by-election here tomorrow to ensure public order.
"Action will be taken against any violation of the laws," he told reporters after checking the final preparation for the by-election here today.
The Port Dickson by-election tomorrow involves a total of 1,403 EC staff manning 154 channels at 32 polling centres which will open at 8 am to enable 68,317 registered voters to elect their new Member of Parliament.
Meanwhile, Othman also advised all voters to check their details using the MySPR Semak mobile app, or via the EC portal, or by calling 03-88927018, or by sending an SMS to 15888 to ensure smooth running of their voting process.
"Voters are also advised to bring their valid identification document and not to simply give their identity card to anyone other than the EC staff," he said.
In view of the uncertain weather condition, he said voters were also advised to go to the polls in the morning to avoid afternoon rain.
"However, we have also prepared a shuttle service and umbrellas for the voters," he said.
Othman said the EC targetted the voter turnout in the Port Dickson by-election to be around 70 per cent with the results to be announced at the Port Dickson Municipal Council (MPPD) hall no later than 10 pm.
The Port Dickson by-election is a seven-cornered contest among PKR de facto leader Datuk Seri Anwar Ibrahim, Lt Col (Rtd) Mohd Nazari Mokhtar of PAS and five independent candidates, among them former Negeri Sembilan menteri besar Tan Sri Mohd Isa Abdul Samad and Anwar's former personal aide Mohd Saiful Bukhari Azlan.
The seat was vacated by Datuk Danyal Balagopal Abdullah of PKR on Sept 12 to enable Anwar to contest the by-election and return to Parliament.
In the 14th general election on May 9, Danyal Balagopal, 68, won the seat with a majority of 17,710 votes, beating Datuk V.S. Mogan of the Barisan Nasional and Mahfuz Roslan of PAS.
Forty-three per cent of the voters in the Port Dickson constituency are Malay, 33 per cent Chinese, 22 per cent Indian and two per cent others.
-- BERNAMA