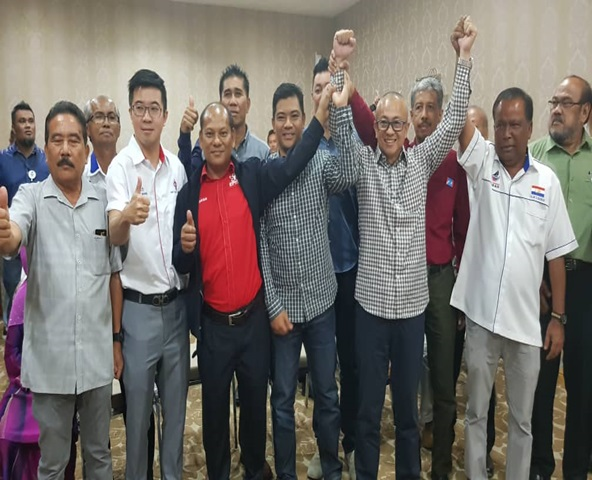 LABUAN, Oct 11 (Bernama) -- Labuan MP Datuk Rozman Isli quit UMNO today and said he has joined the Sabah-based Parti Warisan Sabah, thus increasing to nine the number of Warisan MPs.
Rozman, 54, who has been the Labuan MP since 2013, said he decided to leave UMNO after taking into consideration the importance of ensuring the continuity of Labuan's economic development agenda.
He was the Labuan UMNO secretary before taking over the post of divisional chief from former MP Datuk Yussof Mahal, and he did not contest for the chief post in the recent party divisional election.
"In view of the political landscape changes, my entry into Warisan today is also to fulfil the people's wish … to ensure that Labuan's development is in tandem with that of the federal territories of Kuala Lumpur and Putrajaya," he said at a press conference at the Labuan Airport, which was also attended by Warisan deputy president Datuk Darrel Leiking and vice-president Datuk Junz Wong.
Rozman said his decision to quit UMNO and join the Sabah ruling party reflected his unselfishness in politics in fulfilling the people's desire.
He said he would work with Pakatan Harapan (PH) component parties in Labuan and Sabah to ensure that Labuan continues receiving attention from the federal government.


"I have made an appointment with Federal Territories Minister Khalid Abdul Samad and I will see him to inform of my entry into Warisan and discuss further Labuan's economic development and the importance of cooperation with his ministry," he said.


Rozman said that like Sabah, Labuan too needs empowerment to be able to move even faster in the development mainstream.


"In the Malaysia Baharu (New Malaysia) era, we believe it will be easier for us to ask for our (economic development) needs to be fulfilled to move forward," he said.


He said Warisan was his chosen party due to Labuan's proximity to Sabah and in the interest of socio-economic development.

Rozman said he hoped that UMNO would continue to play its role as an opposition party and it could help in development.


He also clarified that Labuan should continue as a federal territory, contrary to the speculation in a local daily, and that as such it should continue to be given due attention.


Leiking said Rozman had been admitted into Warisan immediately and this would bring political changes both to Labuan and Sabah.


"There were no offers to him to join Warisan but for the future of Labuan," he said.


Junz Wong welcomed Rozman into Warisan, describing the move as a wise decision for the betterment of Labuan, especially its economic development.


-- BERNAMA