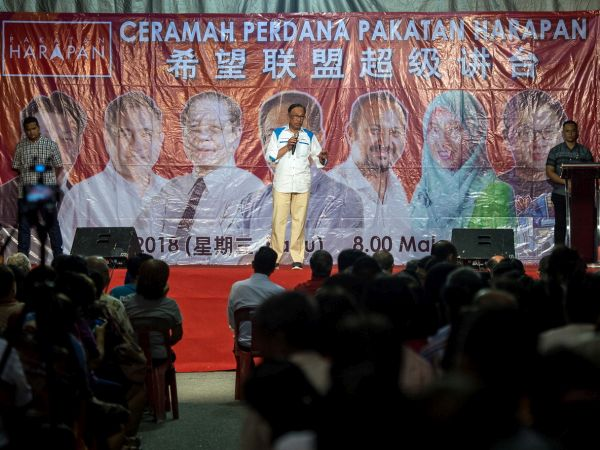 PORT DICKSON, Oct 10 (Bernama) -- Six non-governmental organisations (NGOs) here expressed support for Pakatan Harapan (PH) candidate Datuk Seri Anwar Ibrahim in the Port Dickson parliamentary by-election this Saturday.
The NGOs concerned are Teluk Kemang Indian Community Club, Taman PD Utama Youth Club, Dino Persatuan Jetski Negeri Sembilan PD, Rizal Kelab Belia Taman Poli, Faisul Kelab Belia Kemang Jaya dan NSR 95 Veteran FC.
K. Rajashekaran, 45, who claimed to be the spokesman for the NGOs concerned, said they were confident that with Anwar's experience, it would boost Port Dickson's image.
"This is the best time for us to show our undivided support for Datuk Seri Anwar Ibrahim.
"We must be proud because he used to be a deputy prime minister and now being said to be the next prime minister," he told a media conference here today.
The Port Dickson by-election will witness a seven-cornered fight involving Anwar, PAS candidate Lt Col (Rtd) Mohd Nazari Mokhtar and five Independent candidates, who include former Negeri Sembilan menteri besar Tan Sri Mohd Isa Abdul Samad and Anwar's former personal aide Mohd Saiful Bukhari Azlan.
The by-election was called after its incumbent Member of Parliament Datuk Danyal Balagopal Abdullah vacated the seat last Sept 12 to give way for Anwar to return to the Dewan Rakyat.
In the last general election on May 9, Danyal Balagopal, 68, won the seat with a majority of 17,710 votes against BN's Datuk V.S.Mogan and Mahfuz Roslan, from PAS.
The Port Dickson parliamentary constituency has 75,770 registered voters, comprising 43 per cent Malay, Chinese (33 per cent), Indian (22 per cent) and other races (two per cent).
Polling is this Saturday.
-- BERNAMA