By Sakini Mohd Said
SAMARKAND (Bernama) -- As soon as our Uzbekistan Airways Flight HY554 touched on the runway at Tashkent International Airport after an eight-hour flight from Kuala Lumpur, thunderous applause echoed in the cabin and a lively local song came on-air.
Apparently, Uzbek air passengers have this habit of clapping their hands when the plane they are travelling in makes a smooth landing.
I was travelling to the central Asian country to cover the 12th
Sharq Taronalari
International Music Festival at Registan Square in Samarkand in August.
While waiting for my luggage to appear on the carousel at the airport, I struck up a conversation with three Uzbek women who were also on the same flight. They told me they had been vacationing in Malaysia and enjoyed the shopping and their visit to Langkawi.
Our animated chatter was interrupted when I suddenly realised that my black bag which I had checked in had yet to appear on the carousel although I had been waiting there for almost an hour. The Uzbek women I was talking to and several other passengers had already retrieved their baggage.
Even Bernama photojournalist Mahayudin Mohamad who travelled with me had already retrieved his bag, although both of us checked our baggage in together at Kuala Lumpur International Airport (KLIA).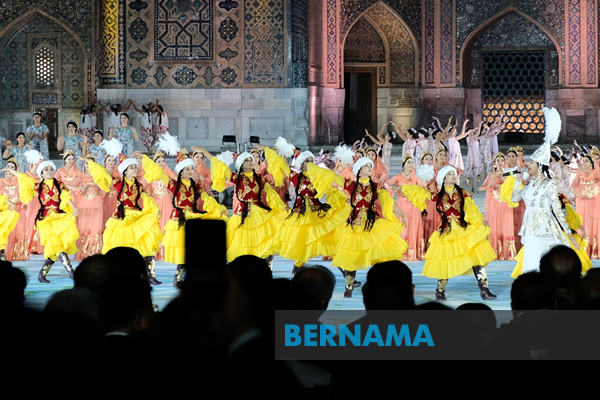 I became really worried when the conveyer belt stopped. "I'm sorry but there are no more bags from (Flight) HY554," said an airport worker. Hearing his words, the excitement I felt minutes ago evaporated.
It was 11.15 pm and the baggage retrieval hall was almost deserted, save for me and three other passengers whose bags were also missing. One of them, a Singaporean, complained that he had to fly to Tajikistan the next morning and would have to cancel his flight if he did not get his luggage.
After lodging a report with the airline authorities, we were told that Uzbekistan Airways was not at fault and that something went awry at KLIA itself.
True, on Friday, Aug 23, the day I left for Tashkent, KLIA was experiencing its first-ever system disruption which had caused hours of delay for passengers. Even our flight was delayed by three hours as most of the processes were being done manually. I was told that my bag would arrive on the next flight from Kuala Lumpur.
Mahayudin told me to buy enough clothes to last me a whole week as the next Uzbekistan Airways flight from Kuala Lumpur was scheduled for Thursday the following week, the same day we were scheduled to return home! There is only one direct flight from KLIA to Tashkent via Uzbekistan Airways each week.
I almost panicked when I realised I only had US$600 with me. To make matters worse, I don't own a credit card. It reminded me of the time I was stranded at Heathrow International Airport in London while on transit from Cannes, France, with only RM300 in my pocket.
While I was busy filling up the complaint form, an officer informed me that they had found a bag and invited me to identify it. My happiness knew no bounds when I realised it was my bag!
After going through quite a testing time at the airport, the organisers took us to a hotel in Tashkent where we spent the night. The next day, we were to leave for Samarkand, the nation's second-largest city which is renowned for its historical monuments.
Yet another test awaited us in Samarkand when Mahayudin and I tried to enter Registan Square, the venue for the music festival that we were covering. We were told by a guard that we could not enter as we did not have our passports with us (we were required to leave our passports with the hotel reception).
We showed our invitation card but were still barred from entering. The security checks were quite stringent that day as the Uzbekistan President Shavkat Mirziyoyev and other dignitaries were also attending the event.
The organisers then tried to find a vehicle to take us back to our hotel to get our passports and bring us back to the venue. It was 4.30 pm then and we had to be back in Registan Square before 5.30 pm.
One kind soul agreed to drive us to our hotel but on our way back to the venue the main road was closed, which left us with no option but to walk to Registan Square, about 1.5 km away.
The prospect of walking about 45 minutes to get there did not seem attractive at all because of the sultry late summer weather. Fortunately for us, after walking for 20 minutes, a police patrol car stopped to give us a ride to Registan Square.
All that hassle was well worth it when I entered the square and gaped at its architectural beauty. Registan Square is made up of three
madrasah
-- Ulugbek, Sher-Dor and Tillya-Kari.
When finally the show began with the rendition of a song titled Samarkand, I was filled with a sense of awe. Not only was the orchestra brilliant, but the organisers' clever use of lighting effects for each and every performance added to this festival's allure.
The choice of coloured lights and beaming techniques enhanced the beauty of the heritage buildings' ancient architecture. In fact, when I forwarded some of the photographs to my friends in Malaysia, they thought they were 3D images.
The musicians, who were from different parts of the world, participating in the music festival performed in an open-air area fringed by the three
madrasah
. Watching them perform beneath the star-studded sky was truly an amazing experience.
It is the uniqueness of the venue that makes the biennial
Sharq Taronalari
so interesting.
I made use of my media pass to enter the Sher-Dor
madrasah
where several musicians were practising with their instruments. Once again, I was mesmerised. Not only was the interior of the ancient building impressive, but the musicians in their traditional garb also transported me to an era from the past.
Registan Square is the pulse of Samarkand's history as it was an important part of the silk route. Apart from trading activities, it had also served as a centre for the dissemination of knowledge.
"It's hard to describe. Only those who have had the opportunity to be here can see the uniqueness of this festival. We feel so blessed to be able to perform here," said Ben Wright, a member of Henhouse Prowlers band from the United States.
He is right. I had my share of challenges during the trip but the experience I gained was invaluable.
Hayr Sharq Taronalari 2019. Umid qilamizki 2021 - yilda yana ko'rishamiz
. (Goodbye
Sharq Taronalari
2019. Hope we meet again in 2021.)
Translated by Rema Nambiar
BERNAMA