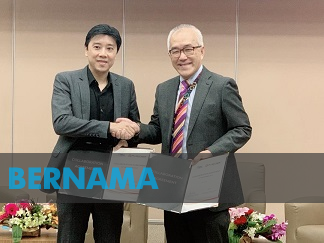 Fusionex Founder & Group CEO Dato' Seri Ivan Teh (left) exchanging a Memorandum of Agreement with International Medical University (IMU) Deputy Vice Chancellor Professor Peter Pook during the Healthcare Big Data Analytics Forum held at IMU Campus. (Photo: Business Wire)
Pioneering the country's first AI-powered medical R&D

KUALA LUMPUR, Malaysia, Sept 20 (Bernama) -- Multi-award-winning data technology provider, Fusionex, and Malaysia's pioneer private medical and health sciences university, the International Medical University (IMU) are taking a bold step to integrate Big Data Analytics (BDA) and Artificial Intelligence (AI) in IMU's medical and health sciences programs. In order to equip future healthcare providers with the right set of skills and knowledge, this collaboration will see five IMU undergraduate programmes each piloting a BDA module.

The five programmes are Bachelor of Pharmacy (Hons), BSc (Hons) in Medical Biotechnology, BSc (Hons) in Dietetics with Nutrition, BSc (Hons) in Nutrition, and BSc (Hons) in Biomedical Science. These will be some of the first non-ICT degree programmes to integrate BDA as part of its syllabus.




For the full text, click
here