By Suhainie Mohd Khalid
JOHOR BAHRU (Bernama) -- Naim Hamid Hamidin is only 16 and already going places.
This fifth former from Sekolah Seni Malaysia Johor (SSeM) in Pasir Gudang is a talented landscape and portrait artist and has so far produced 30 paintings.
His works have graced exhibitions locally and abroad, with one of his paintings reportedly sold for RM6,000.
Naim Hamid's more notable pieces include oil portraits of Prime Minister Tun Dr Mahathir Mohamad, his wife Tun Dr Siti Hasmah Mohamad Ali and King Salman Abdulaziz Al-Saud, who is the Custodian of Saudi Arabia's Two Holy Mosques.
Last month, the young artist had the opportunity to present Dr Mahathir's portrait to the prime minister himself at the Perdana Leadership Foundation office in Putrajaya, where the boy received a pat on the back and was told to work hard always.
King Salman's portrait was done two years ago after Naim Hamid, who was only 14 then, received a request from the Malaysian Institute of Translation and Books (ITBM) to paint the monarch's portrait.
On March 8, 2017, the 60-centimetre by 72.5-centimetre oil portrait of the king was presented to the then Minister of Culture and Information of Saudi Arabia Dr Adel Zaid Al-Toraifi by the then Minister of Education Datuk Seri Mahdzir Khalid during the International Book Festival in Riyadh, Saudi Arabia. Naim Hamid had also attended the event.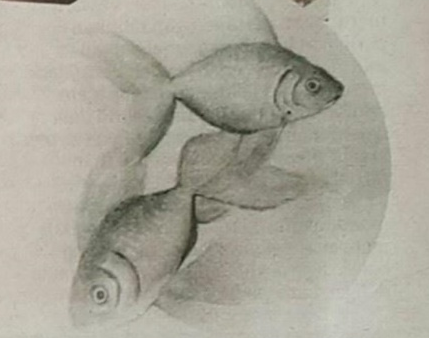 This drawing of a pair of goldfish earned Naim Hamid praises from his art teacher. -- photo courtesy of Naim Hamid Hamidin
STARTED DRAWING AT NINE
According to Naim, it was his teacher who discovered his talent for drawing. He was nine years old then and studying at Sekolah Islam Adni in Ampang, Selangor.
"Initially, I would just scribble Ultraman (a Japanese fictional superhero) on my desk. My first proper painting was that of a pair of goldfish which my art teacher happened to see.
"My teacher praised my work because it was detailed and he felt it was very good for a nine-year-old and informed my parents of my talent," he told Bernama recently, when met at the Johor Art Gallery here.
Naim Hamid is among 17 fine arts, visual communications and design students from SSeM who are participating in the 2019 SPM Visual Arts Exhibition at the gallery from Aug 27 to Sept 27.
This exhibition showcases the artworks of participants, who are sitting for the art paper in the 2019 Sijil Pelajaran Malaysia (SPM) examination, for assessment purposes.
Naim Hamid, whose father is a lecturer at Universiti Malaya and mother a lawyer, said his parents then decided to send him for art classes at Jomlukis! in Bangi, Selangor, so that he could hone his skills.
"On the advice of my parents, I decided to pursue my secondary education at SSeM so that I can focus on academic subjects, as well as art," said the young artist, who started doing oil paintings when he was 12.
Today, he has no qualms about choosing art as his career path as it gives him a lot of satisfaction.
IDOL
Naim Hamid said renowned local artist Jaafar Taib was his idol and confessed that the subjects of many of his works were influenced by "Pak Jaafar's" forest landscape paintings.
"Whenever I return to Kuala Lumpur during the school holidays, I would visit Pak Jaafar's studio at Jalan Kuching. He would always advise me not to give up and not to allow success to go into my head should I become famous someday," he said, adding that he also admires the works of other artists such as Shafiq Nordin, Khairudin Zainudin and Haziq Syawal.
Naim Hamid, whose artwork received the recognition of excellence at the 19th International High School Art Festival in Tokyo, Japan, in August 2018, said he hoped to pursue his higher studies in fine arts at a university abroad or at Universiti Teknologi Mara.
"I hope I never grow tired of creating quality artworks. I also hope that Malaysians would stop looking down on artists who are trying to earn a living.
"The works of our local artists have the same value as those done by foreign artists whose paintings fetch high prices," he added.
Translated by Rema Nambiar
-- BERNAMA