By Suwaidah binti Ibrahim@Zawawi
TUMPAT (Bernama) -- A whole 14 hours. Yes, that's how long it takes to prepare 'serunding daging' or beef floss.
It takes six hours to boil the meat and another eight hours to cook the traditional delicacy to perfection, without taking into account the time taken to prepare the various spices for the dish, as well as shred the boiled meat finely.
It may be a painstaking process but for Ruhayawani Ali, 37, her passion for making serunding has not waned one bit since she started helping her mother Harishan Yusuf, 66, to run the family's serunding business while still in secondary school.
Four years ago, Ruhayawani started managing Waniez Serunding, which is based at Kampung Laut -- about 12 kilometres from here -- and established more than 30 years ago. Prior to her taking over, three generations of her family had been running the enterprise.
Staying loyal to the traditional recipe handed down to her by her mother, Ruhayawani's serunding specialities enjoy brisk sales despite the stiff competition she faces from the over 100 serunding makers who operate in Kampung Laut, a tourist destination which is also known for its dodol and other traditional delicacies.
SHRED MANUALLY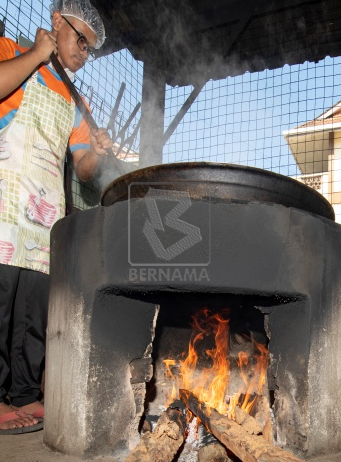 Using a wood stove to boil the meat and fry the condiments needed for the serunding would render the serunding more aromatic. --fotoBERNAMA(2019)COPYRIGHTS RESERVED
Waniez Serunding produces four types of serunding made out of local beef, imported beef, chicken and fish. To make these, some 60 kilogrammes of beef, 20 kg of chicken and 35 kg of fish are processed daily but the amount of raw materials used shoots up during the school holidays and festive periods.
"Just before Hari Raya, the demand for fish serunding, especially, increases because it is used as a filling for snacks such as spring rolls and mini curry puffs," said Ruhayawani, who has five of her family members assisting her in the business.
While chicken and fish serunding can be prepared within a day, the beef version requires more than a day. Since the preparation of beef serunding is a time-consuming affair, the meat is boiled first and the actual cooking process, where a mixture of spices, dried chilly, onion, garlic, salt, sugar and other ingredients are added to the shredded meat, only starts the next day.
"We still do it the traditional way, that is, we shred the meat by hand so that its fibres are not damaged or crushed.
"We also remove the fat from the meat. The presence of fat in serunding will not only give the product a shorter shelf life but will also affect the texture and quality of the meat," explained Ruhayawani, adding that her range of serunding can last more than three months.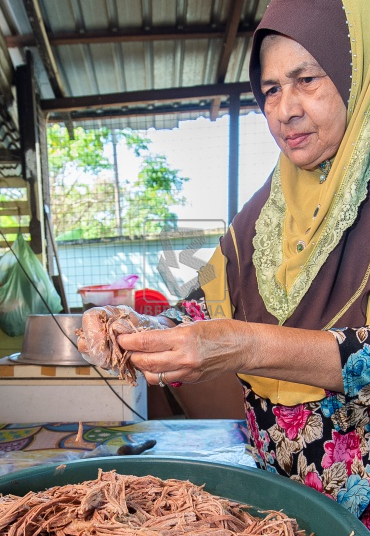 In making the 'serunding daging', the meat is shred by hand so its fibres are not damaged or crushed. --fotoBERNAMA(2019)COPYRIGHTS RESERVED
She said while her family has suggested that a machine be used to slice the onions to save time, she still preferred to do it manually to retain the natural aroma of the serunding.
GOOD DEMAND
The entrepreneur also faithfully uses a wood stove to boil the meat and fry the condiments needed for the serunding as she firmly believed that the use of wood as fuel for cooking would render the serunding more aromatic.
The final stage of cooking, where the shredded meat is stirred almost continuously until the mixture becomes dry, is however done on a gas stove.
Ruhayawani's serunding processing centre at Kampung Laut is equipped with eight cauldrons and 45 kg of serunding can be cooked in each of them at any one time.
"We don't usually keep serunding stocks at our outlet as we have a steady stream of customers. We also send our products to Pasar Siti Khadijah in Kota Bharu and certain shops in Pengkalan Chepa," she said.
Another serunding brand Kampung Laut is famous for is Serunding Ramlah Salleh, owned by Mohd Farhan Ramli, 34.
His mother Ramlah Salleh and her family founded the business 40 years ago and it is one of the oldest serunding processing facilities in the locality.
Mohd Farhan took over the operations after his mother died some years back. His processing centre has 12 cauldrons and his beef, chicken and fish serunding are available at various shops and markets in Kota Bharu.
Translated by Rema Nambiar
BERNAMA