By Noorazlina Jindeh
The proposed Kinabalu Geopark is now undergoing the necessary evaluation prior to its recognition as a national geopark. This final of a two-part article zooms in on a few geosites in Kota Belud and Kota Marudu.
KOTA BELUD (Bernama) -- Kampung Kiau Nuluh, a picturesque village in the foothills of the majestic Mount Kinabalu, is a perfect fit for a geopark site.
Surrounded by lush rainforests and rolling hills, the village is located 600 to 1,400 metres above sea level.
Having existed for almost a century, it is rich in history and culture -- hence, it is little wonder that this village is among the 30 geosites with geological, biological and cultural heritage values that are set to be part of the proposed Kinabalu Geopark.
The 4,750-square kilometre Kinabalu Geopark, which is now awaiting approval from the National Geoparks Committee to be recognised as a national geopark, encompasses a part of Ranau district and the entire districts of Kota Belud and Kota Marudu.
The federal level-panel of assessors recently visited some of the geosites to carry out an evaluation of the sites, among them being Kampung Kiau Nuluh, which is located about 70 km from here. From Kota Kinabalu, it takes about two hours to travel to this village.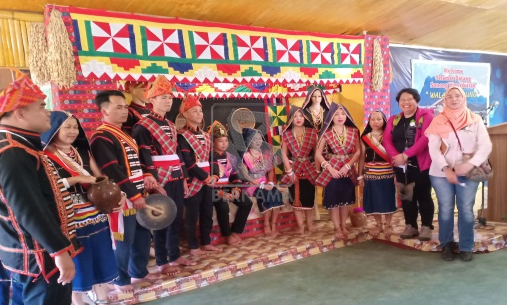 The Dusun Tobilung community in their traditional costume to welcome members of the National Geoparks Committee. --fotoBERNAMA(2019) COPYRIGHTS RESERVED
Despite its rather remote location, the village -- inhabited by about 2,000 people of Dusun ethnicity -- has an active homestay business that has helped to improve the socio-economic status of the villagers over the last two years.
A total of 14 out of the 100 houses in Kampung Kiau Nuluh offer homestay facilities and Kinabalu Geopark's potential accreditation as a national geopark is expected to raise its tourism profile.
MOUNTAIN PORTERS
Kinabalu Geopark advisor Prof Dr Felix Tongkul said the selection of Kampung Kiau Nuluh as a geosite was not only due to its proximity to the foothills of Mount Kinabalu but also for its historical and cultural value.
"Through the geopark concept, the local community here will be roped in to take care of their village, which is located outside the boundaries of Kinabalu Park.
"Furthermore, the geopark status will also help to promote their homestay industry and local products to an international audience," he told Bernama.
Kampung Kiau Nuluh's history is quite interesting. There was a time in the past when climbers used to pass the village on their way to the summit of Mount Kinabalu. In fact, its villagers were said to be among the first to be hired as porters to help lug the belongings of climbers up the peak. Even now, many of the mountain porters hail from this village.
Meanwhile, Guas Nabalu Homestay coordinator Hanteh Ginsos, 32, told Bernama that Kampung Kiau Nuluh had existed even before 1924, although it was just a jungle settlement back then.
According to him, British colonial administrator Sir Hugh Low, who was also a naturalist, had used the services of a porter from that area to ascend Mount Kinabalu in 1858 via a trail used by the settlers.
(That was Low's second expedition to the 4,095-metre high mountain, his first being in 1851. For the record, he was the first foreigner to ascend Mount Kinabalu.)
"Although the people who had lived there a long time ago were well-versed with the area and had their own trail to climb the mountain to hunt for animals and forage for food, the route was not documented as they were all illiterate," said Ginsos, who has a degree in Geology and Master's degree in Applied Geophysics.
UNIQUE VILLAGE
He said Kampung Kiau Nuluh's homestay services have been attracting tourists from Germany, the United States, China and Singapore.
Among the activities the visitors can partake in are trekking through the jungle to the Diba Titiu waterfall, located 300 metres above sea level; climbing up Bukit Nuluh Lingion (1,420 metres); and visiting pineapple plantations and sampling the traditional food.
"This village is unique in its own way. Apart from its cool weather, it also boasts flora and fauna species that are endemic to this area and are a tourist attraction," he said, adding that he hoped the village would become a centre for environmental and endemic species research in the next five to 10 years.
Among the endemic wildlife found there are Whitehead's broadbill, a bird species; Borneo birdwing, a butterfly species; giant red leech; and black shrew (a rat-like mammal listed as a critically endangered species).
Also found in this part of the world is Paphiopedilum rothschildianum, commonly known as slipper orchid, which is endemic to Kampung Kiau Nuluh.
The village is also known for its array of traditional food such as 'bosou nangka', a type of pickle; 'ayam kampung sup kundur'; 'sayur campur tombotung' (a vegetable dish); 'serunding bunga betik'; wild yam; 'ikan basung pinarasakan'; and 'ikan masin lada putih'.
During the recent visit to this village by the National Geoparks Committee members, these dishes were served to them the traditional way -- in hollow bamboo stalks. Even the spoons, plates and cups they used were made out of bamboo.
Rice (from the hill padi cultivated by the locals) was served in a "utensil" fashioned from the large leaves of certain local plants. The rice is also sometimes served out of beautifully carved coconut shells.
OTHER GEOSITES VISITED
Two other geosites that were also recently appraised by the National Geoparks Committee are Kampung Lingkungan, about 24km from Kota Belud town and Kampung Minansad, about 20km from Kota Marudu town.
Kampung Lingkungan is known for 'Topi Raja', a huge granite boulder which was among the rocks swept down Mount Kinabalu by the force of melting glaciers some 10,000 years back before being deposited below the surface of the earth.
Groundwater erosion led to the formation of craggy grooves on this giant boulder which over time jutted out of the earth's surface, resembling a headgear.
Meanwhile, Kampung Minansad is known for its cultural attractions. In 2010, the authorities put up a structure styled after the traditional Dusun Tobilung -- a Kadazan-Dusun sub-ethnic group -- dwelling to showcase and preserve their culture and heritage.
Called 'Walai Tobilung' ('walai' means house in the local dialect), it is used as a venue for receiving guests, hosting weddings, holding demonstrations and selling local products.
The pentagon-shaped house was built out of locally-procured materials such as wood, bamboo and rattan while the roof is made out of the leaves of the Nipah palm.
SUPPORTIVE COMMUNITY
National Geoparks Committee member Dr Tanot Unjah, meanwhile, said the objective of their visits to the various geosites in Ranau, Kota Belud and Kota Marudu was to take a closer look at their respective geological, biological and cultural heritage as outlined in the dossier submitted by the state government in support of its application seeking national geopark status for the proposed Kinabalu Geopark.
Unjah, a lecturer at Universiti Kebangsaan Malaysia's Institute of Environment and Development, said the panel's evaluation criteria included gauging the local communities' level of support for their areas to be made part of the proposed national geopark.
"Our site visits were also to find out if they have proper facilities like eateries and lodgings for tourists.
"The geosites are indeed of international standard as stated in the dossier, but there are still community elements that have not been highlighted," he said.
Another committee member Dr Sharina Abdul Halim said community involvement was an important component of any geopark.
Sharina, who is head of the Cultural Heritage and Sustainability Programme at UKM's Langkawi Research Centre, said a geological park was not all about rocks and stones but also involved humans and communities.
"Geopark development efforts become easier if the local communities are directly involved in the process. Community involvement was evident at the geosites (in the proposed Kinabalu Geopark) but, however, it needs to be further strengthened," she noted.
Various agencies in Sabah, including its Minerals and Geoscience Department, Sabah Parks, Forestry Department and the relevant district offices were also involved in the evaluation of the various geosites.
Translated by Rema Nambiar
BERNAMA