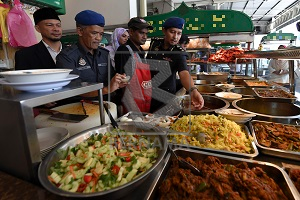 Officers from the Terengganu Ministry of Domestic Trade and Consumer Affairs and other relevant agencies conducting operation over the use of fake halal certificates recently. -- fotoBERNAMA (2019) COPYRIGHTS RESERVED
By Muhammad Basir bin Roslan


KUALA LUMPUR (Bernama) -- Several cases of restaurant operators misusing the halal certificate have emerged of late.

Some were found displaying expired certificates while others had the audacity to exhibit certificates that were not validated by the Department of Islamic Development Malaysia (Jakim) or the relevant state Islamic department.

On Jan 31 in Kota Bharu, the Kelantan branch of the Domestic Trade and Consumer Affairs Ministry opened an investigation paper on a restaurant for using an expired Jakim logo and Malaysian Halal Verification Certificate.
.....