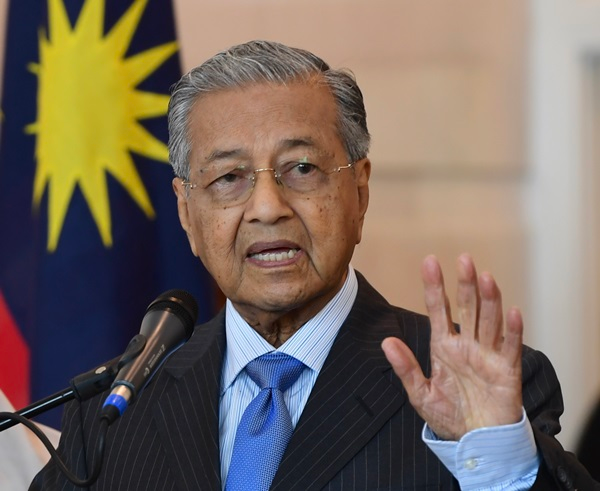 KUALA LUMPUR, Dec 7 (Bernama) – Tun Dr Mahathir Mohamad is praying for the assembly on the International Convention on the Elimination of All Forms of Racial Discrimination (ICERD) in the federal capital tomorrow to proceed without any disturbance.
The Prime Minister stressed that the government has no intention to obstruct the assembly organisers as it was against the government's policy on upholding the principles of democracy.
"I am praying for the assembly to proceed smoothly without any commotion. Let us celebrate democracy in Malaysia together," he said in a video uploaded on his Twitter site today.
He said even though the Pakatan Harapan government had stated that it would not ratify ICERD, he was informed that several parties insisted on going ahead as a thanksgiving gesture for the government's decision.
"I do not see the need for the assembly to go on," he said.
However, Dr Mahathir thanked the support showed by the organisers if the assembly was held as a gesture of gratitude.
Therefore, he told the organisers to assist police and the local authorities to ensure there would be no disturbance or destruction of public properties during the assembly.
Apart from that, the prime minister also told the organisers to ensure cleanliness along the route of assembly and not to litter in public places.
On Monday, Kuala Lumpur City Hall (DBKL) approved the ICERD thanksgiving assembly.
Kuala Lumpur mayor?, Datuk Nor Hisham Ahmad Dahlan, was reported as saying the approval allowed the organisers to gather at Jalan Raja between Dataran Merdeka and the Sultan Abdul Samad Building from 2pm to 6pm.
On Nov 23, the Prime Minister's Office in a statement said the government would not ratify ICERD and would continue to defend the Federal Constitution which enshrines the social contract agreed by all races during the formation of the nation.
-- BERNAMA