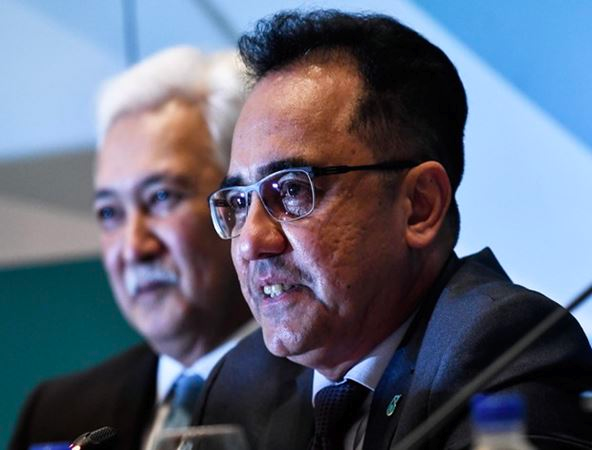 KUALA LUMPUR, Nov 27 (Bernama) -- Petronas' net profit in the third quarter (Q3) ended Sept 30, 2018, increased 43 per cent to RM14.3 billion from RM10 billion in the same quarter last year.
Revenue rose 19 per cent to RM63.9 billion from RM53.68 billion recorded in the corresponding period in 2017, mainly driven by higher average realised prices for key products, coupled with increased efficiency throughout the group, it said in a statement today.
The company said these were partially offset by the effect of the strengthening of the ringgit against the US dollar exchange rate and lower sales volume mainly for liquefied natural gas (LNG).
Capital investments for the quarter was RM6.7 billion, mainly attributed to upstream projects, it said.
For the first nine-month period, the group posted a 12 per cent increase in revenue to RM181.1 billion while net profit jumped 50 per cent to RM41 billion from the same period last year.
"The improved performance was primarily due to higher revenue, lower net impairment on assets, as well as other expenses. These were partially offset by higher product costs in tandem with higher prices coupled with increased depreciation and amortisation, as well as tax expenses," said Petronas.
Capital investments for the period was RM26.5 billion, mainly attributed to upstream projects in support of the group's operational excellence and growth strategies, it said.
Total assets increased to RM623.1 billion as at Sept 30, 2018 compared with RM599.8 billion as at Dec 31, 2017.
As at Sept 30, 2018, gearing ratio remained at 16.1 per cent while return on average capital employed rose to 12.6 per cent from 9.8 per cent as at Dec 31, 2017, in tandem with higher profit, the company said.
President and Group Chief Executive Officer, Tan Sri Wan Zulkiflee Wan Ariffin, said Petronas continued to record another strong quarterly performance, which has further strengthened its financial position.
"The improved results are driven by ongoing operational improvement efforts throughout the group and supported by improved oil prices during the period.
"Petronas is on track to deliver a strong year-end performance by maintaining our focus on driving efficiency efforts across all our operations.
"The recent drop in oil prices demonstrate the volatile and cyclical nature of the industry and we will continue to maintain our prudent outlook amidst this landscape, while remaining steadfast in pursuing our growth strategies to ensure the long-term sustainability and progress of the company," he added.
-- BERNAMA