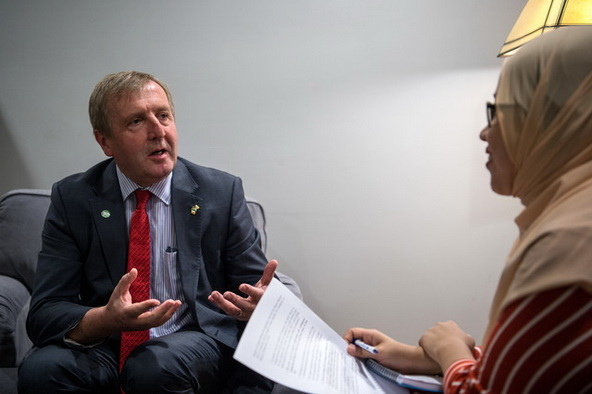 Ireland Minister for Agriculture, Food and the Marine, Michael Creed during an interview with Bernama on the sidelines of the Irish Chamber of Commerce in Malaysia (ICCM) launch and an unveiling of the chamber's new logo at a reception hosted by Ireland's Ambassador to Malaysia, Eamon Hickey here recently. Pic: Amirul Azmi
By Nabilah Saleh
KUALA LUMPUR, Nov 9 (Bernama) -- The Irish access to the Malaysian market in fulfilling the demand of the agri-food sector here will further boost trade ties between the two nations, especially after high-level meetings held following a trade mission to Southeast Asia, says Ireland Minister for Agriculture, Food and the Marine, Michael Creed.
Creed, who was in his inaugural agri-food trade mission to Jakarta and Kuala Lumpur recently, said it was a very fruitful meeting with Malaysia's Agriculture and Agro-Based Industry Minister Datuk Salahuddin Ayub whereby, it would pave a path for the two countries to discuss further market access in the future, specifically on poultry and dairy products.
"One of the highlights of this trade mission was meeting with the Malaysian agriculture minister. Our discussions were valuable; not just focusing on trade opportunities and concerns about trade between the European Union (EU) and Malaysia but we also explored areas which could mutually benefit each other in terms of (for example) sharing experiences."
He said this in an interview with Bernama on the sidelines of the Irish Chamber of Commerce in Malaysia (ICCM) launch and an unveiling of the chamber's new logo at a reception hosted by Ireland's Ambassador to Malaysia, Éamon Hickey here recently.
Elaborating, he said Malaysia's current positive business climate and established reputation as one of the big economic engines in the region, were among reasons why the country was targeted for Irish products.
"We see great and significant economic opportunities here with growing population and within that growing population, there is also a growing middle class with increased purchasing power.
"We are aggressively looking for a wider range of dairy options and we bring obviously, a specific offering in that context to this country," he said, noting that one of Ireland's leading global companies in the dairy sector, The Kerry Group, was already operating in Malaysia.
Asked further on how such Irish products would need to 'compete' with products from New Zealand and Australia, Creed said it was also high time now for Ireland to familiarise itself to Malaysians as one of the producers of the highest quality of dairy produce, exporting to over 100 countries worldwide.
"We are very conscious when we export because it means we also export our reputation. We are insistent and adamant that our industry meets the highest international standards. Thus, over a period of time, the Malaysian consumers will recognise Ireland's brand image as the one that is synonymous with high quality.
"We hope to do and achieve through trade businesses like this; through our chamber of commerce, endeavours of our embassies and state agencies -- that this is the highest offering of our industries," he added.
Relating the trade mission to what is termed as Ireland's preparation and contingency planning from the impact of the United Kingdom's withdrawal from the EU, or
Brexit
, Creed said market diversification element was an absolute thing that Ireland was currently working on at this very moment.
"We have a significant market exposure and particularly, the agri-food to the UK. Almost 40 per cent for our exports over there.
"At this moment, we do not know how the future trading relationship will be. Still, we are hoping for the closest, possible. As it is proven to diversify and have new market opportunities, thus it is important for us to establish contacts through our trade missions," he said.
During Creed's visit to the city, he had opened the "Bord Bia" dairy conference which hosted over 70 Malaysian dairy buyers, importers and food service operators to learn about Ireland's dairy production industry.
The seminar, which was also organised in Jakarta earlier, was aimed at raising awareness of Ireland as a source of sustainable dairy industry while enhancing the industry's understanding of the Malaysian market.
Each seminar culminated in a schedule of targeted business meetings between attending Irish exporters and qualified high potential local buyers.
-- BERNAMA